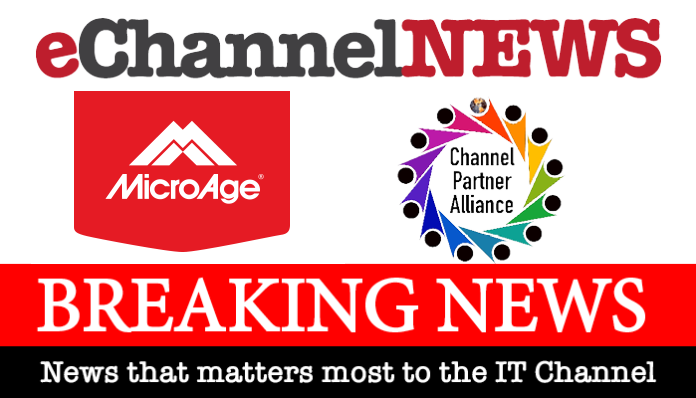 The Channel Partner Alliance is proud to announce that MicroAge, Canada's longest operating and largest coast to coast Franchise IT network, has become a member and partner of the CPA. Through this agreement, the CPA members will have the opportunity to join the MicroAge Affiliate Partner Program and provide coast to coast on-site IT services and support to their customers.
"One of the challenges that many channel partners face is how to offer national customers professional and timely IT services and support to all of their offices coast to coast. For almost 40 years, MicroAge has been deploying these services by leveraging the strength of their national footprint and a tried and tested process. Today, we can now offer qualified CPA members access to this amazing affordable service to help them serve customers beyond their local territory" says Julian Lee, President of TechnoPlanet.
The foundation of the MicroAge Affiliate Partner Program is their National Service Network, which sets the parameters and process that guarantees professional service delivery. The rates are predetermined, the service-level agreement as well as the procedures for service requests and billing are all clear. The agreement also includes a strict non-compete and non-solicitation clause to protect the interests of the dispatcher.
Phil Palmieri, President of MicroAge Canada comments, "There is always fear that the level of service being delivered to our customers through third-party service providers might be inconsistent. We've come to rely on our trusted service partners and are confident in their abilities and the quality of their work. The end result is that all affiliated partners can rest assured that the highest level of service will be delivered to any customer coast to coast in a cost-effective, predictable and professional manner''
The Channel Partner Alliance is the next generation in group power. It is not about buying power, although the members will benefit from better prices. The core benefits are focused on improving the best business practices while building a sustainable recurring revenue for its members. The end result is to grow the members' profitability by 30%.
To achieve this goal, each member is placed into a smaller group of like-minded business owners of a maximum of 8 peers to collaborate with the support of up to 6 professional business coaches to improve their business practices. With a variety of virtual master classes and live sessions at three national conferences, there is ample time to make significant improvements to its members.
Out of the gate, every member will also get the use of an e-procurement platform to check their price and availability in real time on for over a million IT products as well as being able to securely place and track orders from all major distributors. This alone will cut out 80% of their time in building quotes and buying tasks.
The membership benefits continue with discounts on a variety of common business expenses like credit card merchant rates, insurance and shipping. One of the most powerful benefits will be access to a marketing automation platform with a massive source of original content to help its members generate awareness and sales demand every day.
Maybe the biggest surprise is that there is never any membership fees to join the Channel Partner Alliance. Instead, the group's organizers take 100% of the financial risks to claim MDF funds directly from suppliers to subsidize the member's fees and services. There is also never any back-end games that inflates costs and play with fake rebates.
As members accrue MDF, they will automatically gain access to more benefits. The goal is to help channel partners to save costs, improve efficiencies and accelerate their business growth without costing them a dime!
Everything is always 100% transparent so what you see is what you get!
Learn more about the extreme business building education for members. Become a member today, sign up for FREE!
Check out Microage's Michel Marleau's interview at ChannelNext19 East here