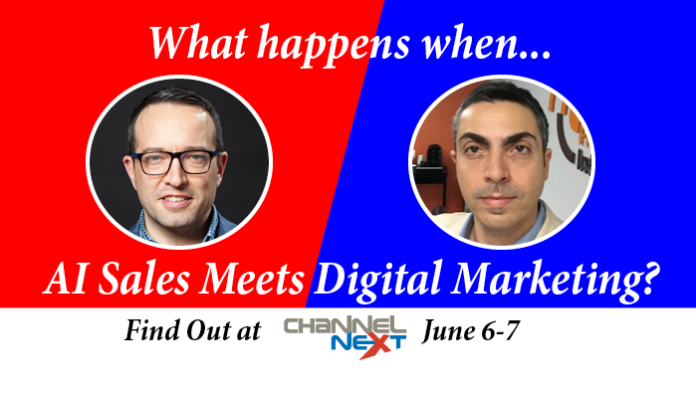 The race to automate the marketing and sales processes are in full throttle. Although we mostly hear about marketing automation, the big challenge is on aligning the right amount of AI in the Sales and Marketing processes. We are going to tackle these two monster subjects head on at the upcoming ChannelNEXT Conference on June 6-7 at Niagara Falls.
We have two heavy weights (Shane Gibson and Saher Ghattas) presenting the future trends on these big topics as well as practical insights on how to leverage today. We also doubled up on the sales and marketing "mastermind" peer group sessions with Rick McCutcheon and Marie Wiese.
Get ready to roll up your sleeves and get down to some hard-hitting business intelligence!
Some may be surprised to learn that Artificial Intelligence has already been injected into the selling process. Channel partners can start to leverage AI sooner than they may think.
Even tech support has been infected with AI. Solutions using IBM's Watson to mediate technical support issues and reduce the number of service ticketing requiring an actual human intervention are already live. Shane Gibson will be shining a bright light on just how much AI will be affecting the sales process in the future! Check out the video below…
Digital Marketing is now mandatory to future-proof any business. However, your DM game must be up to par with your competition. You need to understand how a vertical focused digital marketing strategy can exponentially grow your sales leads.
One of the major challenges that faces any MSP/VAR is that they rely 100% on "Word-of-Mouth" to drive sales. Maybe they have a website with some SEO and basic blogs/social media going out, but there is no real measurable ROI on the marketing activity. Account Based Marketing is the solution. Understanding how to breakdown the ABM playbook into simple action items that leverage content and persona knowledge will immediately help sales teams target and close more key accounts. Saher Ghattas will be your guide in this journey.
Here is a view overview of the most recent ChannelNEXT event…
Besides the beautiful view of Niagara Falls, here are just 3 of the 30 + goodies that you will take home from ChannelNEXT…
Be amazed by a brand new digital marketing platform with social media integration and original content feed to automatically generate awareness and leads 365 days a year.
Test a new "always-on" VPN Cloud solution to protect your customers while they use any public WiFi.
Check out ERP-as-a-Service specifically built for VARs and MSPs to run their business.
All three can only be found at this ChannelNEXT! Reserve your spot today!