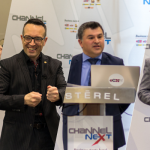 Three years in the making. One year of testing. We just went live at ChannelNEXT EAST 2018. A sincere thank-you to all the VARs, MSPs, Coaches and Vendors who had the courage to take this first plunge with us including Datto, Webroot, IT Cloud, Aerohive, Sherweb, PurpleSoft, QNAP, TP-Link, ViewSonic, Idiligo, eMailPlatform, ibiz10 and others!
After 15 years of doing ChannelNEXT conferences, we embarked on a new type of hybrid model that brings together the channel to build smart business. We were hoping to get to second or third base, but we ended up hitting a home run!
To kick things off, we introduced Artificial Intelligence in the new age of digital selling with Shane Gibson. This changes everything. Most people think that AI in the sales process is something that's coming in the future. Well, it's already here and we are going to be seeding some cool AI tools into the IT Channel. If you want to inject AI into your selling and marketing, talk to us.
Paolo Del Nibletto was the emcee of some activities including the new "Lion's Den" as vendors roared their perfect pitch in 5 minutes! Paolo also did some interviews that you can check out on eChannelNEWS. We also featured some top-end coaches in Leadership, Sales and Marketing. A true A-Team!
The basic idea of the new and improved ChannelNEXT is to focus on helping Channel Partners to improve all aspects of their best business practices and build a better company. However, the actual year-long program that gets the bulk of the work done is the 300 Elite Mastermind Peer-Group. ChannelNEXT allows anyone to test drive the program, meet other peer-groups and take home great value (including partnerships with some amazing vendors).
You do not have to attend ChannelNEXT to join the community. You may join a group of 8 of your peers anytime by starting the process with a one-on-one interview at 300elitemastermind.com
The combination of mind blowing content, peer-to-peer collaboration, masterclasses, lion's den, speed introductions, workshops, hospitality suites and loads of other social networking activities came together to form a great two-day experience. You can check out some of the videos and comments by the delegates on eChannelNEWS.
"I think we may have just redefined the future of channel conferences that will eventually be copied by others. No one has time for the same old vendor sponsored sales pitches. No one has time for the old partner recruitment playbooks. Grabbing stacks of business cards to follow up later doesn't work. And, no single event could truly deliver enough sustainable results. The process must be ongoing! The synergy that drives success has to come from professionally guided peer-to-peer collaborations and it has to continue well beyond the actual event".
This year, vendors went beyond being a sponsor, to bringing some of their current partners to get the business education. Something that will help their partners to sell more of their products every day. A gift that actually keeps on giving…
No worries if you missed the first ChannelNEXT as the next one is on June-6-7 at Niagara Falls, then October 30-31 in Whistler, B.C.. Learn more at ChannelNEXT or jump ahead to join a 300 Elite Mastermind peer-group today. It's going to rock your business and change your life!