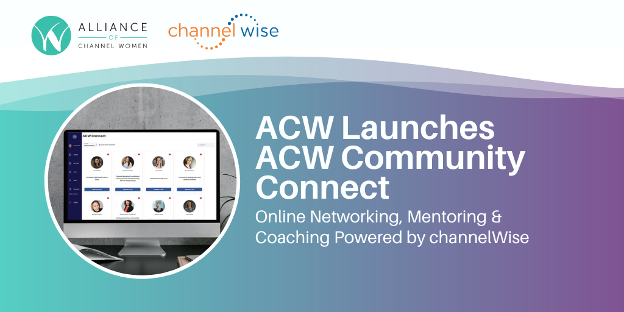 The Alliance of Channel Women, a not-for-profit organization dedicated to accelerating the growth of female channel leaders in technology, announced today the launch of ACW Community Connect, a new initiative designed to empower its members to connect one-on-one seamlessly for spot coaching, mentoring, and networking. The new program is powered by the channelWise platform, which provides access to hundreds of channel experts to help organizations and individuals get on-demand business advice. 
ACW Community Connect is a private network inside the channelWise platform that enables ACW members to book time with other ACW members for coaching, connection, and networking. To participate, ACW members set up a profile to offer expertise and/or join the network to book calls with experts.
ACW Community Connect is sponsored by channelWise, so there's no cost to ACW members using the platform to connect with or call other ACW members.
"We're thrilled to partner with channelWise to offer ACW Community Connect," said ACW President Cassie Jeppson, Director of North America Channel Programs at Lenovo. "The platform will be an invaluable resource for ACW members to connect and grow their networks, get advice on their career paths, or just have coffee or drinks virtually!"
"As a longtime IT channel professional and a woman, I'm very familiar with the lack of female mentors and leaders in our space," said Kathryn Rose, Founder of channelWise. "I've been an avid supporter and member of ACW, and I'm thrilled to support their mission to empower women in the channel through community, education and opportunity."
ACW members can access ACW Community Connect through their ACW member login on the ACW website. Once logged in, members will find a link to ACW Community Connect. To become an ACW member, sign up at https://allianceofchannelwomen.org/join.