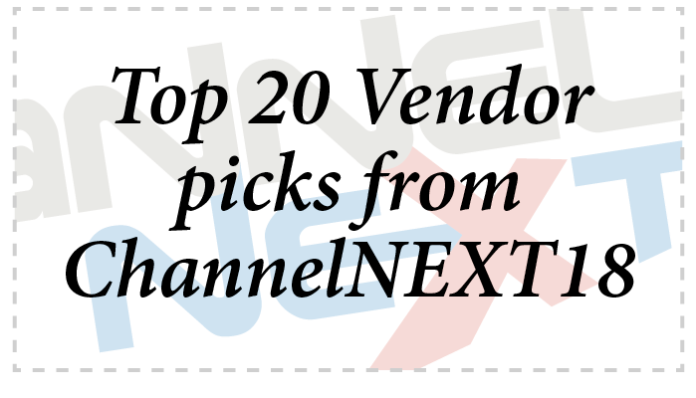 Every year, we reach out to hundreds of vendors and we only select about 20 to showcase at each ChannelNEXT event. We look for vendors with great solutions that solve big problems and are 100% channel friendly. We look for solutions that can generate significant profits for MSPs and VARs. We also focus on products that can generate recurring revenue for channel partners. Sometimes we find some gems!
Here is our top 20 pick from our ChannelNEXT Central Event:
1.    Aerohive: Simplification of powerful Cloud and wireless networking is the big value from this vendor. No need for WLAN controllers! Full Cloud management makes it easy. Amazing solution and revenue opportunity for all managed service providers who are into networking. See www.aerohive.com
2.    Callture: VoIP made easy locally in Canada. Partners can handle as much or as little of the deployment as they wish. With this vendor's high-touch support and great margins, they are looking for more partners. This vendor will actually present and deploy everything and manage (including billing) so you just collect a commission for life of customer. Selling VoIP may never be this easy. See www.callture.com
3.    Datto: Awesome BDR vendor that is 100% channel-only. They also have a solid Networking-as-a-Service solution and with the recent merger with Autotask, they now deliver a world-class PSA and CRM tool. You can expect a lot more seamless integration between these solutions in the future. www.datto.com
4.    ECO Products: All the ink and toner to meet your customers' needs from a top end compatible supplier. Beyond ink supplies, they can set you up with a full Managed Print Program. And, with their recent expansion into printer parts, they now offer everything to do with print under one roof. MSP and VARs can now make a lot more money from selling print. See www.ecoproducts.solutions
5.    eMailPlatform: This is a powerful and affordable marketing automation platform for sending e-newsletters to your clients with automatic sharing on your social media networks. Everything is tractable in real-time from the web dashboard. The big thing is that you also get access to a massive content feed to easily drag and drop original stories into your communications! This content integration is under a special partnership with us (TechnoPlanet). Any channel partner can automatically generate awareness and sales demand. Any vendor can have an "on-ramp" to feed their content to help their partners to generate sales demand. See https://emailplatform.com/en-ca/technoplanet/
6.    ibiz10 – new version 10.0 (completely new rewrite): If you are looking for a webstore to sell over a million tech products or offer a private B2B portal for your best clients, then this is the tool. It's integrated with all major distributors and offer rich product content. The #1 use for this tool is for offering exclusive B2B procurement portals to your large clients. See www.ibiz10.com
7.    IT Cloud: A recent authorized Microsoft CSP distributor offering full support so you can literally have a 100% hands-off experience, if you wish. They also distribute Bitdefender for your security needs and offer backup for your Microsoft solutions and data. You need to see their MSP back-office dashboard portal to truly see how they can help you grow, save time and costs! See www.itcloud.ca
8.    Idiligo: A new web tool from Europe that delivers professionally guided sales process and content to help any sales rep to become a sales champion. Yes! This will help any sales rep to present with confidence using the best knowledge base. It is like having a personal digital sales assistant that never sleeps! You need to experience this tool to understand how it can help your sales team to up their selling game. See www.idiligo.com
9.    Kaspersky Lab: They are currently being challenged on several political fronts, but Kaspersky Lab does deliver awesome technology that is important in the global fight against ransomware. The company is making several big moves to defend its position like moving its operations to Switzerland and offering "keep-data-in-my-country" check box feature that will prevent your data from ever leaving your domain. See www.kaspersky.com
10. PurpleSoft: This company has customized a global ERP solution (by Hansaworld) to help any VAR or MSP to run their entire business. Also allows any channel partner to resell ERP without doing any deployment or support work! It has never been easier to offer your clients ERP and get a piece of this billion-dollar pie. See www.PurpleSoftERP.com
11. LANtelligence: Serious and complex VoIP deployments where powerful solutions are required. Especially for call-centers and businesses. When VoIP has to work, then they should be your vendor. This company understands the DNA of VoIP and how to support channel partners. See www.lantelligence.com
12. Perimeter81: If protecting your data while accessing public WIFI networks is important to you and your clients, then this vendor is a great choice. We encourage you to explore how this company can help you to implement a powerful Cloud-VPN solution to protect them. It is also 100% hardware agnostic and a great way to generate recurring revenue! See www.perimeter81.com
13. ServerCloud: A 100% Canadian BDR and Data Centre provider. When Canadian data compliance is a requirement (Federal PIPEDA, health care and education), then this is the ultimate solution. Check out everything that this "Made in Canada" vendor can do for you! See www.servercloudcanada.com
14. Sherweb: One of the top Microsoft distributors offering full support to channel partners. They have simplified the delivery of all Microsoft applications and are expanding with Dynamics, Azure, VoIP and more! Ask them how you can make more money selling all things Microsoft! See www.sherweb.com
15. SolarwindsMSP: This is one of the leading companies in the MSP space with just about every component required including RMM, BDR, remote control, help desk, mail and risk intelligence. Find out how their thousands of MSP partners are raking in consistent recurring revenue from their tools. See www.solarwindsmsp.com
16. TP-Link: One of the best in performance value for networking devices and accessories like IP cameras. Awesome for the connected lifestyle. See www.tp-link.com
17. QNAP: Cutting edge Network-Attached-Storage for security and multimedia production where affordable and reliable storage is required. Also critical for scalable backup private cloud, virtualization and more. Also offering IoT solutions. See www.qnap.com
18. Fileflex: A new game changer in secure remote access, sharing and collaboration of files and folders from any location on a company's entire storage network. An integral part of GDPR and HIPPA compliance. Get in at the ground floor as this company takes off. See www.fileflex.com
19. Viewsonic: For 30 years this company has been delivering some of the best visual solution products. They offer projectors, touch displays, thin-client devices and smart displays. Literally, every company can use their products and there is still good margins to be made for channel partners. Ask how their partners are wrapping more services around their products. See www.viewsonic.com
20. 300 Elite Mastermind: Join a peer group exclusively for VARs and MSPs to improve their business skills and grow by 30% in first year. Find out how peer-to-peer collaboration can help you. See www.300elitemastermind.com
If you would like to reach out to these companies directly, please request an e-copy of the 60-page conference guide with all of the contact details. It's free to request! Just complete and submit the contact form and enter "Send me a FREE ChannelNEXT18 Central Guide" in the comment field!
Watch more video interviews from these and other vendors at the recent ChannelNEXT event at e-ChannelNEWS.com.