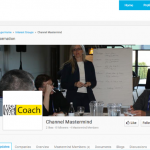 As part of our current global mission to build a bigger, better, stronger and smarter channel, we have developed a Best Business Practice online assessment test exclusively for VARs and MSPs at www.bestmanageditcompanies.com. The test is composed of about 200 questions in 12 areas of business operations. MSPs and VARs can take the assessment test for free and get a simple report indicating their level of strength in each area of business practice.
The ultimate goal is to help any VAR or MSP to benchmark the strength of their business practices. The intention is that will lead them to seek help to improve their weaknesses. If they score within the top 50, then they also win a special award as one of Top 50 Best Managed IT Companies. In 2018, we will be helping the VARs and MSPs to benchmark their company against their competitors and other countries.
"It's very rewarding to know that more VARs and MSPs are taking the test every day. Only when you start to ask yourself the right questions that you will begin to know what you don't know. In many cases, the answers become obvious but when you are stuck for an answer, whom do you call. Where do you go? This is why we started the peer group called "Channel Mastermind" exclusively for VARs and MSPs to simply ask questions and get answers on business practices and, it's free!" Comments Julian Lee, President of TechnoPlanet.
The Channel Mastermind social networking group is very simple to use. Just register and start asking your questions! The answers can come from any one of the professional coaches that monitor the group or from other VARs or MSPs. Members can also leave tips and other business advice, but only on business practices. It's not a place to sell or discuss products except for tools that you use to run your business. If it helps the VARs or MSPs in their business operations, then this is the place to find it.
Anne Lambton said "Our Channeliser social platform was designed to enable IT companies to find and connect with one another globally; so, for vendors looking for channel partners or VARS looking for solutions, but group networking is at its core. Anyone can create a private group for a specific purpose and type of audience, such as a vendor bringing together their partners into an interactive community. TechnoPlanet's Channel Mastermind group on Best Business Practice is a perfect use of the social business platform. It's a great place for busy business owners to ask questions and get answers in real time."
To sign up for free access to the group, please go to Channel Mastermind https://channeliser.com/groupitem/VARMSPcoach
We are kicking off this group in the UK, but anyone from anywhere is welcome to join! If you are in the UK and would like to meet the teams from TechnoPlanet and Channeliser as well as many of the coaches, then come on December 7th, 2017 in London for our VARTrends/MSPTrends conference as well as Britain's 50 Best Managed IT Companies Awards Gala.
To learn more or to register please see this link.