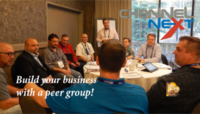 Most conferences do deliver some level of value. However, with your limited time and energy, it matters a lot to which conferences you choose to attend. Next time you attend a conference, take a closer look at what you took home that actually translated into sometime positive in your life.
About a decade ago, Randal (an MSP), attended our ChannelNEXT conference and got inspired by one of the coaches that we featured. He said it made him rethink everything that he was doing in his MSP business and personal life. It eventually led him to reorganizing his business and moving with his family to a different country where he remotely operated his business, made more money and enjoyed a fuller life. Randal kept on telling me this story and at first, I was just thinking that's nice, but I did not really get it. What he wanted to tell me is that what we did at ChannelNEXT somehow changed his life. Over the years, I did get a few hugs and high-fives from other VARs/MSPs that sort of hinted something similar. I was just happy that they all liked the event.
In my head, our event business was simply a place to connect vendors with channel partners so they can do business. Over the past 15 years, my event team worked very hard to transform the experience to be more personal and enjoyable. I remember the first of many crazy fun events that we did starting at Niagara Falls. If you were there, then you know and whatever happens at ChannelNEXT, stays there…We literally have so many great memories to last a lifetime. We also made a lot of friends along the way! We won many Reseller Choice Awards for the best independent channel event in the country and our surveys consistently give us a score of 98% in satisfaction. This was all very nice, but I still did not get "why" we were doing what we did.
About 5 years ago, the channel started to show stronger signs of problems so we embarked on a mission to help the channel to become bigger, better and stronger. Since we like to listen and just do, we quickly launched many support resources to help fix the problems, like a free assessment tool so they can benchmark their best business practices and understand their weaknesses to fix. We launched a VARCoach.com blog to deliver more free business educational content that morphed from something that we did 17 years ago with our e-ChannelNEWS media portal called VARCoach Corner. We also built a resource for VARs and MSPs to find the best tools to run their business on MSPoffice.com. We literally built all of the resources that any VAR or MSP can leverage to improve their business. Many VARs and MSPs used these free resources and we simply though, that was nice. Some started calling us the "e-Harmony" of the channel. The plan was working well.
About 4 years ago, I crossed paths again with the Randal and after a few drinks the conversation got deeper and it planted the seed of how we could possibly help more channel partners to not only future-proof their business, but to also enjoy life a lot more. Rich or poor, time is the same for everyone!
So we started out on a multi-year journey of discovery to see if we could actually do something good for the channel. This journey has lead us to the final destination of a "Mastermind Peer Group". Not to be confused with the typical buying groups or any group that is beholden to some leader with selfish motives.
Welcome to the 300 Elite Mastermind group. This will change your business and your life.
There is an African saying… "If you want to go fast, go alone but if you want to go far, go together". Well, you will go very far with this group. See 300elitemastermind.com
We believed in this so much that we restructured our very successful ChannelNEXT conferences to have a brand new format to help channel partners collaborate and build their businesses with the support of professional (and vetted) coaches. We cut out the vendor sales pitches and limited the number of vendors who could participate. Vendors must now bring true value beyond the sales pitch and to our surprise, they too believed in this playbook of help first, sell later. In essence, we shifted the power and value to the channel partners. In so doing, we also had to shift some of the financial burden to the channel partners. The ChannelNEXT events are no longer free, but the investment will generate an amazing ROI for them.
Some forward-thinking vendors are also seeing the value. They have stepped up to actually purchase some tickets so their partners can attend for free. Some partners jumped the gun and requested MDF funds directly from their vendors to subsidize the ticket. It all makes a lot of common sense as investing in building better skilled partners will ultimately help them to sell more!
The new ChannelNEXT is the place where you can get a real dose of the 300 Elite MasterMind Program. It is going to move the needle up on several aspects of your business. How often do you get to brainstorm with like-minded peers to solve real pain points? How often do you get the pick the brains of experts who know how exactly to help you? The experience will be eyeopening, educational and enjoyable (we kept the fun stuff from the old ChannelNEXT events!).
You can bypass the ChannelNEXT events and just go directly to signing up to be a 300 Elite MasterMind member or you can come try it out first to see if it's right for you. We are doing this in Canada, USA and UK.
Learn more or attend ChannelNEXT on April 9-10 in Montreal-Ottawa Region at the beautiful Esterel Resort!
Read a preview article on ChannelNEXT on e-ChannelNEWS.
If you want to read more about what will happen on April 9-10, then grab a cup of coffee and read on…
Here are 16 highlights of what channel partners will experience at the upcoming ChannelNEXT EAST April 9-10 in Esterel, Quebec (Just outside Montreal). This event targets the Quebec, Maritime provinces and the Nation's Capital.
1. Experience 3 out of 5 "Mastermind Peer Group" Sessions that will change you forever. These 90-minute coach-led brainstorming experiences will help you to uncover practical ways to improve your game and future-proof your business. The highlight of ChannelNEXT!
2. Improve Social Selling to uncover new opportunities before your competition. Get insights from your peers as to how they are winning on social networks and how to take it to the next level with the guidance of an expert on the topic. You will do an assessment of your current social media game and get a road map to beat your competition, become a thought leader and attract new customers every day.
3. Improve marketing to drive qualified sales leads 365 days a year. Review your digital market assets and compare with your peers. Learn ways in which you can re-energize your digital marketing strategy, programs and tactics that will generate more qualified sales leads every day.
4. Become the best leader that you can be. It's no secret employees are motivated by strong leaders. A top reason why employees leave a company is poor management. Learn how to get the most from your team by being the best leader you can be. Learn how your peers are getting it right and get the complete playbook from expert coaches on leadership.
5. Know how to hire and keep the right staff. Finding, hiring and keeping the right staff can be the difference between failure and success for any business. Get the inside scoop on how your peers have solved this problem and pick the brains of an HR expert who understands how to do this daunting task.
6. How will Artificial Intelligence change the way you sell? How you can you start to leverage AI in your sales process to leave your competition behind? This will be the topic of our special keynote. It is going to help you see a more effective way of selling in the near future. Our special keynote speaker is Shane Gibson, an internationally recognized sales trainer and author on social media marketing and selling. Gibson placed No. 5 on the Forbes list of the Top 30 Social Sales People in the World!
7. Building out your best IT Security Practice with the right solution stack is the ultimate end-game. Most security experts know that layering multiple solutions will deliver the best protection. This is a moving target because what is best practice today may not be best tomorrow. You will get deeper insights into the security challenges and how you can win this battle for your customers. We will feature WEBROOT and the #1 security solution from Germany G-DATA. We will also introduce deeper security layers with VPN and AI. If you are selling security solutions, then do not miss this one!
8. Want to know how sales reps are increasing their closing rates by as much as 30% in half the time? Once in a while, someone invents a better mousetrap in the selling game. IDILIGO may have done it as they bring structured presentations that make it easier for any sales person to be an expert. You need to use this tool to believe it!
9. Ready to take your MSP business to the next level? Back Up Disaster and Recovery (BDR), Professional Service Automation (PSA) and Remote Monitoring and Management (RMM) have become the foundation in the MSP business model. With the recent merger of DATTO and AUTOTASK, you are going to get a more seamless integration and support to deliver on the promise of a true MSP.
10. Networking solutions that deliver World-Class results. We are excited about the mix of solutions that will be showcasing. AEROHIVE will blow you away with their leading wireless technology. DATTO has entered the networking market with Networking-as-a-Service. TP-LINK is bringing a huge line up of affordable networking and video surveillance products for business and home.
11. Is your accounting solution helping you as much as it should? It's something that most VARs and MSPs tuck away in a corner and use for basic bookkeeping tasks. If you have never had a chance to experience what a full-blown Enterprise Resource Planning (ERP) solution can do for your business, then you are in for an awakening. True Digital Transformation is built on a proper ERP foundation. Learn how big companies become bigger with ERP and how you can finally leverage an ERP solution that is 100% customized for the VAR/MSP business that is also AFFORDABLE from PURPLESOFT (Customize Hansaworld ERP).
12. Everything you ever wanted to know and do with MICROSOFT, and make more money. Two incredible Microsoft authorized distributors will be showcasing the full lineup of Microsoft products (Dynamics, Office, Azure, VoIP) and helping partners to better leverage and make more money. You will experience the deepest level of support that you can get from SHERWEB and IT CLOUD. If you are selling anything Microsoft, then these are your best choices.
13. Finding it harder to make money selling hardware? If you work with the right vendors, there is still significant money to be made. VIEWSONIC offers some of the best monitor, virtual stations, digital signage and projectors on the market. We will also showcase other vendors like EPSON. If you want to rebuild your hardware portfolio to deliver best in class products and actually make decent margins, then check out what we are showcasing. Ask about the "out of warranty service" and "recycle" options that can literally double your current margins on hardware. Ask about Hardware-as-a-Service.
14. Can you really put digital marketing on autopilot? Not 100%, but with EMAILPLATFORM streaming content from eCHANNELNEWS, you will take a big bite out of the workload. Push content to your end-customers through e-newsletters and social media sharing – seamlessly. Click-to-add original content from the end-user news feed of eCHANNELNEWS.COM.
15. Finding it challenging to transition some customers to the Cloud? While Cloud data storage is everywhere, on-premises or hybrid solutions are still the largest portion of the market. With QNAP, you will have the best SAN and NAS storage solutions to offer your customers a hybrid approach to make the transition easier and actually make money. Check out their amazing line of surveillance and IoT solutions.
16. Want to cut your procurement time by 90% while increasing margins and improving fulfillment rates? Procuring over 1 million products supplied by Ingram Micro, Tech Data, Synnex and D&H have already become a simple click-to-buy task through one web dashboard for the past 15 years. Smart channel partners already leverage IBIZ10 to save 90% of their time from sourcing and procuring IT products for their customers. Extending the self-serve shopping to their end-users is easier with the new IBIZ10 platform (new version 10.0 finally here!).
Plus a lot more… You will enjoy the VIP experience with all of the fun social networking activities that are unique to ChannelNEXT. All this will be happening at the beautiful Esterel Resort on April 9-10 (about 90 minutes from Montreal). Ask if there are any free tickets left.