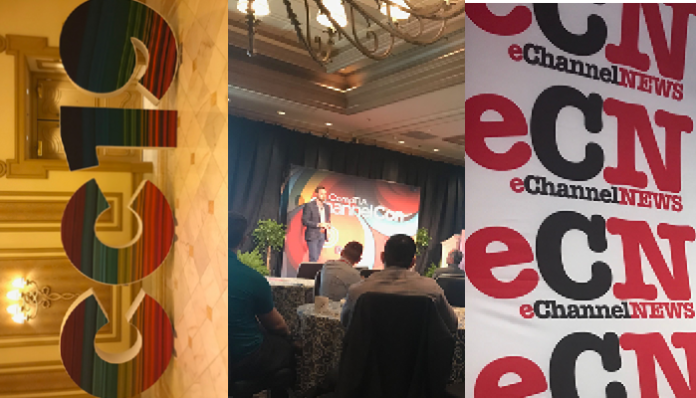 1. Security management-as-a-service was definitely a hot topic with several vendors touting their flavor. Many seemed like good solutions, but not enough time to know just how good they really are. As such, I could not pick just one vendor. You may want to check out SKOUT, Untangle, Veritas, Barracuda MSP, Egnyte, Hornetsecurity and ID Agent to help your fight in the security wars (watch for interviews with these companies that will be posted on eChannelNEWS). Winning this game is not only about blocking what is probable, it is also about blocking what you don't expect. We currently track over 100 top security vendors on our Daily Breach news column (subscribe to stay updated). If your team is simply not up to speed in protecting your clients, then outsourcing the job to a trusted third-party may be the better way to go. That said, be smart how you outsource your business value and customer ownership! These companies made my list as they each offer a piece of the solution. In reality, a stack of several solutions is required to combat this monstrous problem and I do believe that by leveraging these as well as other vendors is the way forward.
2. Defendify. Security consultancy is arguably at the very top of the food chain. A new company called Defendify may be the next game-changer in turning consultation into an easy-to-use managed service that any MSP can offer. You need serious knowledge to be an expert security consultant and offer proper compliance advice. Defendify has baked their security consultancy knowledge and processes into a SaaS solution with one dashboard to allow anyone to be an "expert" and possibly charge bigger bucks. At the very least it will help MSPs to identify all of the moving parts that they need to properly protect their clients. This company made my list as they are offering up their business intelligence in IT Security to help channel partners become better experts in a mission critical area.
3. DATTO again demonstrated how it is done. Not only did they recruit the most resellers to attend the conference, but their booth and team personifies "channel-only". With their diverse suite of tools that are constantly being fine-tuned to be seamless, they are definitely on solid ground. It helps to have Rob Rae and his enthusiastic team working the crowd from every angle. BDR has become a crowded space with many vendors exhibiting, but a new start-up to watch is CloudOak. You should also take our quick 8-question survey on BDR to see how you compare with your peers as it may help you to figure out if you really have the right solution. Datto made my top 10 list as they are just moving forward and still outplaying the competition as the BDR space becomes overcrowded. A few other BDR players are also on our radar as they bring innovation to solve the problem. 
4. The industry may need to rethink how to get more women to enter and stay in tech. Seems like many are passionate about the subject, but the data is still showing that women only makes up about 20% of the IT workforce. We interviewed and talked to several women on the topic. One interesting comment I got was "If attracting more women to the tech sector is the goal, then why have keynote speakers like NBA and NFL players (previous event) at ChannelCON as these types of speakers appeal mostly to men".
Check out my interview with Sandra Ashworth from Unisys here
If you are serious about getting and keeping more women in the tech industry, then consider these three actions that we are doing:
Take a test to measure the level of women-friendliness in your workplace. You probably have a gut feeling about the conditions of where you currently work, but it is good to have an independent measurement. At least you can review a solid check list. This test is FREE. Take the test!
Book a workshop (live or virtual) with your management on the issue to find out what you need to do to improve. We can recommend an expert.
Start a women's "mastermind peer group" within your company to build business skills, collaborate and leverage support. One you realize the benefits, expand the peer-group program to include partners.
If you would like to share your journey into tech, please schedule an interview for our WIT news column. This topic made my top 10 list because it is extremely important that more women have a seat at the decision table of tech companies and the industry needs to recruit more talent to overcome the staffing shortage. 
5. Ready for Managed Print 2.0.? I met two industry outliers who may have the next big thing in helping any reseller to finally get into the managed print game. I have been looking wide and deep to uncover the best way for channel partners to get a bigger piece of the managed print business, but all of the major players were only interested in the "same old" playbook. Seems like the print industry is currently hellbent on continually pushing A3 format of printers with their same old flavour of manage print. When in reality, the cheaper A4 printer will get the job done in over 80% of the cases and at a much lower cost. It basically means that end-users continue to spend about 30% more than they need! A significant overspend that can be better invested on more important stuff like security! You heard it here first…Fee-per-page managed print is old news. Fee-per device is the new World order in managed print! MSPs should get into ground floor now to start eating the lunch of the traditional players and get their piece of the printing pie. Much more to come on this topic as well as the data to prove the point. Keep watching as we release the full opportunity for the channel. This new opportunity made my list because there is a lot of money to be made by channel partners in managed print if the process can be simplified and it also frees up more budget that can be spent on more managed services!
6. Warranty Master is not a sexy tool by any stretch of the imagination but it's practical for any reseller who wants to quickly find out if a product is still under warranty. Interestingly, the tool leverages the already installed RMM tools to pull down the data. At a fixed monthly price, it should be easy to prove ROI. This vendor made my top 10 list because they solve a common problem that that most channel partners will encounter. It saves time as well as offer an up-sell opportunity.
7. Harmony PSA. Do we really need another PSA? Seems like we may. The folks at Harmony PSA may have the better PSA strategy, especially if you are doing big projects. At its core is the integration into accounting so billing and management is also streamlined. Its business data intelligence allows you to easily benchmark your customers to measure true profitability versus your actual cost and effort. If you are currently frustrated with your PSA or looking for a better way, then take a look at Harmony PSA. They made my list because it demonstrates that even though some common solutions are dominating the landscape, there is still room for improvement and displacement. 
8. Chargifi. A charging device for cell phones was not on my original list of top 10 things but I changed my mind. It is quite an interesting recurring revenue business opportunity if you understand what it does. You can place these devices anywhere and you can brand them on 2-levels to generate additional advertising income. It has a cool dashboard that tracks usage and its live status for all sorts of reasons. Ask this company how resellers can easily get into this game with NO additional skills to make some recurring revenue in ways you have not yet imagined. The downside is installing these little devices, but if you can master this task, then you can win big. It's common to see "FREE Wi-Fi" as a value to attract customers into cafes, hotels, restaurants or bars. Now imagine "FREE-Charging" in the same way. They made my list because I was surprised how managed services can be baked into a device as simple as a smartphone charger.
9. Pax8. A solid example of an outstanding Cloud distributor in the US. They are currently offering about 40 vendors. Traditional distributors are also playing in this space and have been busy buying competitors. It would not surprise me to see smaller cloud distributors merging or being gobbled up by the big players. However, the level of service and support is what makes it difficult to master. You will surely be seeing many more Cloud distributors entering the channel and you will eventually see SaaS platforms-as-a-Service that will enable any reseller to instantly become a "cloud distributor" for SaaS apps. With already over 100,000 ISVs selling apps, this space is going to explode. Think of a reseller private-labeling their version of an "APP-STORE" like Apple or Google to sell apps to their customers 24/7.They made my top 10 because I believe that cloud distributors are currently one of the key drivers for building recurring revenue in the channel.
10. Axcient went from selling over 1,000 SKUs to offering just 9. With their new CEO coming from Webroot, it seems that their BDR company is being transformed to where they should have been a long time ago. Shows that companies can and must reinvent themselves to meet the needs of the next generation of the channel. Complexity is out. Simplicity is in. From my discussion with Angus Robertson, this new direction is already getting positive feedback. Check them out to see if they are right for you. They made my top 10 list because they are adapting to meet the needs of the channel.