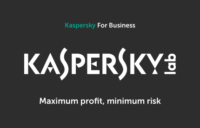 Launched in April 2017, Kaspersky Lab's global channel partner program aimed at managed service providers (MSPs) reached 1,000 registered partners in under a year of the program being available.
As of February 2018, Kaspersky Lab reached a milestone in the number of partners who have joined the program, with 1,000 globally and over 400 partners who have joined in North America. The results in the past year prove cybersecurity is a fast-growing part of a service provider's offering. According to Kaspersky Lab's study, in 2017, 51 percent of MSPs considered the essential role of cybersecurity for IT operations as the main trend to affect the MSP market over the next three to five years.
Kaspersky Lab's offering for MSPs includes products and technologies for mail server protection, virtualization security and endpoint protection. As the program's first year results demonstrate, protection for endpoints, including managed security, remote monitoring and mobile device management, remain the main area of profit for service providers, with Kaspersky Lab's flagship product, Kaspersky Endpoint Security for Business, holding the leading position (85%) among registered partners.
Managed service providers registered in the program have the opportunity to choose between cloud and on-premises endpoint protection, depending on the customer needs: whether it's a flexible, quick to roll out and easy to run cloud-based product, or a scalable, fully integrated, tiered endpoint security platform with on-premises management. As the statistics below demonstrate, the second option remains the most popular among MSPs and their customers.
This year, Kaspersky Lab has expanded the portfolio that is available for its MSP partners by adding the recently launched product Kaspersky Security for Microsoft Office 365 in February, which is a new Security-as-a-Service offering powered by machine learning and real-time cloud-based threat intelligence to enhance protection for Microsoft Exchange. Additionally in April, the company released the next generation of Kaspersky Endpoint Security for Business and Kaspersky Hybrid Cloud Security.
"A thousand registered partners is solid proof that our global MSP partner program has been a success so far," said Ivan Bulaev, head of corporate channel management, Kaspersky Lab. "We're proud of the trust and interest we have gained from the MSP community, and will continue to dedicate our efforts to bringing our award-winning technologies to service providers. During 2018, Kaspersky Lab is significantly expanding what we offer to service providers, including our solutions for the enterprise market. This means providers can further improve and develop their services, and continue to grow their businesses."
To join the program, Kaspersky Lab partners can register on the partner portal. Successful applicants will get access to a cumulative discount, sales and technical training courses, and marketing materials.