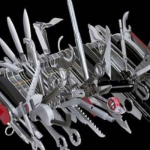 Sounds like a great goal, but how exactly could it be achieved? It's a challenge that we have been tackling over many years. It all began when more than the usual amount of VARs and MSPs started to tell us just how badly their businesses were doing. It was around global depression of 2008 but it continued to accelerate over the following years. We did not know exactly what was going on, but it was becoming clear that something was happening and it was no longer business as usual in the channel.
At first, it seemed like many were simply not prepared to handle a market downturn. However, the transition into Managed Services and Cloud was also starting to take off. Other factors were also converging around the same time that produced the perfect storm to compound the problem. Data has since shown that about one-third of the traditional channel has disappeared since this time.
Beyond our core business of helping vendors to recruit and empower their partners, we have been offering an e-commerce platform to VARs so they can sell online. This got us into the infrastructure of their businesses. Over the years, many VARs asked us to recommend other tools to run their businesses, especially as they were transitioning into an MSP model (ERP. RMM, PSA, CRM etc.). Back then, we simply referred them to a list of solutions that we saw other VARs and MSPs were using.
They wanted more but we really did not have a better answer. We knew that if we were ever going to have a chance of solving this problem properly, we had to first understand their problem at the DNA level.
It took months of researching and interviewing and analyzing the data. As we started to slowly peel back the onion, we uncovered the core issues that were causing the decline. A pattern became very clear.
Here are just a 20 factors that we discovered were fueling their situation:
Declining margins from traditional sales
Generating more sales to compensate for the shortfall in profits
Adjusting cost and infrastructure to maintain support the new business reality
Transition headaches from "Traditional to Managed Services"
Implementing the new culture of Managed Services
Investing and implementing new processes and tools for Managed Services
Convincing clients to convert billing from transnational to recurring (including Cloud)
Realistic and sustainable marketing to generate more qualified leads
Keeping their sales people motivated and satisfied
Hiring qualified people who will stay
Buying better (cost, process and time)
Expanding with the right product portfolio (particularly in recurring revenues)
Leadership and management practices were deficient
Sales process was not repeatable or predictable
Sales people were challenged to switch from CAPEX to OPEX
Vendor relationships were not deep (margins left on the table)
Sales forecasting was more like a feeling instead of process-based
Tools that they were using were a wrong fit and others were grossly underutilized
Focus was still on exploiting the traditional IT business model
They were increasingly getting out of sync with the newly forming buying habits of the end-users
There were a lot more factors that we identified to help us see the big picture. The bottom line is that they needed a lot more than a RMM or PSA solution to remain relevant in the future. They actually needed to perform well in about 30 areas of their business. Failure to do so could risk the survival of their business.
On top of this, they had to deal with the changing vendor models. Some vendors were actually competing directly with them. And, as if that was not enough, here comes the avalanche of new competitors (ISV, Cloud/SaaS, Marketing, Accountants etc) entering the channel to compete and disrupt.
The attacks to the channel are coming from every angle, including from within. They were also wrestling with themselves to decide if they should stay and fight or get out. Many sold or merged. For older owners, they were weighing their retirement plans and timing to decide what was best for them.
We continued to listen to countless stories and slowly started the work to figure out how we could help really them. Over several years, we eventually started to get it right. Today, we do have a full solution, but always fine-tuning as we continue to learn. We are very confident that we can help just about any VAR or MSP – regardless of size or circumstance.
Here is how we are helping the VARs and MSPs solve these problems:
And, there is much more to come! We are introducing more game-changing solutions that will help VARs and MSPs to accelerate their success. Here are just 5…
A new e-commerce platform that will help them to market and sell any Cloud/SaaS solution online, including provisioning.
A marketing automation platform with content that will help them to prospect digitally and socially, 365 days a year.
A Cloud ERP solution customized specifically for their business model with business intelligence to help them make better decisions.
Planning a better retirement strategy with their IT business.
Mergers and acquisitions connector.
"Seems like we have become a VAR for VARs"

If you are a VAR or MSP looking to build a bigger, better, stronger and smarter business, then consider the VARMastermind trial membership ! You will experience exactly how you will benefit.