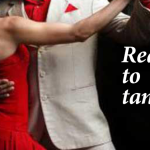 Like the tango dance, it's not too difficult to learn the steps, but perfecting the dance takes a lot of practice, anticipation, emotion, timing and passion for perfection. And, it always takes two to tango! For this article, the two that I am referring to are marketing and sales.
Sales typically blames marketing for generating the wrong prospects. Marketing blames sales for not being able to follow up and close the prospects effectively. It can be a vicious blame-game so you do need to get both sides in order and in sync.
If you are a fan of the show "dancing with the stars" then you know that they pair one professional dancer with a celebrity. The judges weed out the couples that do not perform well (typically, because the celebrity side was simply not able to perfect the dance moves). The winners usually come when both sides get it right. Similarly in this story, the winners will be those who get both marketing and sales to make the right moves!
How to get more sales is probably the most popular question that I get asked from VARs and MSPs. Typically, the topic seems to become most important only when they realize that their sales pipeline is "drying" up or lost a few deals or good clients. In reality, it's a question that they should be asking themselves every day and not just when there is a dip in sales.
Here is some advice based on what I have seen to help the most successful VARs and MSPs.
Look internally first.
Is your sales manager doing a good job? Are your sales people working the prospects properly? Do you have a good CRM solution to help guide the sales process? Is your team motivated with the right compensation and support? These and MANY other questions must be resolved to get your sales team firing on all cylinders. If you are not sure how to do this, I can recommend a sales coach to help you.
Similarly, review your marketing team and their activities. What have they done, what are they currently doing and what is the ROI. What are they really doing to reach and uncover new sales opportunities? Marie Wiese wrote a book on digital marketing called "You can't be everywhere". Well worth the read if you need some good ideas.
Half of the problem that we see is internal. Unfortunately, it is highly unlikely that if you currently have an internal sales or marketing problem that you will be able to solve it without outside professional help. Moreover, if you do not get your internal sales house in order first, then further marketing investment to generate new sales leads will be wasted. Likewise, if you have a great sales team but your marketing team is not generating the right-qualified prospects, then there is not much to close.
Once the inside of your house has been cleaned up, then good marketing will automatically convert into an increase in closing of sales as well as customer retention rates. Actually, closing and customer retention rates are probably the most important benchmarks for determining if your team is performing well.
If you have already cleaned up your sales force, then you are ready to do some proper marketing to generate sales demand that will be sustainable and predictable. Here are a few things to consider…
1.    Your business image and digital footprint. If by now, you are not sure if you have the best digital destination that your clients and prospects are visiting every day, then stop the press and get it fixed. It has to look professional and it has to be functional to engage and lead your visitors towards some sort of action.
2.   Perfect your communication vehicles (E-newsletter, blog and social media). Have a plan to feed relevant content into these vehicles consistently – at least 2 to 3 times every week is best. Remember, your content always works best for you when you integrate some type of call-to-action (See the end of this story for an example of some call-to-actions).
3.    Focus on helping instead of selling. Lead with evaluations and diagnostics like a consultant would! You would not like your doctor to prescribe medicine as soon as they meet you without first listening, asking some questions or doing some tests. Offer business check-ups on all sorts of areas. There are some amazing tools available to help you do this for your prospects and look professional.
4.    Presentation is critical. With the right business assessment report in your hands, you can jump-start a great presentation…"Here are the test results we found and how it could impact you…" The second part of the presentation has to lead towards closing the deal. If your sales rep has been approved as part of your internal sales team improvement work, then they should be able to do a great job.
5.    Fish where the fish are. This next part is a little challenging, but not impossible, and it gets easier over time. Like any good fisherman, you simply need to fish where the fishes are!
Always ask your customers for referrals.
Identify all prospects within your local community. If you can walk to the client within an hour of your office, then they are in your local community. You need to lock-up all clients within your local community and there are some great tactics that you can exploit to trump just about any competitor. You should own your own backyard! Smart companies just keep on extending that local community circle as they progress.
Identify all client types that you serve well and seek out more where they work, live and play.
Reach out to them in every which way:
a) Send them relevant info that will make your case over time.
b) Invite them to attend a webinar, get an assessment, visit your open house or review a whitepaper.
c) E-mail, call, visit and work all social networks.
d) Invest in activities where your prospects gather – events, social networks, associations and charities – literally nothing is off the table! Smart companies always have their business cards on them and open conversation with people that they meet as they go about their day. There is a foolproof way of doing this when you start by showing your interest in what they do!
e) Never give up! A winner is a looser that never gives up!
Sales will increase when marketing and sales are working in perfect harmony. You must also understand that marketing and sales are two very different things. It requires completely different skill sets. However, the understanding by each side of what the other side does is important for greater alignment and success. When marketing and sales are in perfect harmony, it's like watching two people doing the perfect tango dance. Regardless if you like or know dancing, you will be able to recognize when you see the perfect tango dance! It seems magical…
Ready to tango? Subscribe to VARCoach to get more free insights and tips every week. Take the free best business practice assessment test and pay close attention to the sales and marketing sections. Book an appointment with one of our Coaches. Join a group of your peers at VARMastermind