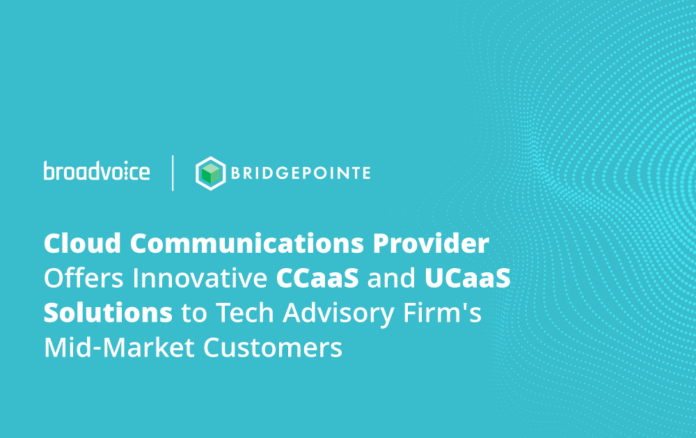 Broadvoice announced that it has entered a strategic partnership with Bridgepointe Technologies Inc., a tech advisory firm that helps mid-market and enterprise companies transform their tech investments into unrivaled business results. 
Through the partnership, Bridgepointe's tech strategists can now provide Broadvoice's award-winning cloud communications solutions to their mid-market clients.
"Broadvoice's cloud communications services are a perfect fit for growing mid-market businesses," said Gary Jacobs, Vice President of Operations and Sales Programs at Bridgepointe. "Broadvoice's UCaaS and CCaaS solutions are purpose-built for small and mid-market customers to deliver powerful enterprise-class functionality. Our clients need to optimize their technology spending while delivering results in the boardroom, and Broadvoice's offerings provide a simple, proven way to do this."
Broadvoice offers industry-leading cloud communications solutions built on its proprietary platforms. Its signature solutions include:
Broadvoice CCaaS, a cloud-native, low-code omnichannel contact center platform that gives sales and service agents a single pane of glass for calls, chats, emails and social media to deliver exceptional customer experiences.
Broadvoice b-hive, a proprietary UCaaS platform that includes cloud PBX, unified communications, collaboration and a virtual call center, unifies and streamlines internal and external communications. b-hive also connects to critical business apps through native integrations with Zapier, Webhooks and more to optimize business workflows and productivity.
All Broadvoice solutions are backed by the company's award-winning Broadvoice Success Program, which offers customers three months of dedicated professional support to ease the learning curve, ensure the system is set up correctly and promote user adoption.
"We're excited to partner with Bridgepointe to deliver our cloud communications solutions to mid-market businesses," said Kim McLachlan, Senior Vice President of Sales and Marketing at Broadvoice. "Bridgepointe's strategic focus on customer experience solutions pairs well with our company's philosophy and ground-breaking cloud contact center solution. Together, we offer an incredible value proposition for CX-minded clients. We look forward to working together to help businesses deliver exceptional customer experiences."
Source: Broadvoice