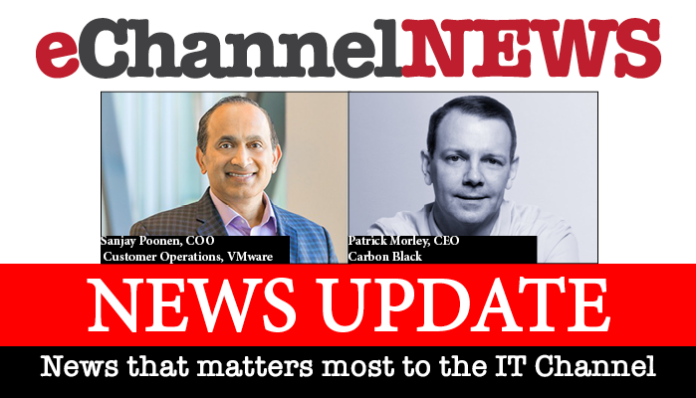 VMware has just completed its acquisition of Carbon Black, a leader in cloud-native endpoint protection, in an all-cash transaction for $26 per share, representing an enterprise value of $2.1 billion.
Why did VMware make this big investment? In short, there is a race on to deliver deeper, wider and smarter IT security solutions to businesses as cyberattacks continue to wreak havoc everywhere.
VMware is already a key part of enterprise. As a result, they are in the unique position to intrinsically understand how applications and infrastructure impacts the business. Carbon Black's security solutions use advanced analytics to uncover how (and why) attackers behave they way they do, helping to frame a narrative about how to best protect your most critical assets.
Carbon Black accelerates VMware's intrinsic security strategy across the most important security control points – network, workload, endpoint, identity and analytics. Carbon Black also provides VMware with a security platform that has powerful data lake and analytics capabilities, backed by artificial intelligence and machine learning. We couldn't be more excited. VMware is now poised to take a significant leadership role in security for the new age of multi-cloud, modern apps and modern devices.
To tackle this challenge, VMware is launching a new Security Business Unit within the company. Carbon Black CEO Patrick Morley will be serving as the general manager of this new group reporting to Sanjay Poonen, chief operating officer, Customer Operations, VMware. Carbon Black will form the nucleus of VMware's Security offering, focused on helping VMware customers with advanced cybersecurity protection, and in-depth behavioral insight to help stop sophisticated attacks and accelerate response.
Sanjay Poonen, chief operating officer, Customer Operations, VMware said. "Carbon Black brings us an industry-leading endpoint and workload security platform, with a cloud-native architecture, an AI-powered data lake and a smart, lightweight agent. The Carbon Black platform, along with VMware NSX, VMware Workspace ONE, VMware Secure State and our future innovations, will deliver a highly-differentiated intrinsic security platform across network, endpoint, workload, identity, cloud and analytics. We believe this will bring a fundamentally new paradigm to the security industry."
While spending on cybersecurity exceeded $80 billion in 2018 alone, the last 2 years have seen some of the largest security breakdowns in IT history with major data breaches making headlines nearly every week.
"From the beginning, Carbon Black has been all about collecting and analyzing key endpoint data to understand attacker behaviors, and help make our customers more resilient against advanced cyberattacks," said Patrick Morley, general manager, Security Business Unit, VMware. "Joining VMware helps us reach a broader range of organizations, and enables us to build security into the underlying fabric of the compute stack. We are thrilled to join forces as we further our vision of creating a world safe from cyberattacks and see and stop modern attacks."
Enterprise is constantly growing and evolving with hybrid environments, dynamic endpoints, and application diversity. Cybersecurity should not be an afterthought or an "add on" – it should be baked into the fabric of their tools, processes and business. This perspective may become a game changer in the security practice.
Any organization that will help reduce the risks of cyberattacks is welcome news to the industry. We will see how this approach will impact the "cat and mouse" game with hackers. It will take a lot of smart people and solutions to mediate this problem as hackers continue to adapt and evolve.