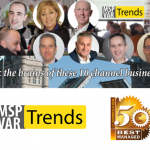 If you are in the UK, then mark your calendar for December 7, 2017. It's a date to meet great people of like-minds, grow your business and have a little fun! It's where the North American channel meets the UK! It may be one of the best opportunities to wrap up the year with the right dose of reflection, fresh ideas, friends and fun!
During the day of December 7, you will experience the wisdom and insights from ten leading channel experts in the UK and North America. Any one could easily help you rock your business. All ten will move the ground beneath your feet! See full agenda and speakers or the register! You will also connect with some cool vendors like SolarwindsMSP and Datto who will be there to help you generate more recurring revenue.
You will also learn the top 10 secrets of the most successful VARs and MSPs in the World!
During the evening of December 7, you will experience Britain's 50 Best Managed IT Companies Awards Black Tie Gala. UK MSPs and VARs have been taking the best business practices assessment test throughout the year. We will be recognising 50 MSPs and VARs with the highest scores and presenting them with a Britain's 50 Best Managed IT Companies prestigious award.
There is still time for you to take the test at www.bestmanageditcompanies.co.uk. Join the growing exclusive VIP club of the 50 Best! When you win one of these awards, your staff will be a little more proud to work at your company; You will attract more top employees; Your customers will reaffirm their decision to do business with you; New prospects will want to buy from you; Suppliers will flock to you with more benefits! It's also a great PR story for your company in your community! And, its 100% FREE!
So what if you take the test and you do not score high enough to be one of the top 50?
Besides the fact that there is always next year to try again, you will learn about your business strengths and weaknesses. The whole purpose of the test is to simply help you uncover your weaknesses so you may find a way to improve. It's all part of our global mission to help channel partners to become bigger, better, stronger and smarter.
Why are we on this crazy mission? Our business ( TechnoPlanet) is about helping vendors to build the best channel partner ecosystems. Stronger business practices makes the best partners for vendors and us! Everyone wins!
In 2018, we will embark on a bolder mission to build Britain's Next Top 300 Channel Partners! We invite you to learn more about this exciting opportunity and reserve your spot, if it fits for you. Keep watching us as we bring you more of what you really need to be part of the next generation channel and future-proof your business.
How? Get tested? Learn! Find Coaches and Tools! Excel with a Mastermind Peer Group!
Join our new social network Channel Mastermind on the Channeliser Platform. The focus is on the best business practices of MSPs and VARs ! Ask questions. Collaborate. Exchange ideas. Share. Learn…It's also free!