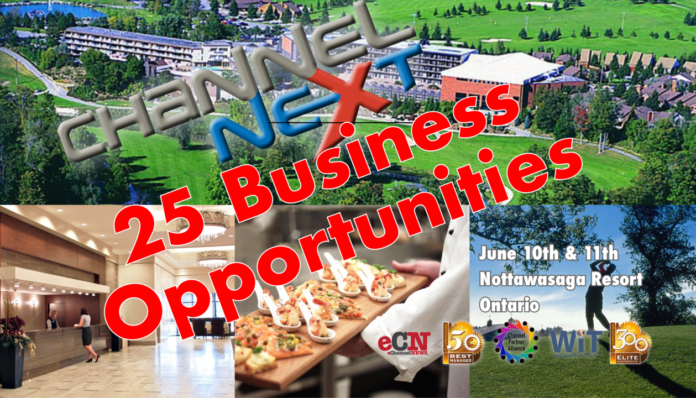 On average, every MSP, VAR, ITSP or MSSP takes home 4 big business opportunities from ChannelNEXT. We know because we ask them and we track this sort of data. Some channel partners tell us that about 1/3 of their business has come from an opportunity that they got from ChannelNEXT.
Of course, we are very pleased with this result as it adds up to hundreds of solid partnerships per event, but could we do better? We may be overreaching as there is only so much that any one human can digest over a couple of days, but we keep trying.
Every opportunity and vendor that we showcase at ChannelNEXT has been vetted to be Channel-Focused and offer a valuable business opportunity.
Here are the 25 opportunities that are coming up for the event on June 10th & 11th…
1.    Experience two "Mastermind Peer-Group" Sessions. These 90-minute coach-led peer-group brainstorming experiences will help you to uncover practical ways to solve your biggest pain points, improve your game and future-proof your business. This peer-group business building is THE CORE of the event, and you just cannot get it anywhere else!
2.     Network and socialize with your peers, coaches, vendors and distributors. It is amazing what happens when you put 100 like-minded business people under one roof in an amazing resort with great food, drinks and entertainment. If you have never experienced our social networking activities, then you are in for a sweet surprise. We will have Karaoke, Magic and more surprises. Four hospitality suites to meet and play!
3. Melanie Sodka is new to us and she is our main keynote speaker for this event. She brings a unique approach to helping companies solve the problem of being too busy working in their business instead of working ON their business. It is a common problem that we hear from many channel partners and we think Melanie will bring a fresh new perspective to help everyone overcome this crippling hurdle. Excited to see this! She will also be available to answer questions throughout the day.
4.    Social Selling Skills are mission critical for driving sales in today's world. Get brilliant insights from Shane Gibson. He is on top of the social selling game! Get ready to compare your current social playbook and take home a proper roadmap to becoming your community IT thought-leader to attract new customers every day.
5.     Energize your digital marketing game. Learn the latest ways in which you can refresh your digital marketing strategy, programs and tactics that will generate more qualified sales leads every day. You will hear a lot about ABM (Account Based Marketing). You will learn why this is important and how to master it. You will also get to benchmark your current level of best practices of your digital marketing. Marie Wiese and Saher Ghattas will be there for both days to give you the inside scoop on energizing your digital and social marketing game.
6.     It's no secret that employees are motivated by strong leaders. A top reason why employees leave a company is poor management or weak leadership. Become a better leader. Glynise Devine will help everyone identify their personas to better understand how to lead and communicate with people. Pick her brains over 2 days to improve your skills!
7.    Having more Women In Tech is the way forward in the IT industry for many reasons. Marie Wiese (and team) will explore why improving diversity hiring practices can help you overcome the employment gap and actually improve your overall sales growth by double digits. She will be hosting a special track for Women in Tech. Learn more about the WiT agenda at ChannelNEXT. Keep up to date 365 days a year with our WiT news column on eChannelNEWS.
8.    AI is already impacting sales with stuff like chat bots and automated marketing communications. You need to understand how Artificial Intelligence will change the way people sell. How you can you start to leverage AI in your sales process before your competition beats you to it? Start here and now! We will be expanding on this topic from last year. Shane Gibson will focus on "Scaling Up Your Sales Results" in general while showing you how AI can save time and costs! Learn how to close bigger deals and make more money.
9.    It's clear that building out your IT security practice with the proper solution stack is fundamental to your end-customers and therefore your business. Security experts believe that layering about 8 solutions (on average) to block cyber attacks will deliver the best protection and reduce risks. As hackers get smarter, preventing attacks have become a faster moving target. Best security practices today will not be best tomorrow! Come get very deep insights into the latest security challenges and how you can keep on the winning side of this battle. The teams from ESET and Appriver will be there to show you how to build a profitable and effective security business practice. Other companies like Asigra and Datto will be there to ensure your customers' data is protected when all else fails!
10.    What happens when the backup data is infected with malware that prevents a clean recovery? Back Up Disaster and Recovery (BDR) is now a common component of any IT infrastructure. Unfortunately, hackers have already found a way to plant dormant viruses that will activate as soon as you try to recover from a backup, thereby rending your backup useless. Come learn how Asigra is helping solve this huge problem. They will also present how you can build a more profitable practice around BDR while adding shareholder value and Intellectual Property protection to your business (especially important if you plan on selling your company).
11. Are you ready to take your MSP business to the next level? Professional Service Automation (PSA) and Remote Monitoring and Management (RMM) have been the bedrock of the managed services business model from the very beginning, but today, successful MSPs need a lot more! Many MSPs are stuck, margins are getting thin and most sound alike. Learn how to build a next generation MSP business with a comprehensive solution suite, knowledge and support from DATTO.
12.  Offering country-wide onsite service and support just got a whole lot easier. Microage is now a member of the Channel Partner Alliance (CPA) offering over 30 locations and support teams across Canada to help CPA members deliver cost-effective and fast professional on-site services. Explore this well-structured program with iron-clad customer protection that can deliver the onsite services on demand, at a fixed price.
13. Accounting solutions must do more than just keeping records of transactions. It has to build efficient processes while leveraging real-time data to help you make better business decisions. If you never had a chance to understand what a real Enterprise Resource Planning (ERP) solution can do for business, then you are in for an awakening. True Digital Transformation can only be built on a proper ERP foundation. Learn how you can leverage the power of an affordable ERP solution by PurpleSoft that is 100% customized for the VAR/MSP business. This will change the way you run your business and you may be left wondering why you did not do it sooner. See how you can manage and control every aspect of your business from anywhere and anytime! And, increase your business valuation! Explore how you can start offering powerful ERP as-a-Service to your customers and build another solid recurring revenue stream (without doing any heavy work).
14. Start making more profits on every Microsoft product that you sell today – literally. Two of the best Microsoft authorized distributors (Sherweb and ITCloud) will be showcasing the full lineup of Microsoft products (Dynamics, Office, Azure, VoIP). Learn how they can help you generate more profits from your current book of MS business while adding more value and growth! If you currently are selling anything Microsoft, then these are your best value-add supplier choices.
15.  VoIP solutions by Sherweb and Callture will deliver full end-to-end solutions that your customers want today. Every business is either already using VoIP or is soon going to be using VoIP as all traditional PBX systems are becoming extinct. It's wise to have a VoIP Play in your solution portfolio because if you don't, your competitors will have an open door to your customers! Once a competitor gets in with VoIP, they can start to poach more of the managed services that you are currently selling to the client! Come explore two comprehensive solutions that you can easily add into your portfolio (or outsource 100%). Maybe more importantly, learn how you can use VoIP to open the door of any prospect!
16. Given up on hardware because of low margins? Maybe it's time to think again. Viewsonic is offering a full range of interactive digital displays, projectors and video walls that your customers want. The interactive displays is where the big double digit growth is already happening. Explore a real-time procurement web app that will help you to increase your margins and save 90% of your time on all hardware purchases. Check out the WHS e-procurement tool to automatically shop for the best prices from all major distributors in North America (If you join the Channel Partner Alliance for FREE, you also get this procurement tool for FREE and you get to attend ChannelNEXT for FREE! See the end of this post for details!).
17.  Don't sell recycled ink and toner products? Meet ECO Product Solutions, one of the best Canadian re-manufacturers, that may change your mind. Start selling printer supplies to make more profits and predictable recurring revenue. The bonus is that you will be helping the environment at the same time. Reuse is the first step in recycling and protecting the environment. When done right, recycled products can be a significant game changer for the end-user, the reseller and the environment. Explore how ECO is also offering partners 100% outsourced Managed Print Services that will generate monthly recurring revenue for them with zero work from their side!
18. Appriver is going to expand your business with solutions in the Data Security and Compliance game. They offer solutions to protect e-mail and end-points. Today, the consequences of being non-compliant with regulations can be a costly mistake. You simply need to balance compliance with productivity and security. Come see how Appriver gets this done for partners.
19.  Ready to automate your digital marketing to drive sales every day? Explore one powerful, yet simple to use platform that will get you as close as possible to full automation of the marketing process. This will take a big bite out of your workload and drive sales demand 365 days a year! Push content to your end-customers through e-newsletters and social media sharing – seamlessly! Click-to-add original content from our end-user news feed. And, so much more!
20.  While Cloud data storage is everywhere, on-premises or hybrid solutions still make up the lion's share of the market. Check out QNAP's wide range storage solutions and how you can leverage in the hybrid Cloud environment! This may be the better alternative to going 100% Public Cloud and being locked into an always increasing cost structure! Of course, QNAP also offers more solutions in security surveillance (big profit opportunity), network switches, portable storage, security and more! Every channel partner could probably leverage QNAP!
21. Lifeboat Distribution, representing about 250 vendors in many categories, will also be showcasing solutions like Unitrends DRaaS. This is a great opportunity to discover what Lifeboat can bring to your business as a value-add distributor. They carry vendors like Sophos, TeamViewer, Intel and loads more. It is probably impossible for you to not benefit from being a partner of Lifeboat. You may discover that they can offer several products that you are already selling or would like to sell.
22. ITCloud have recently expanded their product lineup beyond Microsoft to include security, backup and RMM tools. They also offer 100% outsource managed services for those partners who just don't want to do the work in-house. Come see what else that they will be releasing at the show.
23. Checking price and availability and ordering over one million products supplied by Ingram Micro, Tech Data, Synnex and D&H across North America is a simple "click" task. Many smart channel partners already leverage the WHS tool to save 90% of their time in sourcing and buying IT products at best prices. Ask how you can get this tool for FREE (and more) by simply becoming a member of the Channel Partner Alliance group!
24. Gain the super powers of a peer-group all year long! Explore the Channel Partner Alliance and see how joining gets you into a private Elite 300 peer-group to build business as well as get many other amazing benefits (including the e-procurement tool as outlined in reason #23 for free). The CPA group claims MDF from suppliers to pay for your membership fees so it could be 100% free for you! Come meet the CPA team at ChannelNEXT19 to explore how this peer-group community can be a game-changer for you. Takes only 2 minutes to join and it's FREE!
25. Fellowes will be presenting their full line of ergonomic tech accessories. We have never showcased this product category at our B2B event as we mainly focus on business solutions. However, with sitting being the new smoking and for the health of employees, we are excited to showcase more of these items (adjustable desk heights and a variety of other ergonomic products). I have a motorized adjustable height desk and I can tell you that it is amazing. We are also starting a new column on eChannelNEWS called Health Tech to help bring this important category to life and improve your health.
Unless you really have something better to do, these 25 business opportunities should be more than enough to convince you to get out of your office and come spend a couple days with us!
Watch this short 3-minute video to see and hear what your peers had to say after they attended the recent ChannelNEXT!
Of course, if you are not 100% satisfied with your ChannelNEXT19 experience and paid your full entrance fee, then we will give 100% your money back, no questions asked!
Keep in mind that the biggest highlight of the event is always the ELITE 300 MASTERMIND Peer-Group sessions that you will experience with a group of 8 peers (learn more about the Elite 300 Mastermind Extreme Business Building Academy).
The event will be held at the newly renovated Nottawasaga Inn Resort just 45 minutes north or Toronto. It's embedded in 2 golf courses so bring your clubs if you like! Tons of stuff to do!
Date: June 10th & 11th, 2019
Location: Nottawasaga Inn Resort just 45 minutes north or Toronto
Web site to learn more or register: ChannelNEXT
Some participating vendors may have free tickets available to offer partners. Ask us!
See you there!