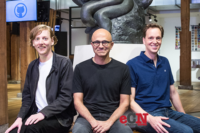 It could be depending on how the end game is played. I think by now it's clear that developers are the architects and builders of the World's future infrastructure. Pretty much everything we do is on the backs of software developers. For those who don't know GitHub, the company says that over 28 million people collaborate on their platform to develop software. It's a massive developer community that Microsoft paid about $7.5 Billion to acquire.
Nothing will ultimately change overnight in the community of developers as they will continue doing what they are already doing. What Microsoft will actually bring to the table to enhance the environment, tools and community will determine the net new benefits. Many were concerned when Microsoft bought LinkedIn, but for the most part (from the outside) it seems to be business as usual (with some annoying changes). As with all mega purchases, the big issue is accessibility and openness of connectivity into LinkedIn by third-parties. Will it remain a level playing field?
If it is not a move to steer developers away from their current playbook, but rather to open them up to a wider thinking and audience, then this can be awesome for their community. That said, there are other developer communities ready to step up if things go dark.
Developers need all of the support and access that they can get to build the best software so anything that will accelerate that, is welcomed. We are already seeing brilliant software coming from all parts of the World and that is where I see the real excitement brewing. Imagine a World where all developers have equal access to knowledge, tools and markets?
For many years it's been common practice to have developers working on projects from many countries. We actually have a developer that is doing some work for us on a project from a country that is currently in civil unrest. Sometimes we just check in to see if he is OK. Developers are doing amazing work from all over this World and we need them!
Here are some details of the deal between Microsoft and GitHub…
The plan if for the two companies to empower developers to achieve more at every stage of the development lifecycle, accelerate enterprise use of GitHub, and bring Microsoft's developer tools and services to new audiences.
"Microsoft is a developer-first company, and by joining forces with GitHub we strengthen our commitment to developer freedom, openness and innovation," said Satya Nadella, CEO, Microsoft. "We recognize the community responsibility we take on with this agreement and will do our best work to empower every developer to build, innovate and solve the world's most pressing challenges."
GitHub will retain its developer-first ethos and will operate independently to provide an open platform for all developers in all industries. Developers will continue to be able to use the programming languages, tools and operating systems of their choice for their projects — and will still be able to deploy their code to any operating system, any cloud and any device.
Microsoft Corporate Vice President Nat Friedman, founder of Xamarin, will assume the role of GitHub CEO. GitHub's current CEO, Chris Wanstrath, will become a Microsoft technical fellow, reporting to Executive Vice President Scott Guthrie, to work on strategic software initiatives.
"I'm extremely proud of what GitHub and our community have accomplished over the past decade, and I can't wait to see what lies ahead. The future of software development is bright, and I'm thrilled to be joining forces with Microsoft to help make it a reality," Wanstrath said. "Their focus on developers lines up perfectly with our own, and their scale, tools and global cloud will play a huge role in making GitHub even more valuable for developers everywhere."
Today, every company is becoming a software company and developers are at the center of digital transformation; they drive business processes and functions across organizations from customer service and HR to marketing and IT. And the choices these developers make will increasingly determine value creation and growth across every industry. GitHub is home for developers and popular destination for open source projects and software innovation. The platform hosts a growing network of developers in nearly every country representing more than 1.5 million companies across healthcare, manufacturing, technology, financial services, retail and more.
GitHub will be acquired for $7.5 billion in Microsoft stock (acquisition is expected to close by the end of the calendar year).