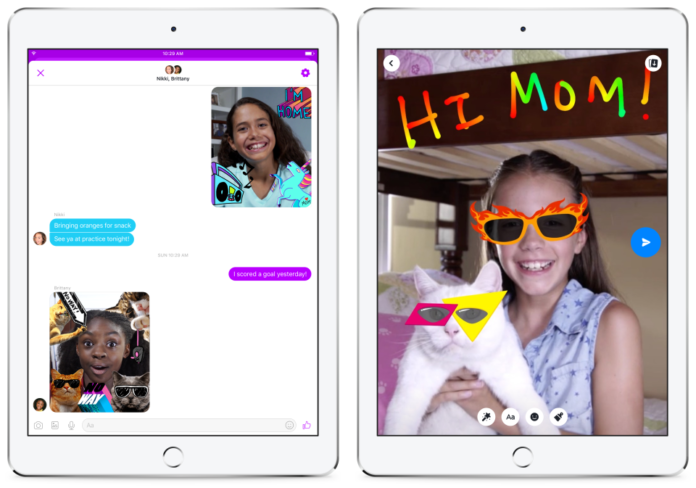 Today, in the US, we're rolling out a preview of Messenger Kids, a new app that makes it easier for kids to safely video chat and message with family and friends when they can't be together in person. After talking to thousands of parents, associations like National PTA, and parenting experts in the US, we found that there's a need for a messaging app that lets kids connect with people they love but also has the level of control parents want.
To give kids and parents a fun, safer solution, we built Messenger Kids, a standalone app that lives on kids' tablets or smartphones but can be controlled from a parent's Facebook account. Whether it's using video chat to talk to grandparents, staying in touch with cousins who live far away, or sending mom a decorated photo while she's working late to say hi, Messenger Kids opens up a new world of online communication to families. This preview is available on the App Store for iPad, iPod touch and iPhone.
Co-Developed With Parents, Kids and Experts
Today, parents are increasingly allowing their children to use tablets and smartphones, but often have questions and concerns about how their kids use them and which apps are appropriate. So when we heard about the need for better apps directly from parents during research and conversations with parents, we knew we needed to develop it alongside the people who were going to use it, as well as experts who could help guide our thinking.
In addition to our research with thousands of parents, we've engaged with over a dozen expert advisors in the areas of child development, online safety and children's media and technology who've helped inform our approach to building our first app for kids. We've also had thought-provoking conversations around topics of responsible online communication, parental controls and much more with organizations like National PTA and Blue Star Families, where we heard firsthand how parents and caregivers approach raising children in today's digitally connected world.
And for the past several months, many families at Messenger and Facebook have used the app and helped come up with some of the key features like the easy-to-use parental controls.
More Fun For Kids, More Control For Parents
Messenger Kids is full of features for kids to connect with the people they love. Once their account is set up by a parent, kids can start a one-on-one or group video chat with parent-approved contacts. The home screen shows them at a glance who they are approved to talk to, and when those contacts are online.
Playful masks, emojis and sound effects bring conversations to life.
In addition to video chat, kids can send photos, videos or text messages to their parent-approved friends and adult relatives, who will receive the messages via their regular Messenger app.
A library of kid-appropriate and specially chosen GIFs, frames, stickers, masks and drawing tools lets them decorate content and express their personalities.
Messenger Kids gives parents more control. Parents fully control the contact list and kids can't connect with contacts that their parent does not approve. Parents control kids accounts and contacts through the Messenger Kids Controls panel in their main Facebook app: