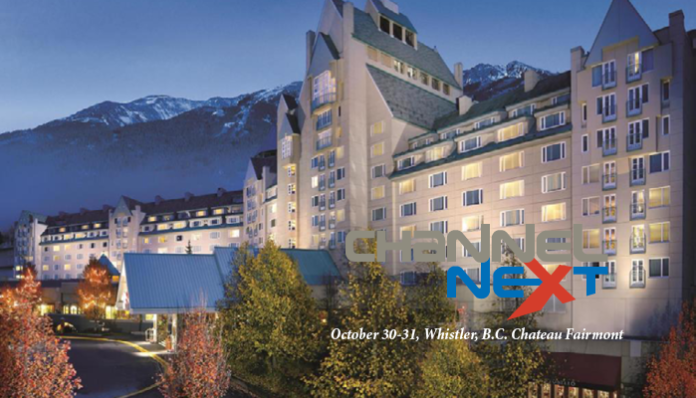 Some of the best channel leaders in Western Canada will be gathering on October 30-31 in Whistler for 2 days of EXTREME Business Building. Maybe you should be there?
What you get:
Amazing Vendors: Most are coming first time to our WEST event!
Sherweb (Top Microsoft Distributor)
Datto (Leading BDR, Networking and PSA)
Webroot (Outstanding Security)
Barrier1 (The Best AI In Security)
ITCloud.ca (New Microsoft Distributor, Security, BDR)
Purplesoft (Affordable and Powerful ERP for MSPs/VARs)
Citrix (Digital Workplace, Virtual Desktops, Networking)
Viewsonic (Best Peripherals)
QNAP (Best Storage)
Aerohive (Best Wireless Networking)
E-mailplatform (New Marketing Automation for VARs and MSPs)
Fileflex (Unique Cloud Collaboration)
TP-Link (Affordable Networking and Smart Home)
The Channel Buying Group (The Ultimate Buying Group) (Launching in BC)
Elite 300 Mastermind (The Ultimate Peer Group)
And MORE…
No reason why you could not leverage all of these vendors to help you increase your profits by at least 25% in 2019! We will prove it!
Mastermind Peer-Group Sessions: Just one of these will rock your World! You get to pick at least 2! This is the core of what the new ChannelNEXT is all about!
Sales
Marketing
Leadership
Operations
Social Networking: This is where the magic always happens!
Speed Introductions
Three Hospitality Suites
One Dinner
One Breakfast
Two Lunches
One Expo
One Lions' Den
One Pub Crawl
And, One Amazing Keynote About AI in Sales and how it will disrupt your future!
ChannelNEXT18 West
Date: Oct 30-31
Location: Chateau Fairmont, Whistler, B.C. (The best venue in Whistler)
Need more details?
Delegates will be rolling up their sleeves to collaborate and work with their preassigned 8-person peer groups and top business coaches. These powerful "Mastermind" sessions are now at the core of the new ChannelNEXT18 conference!
Watch videos of others who have experienced Mastermind sessions at recent ChannelNEXT events. Listen to what they say. It works! It's enjoyable! It's needed! Actually, we believe that you are going to like it so much that you may want to become a member an "Elite 300 Peer Group"!
This year, the setting will be in beautiful Whistler B.C. at one of the most amazing resorts – The Chateau Fairmont. The scrumptious food and 5-star hospitality will take your enjoyment to the next level. It's Whistler, so we are always up for some pub crawling!
10 reasons why you should attend the upcoming CN18 in Whistler…
1.    Artificial Intelligence in Sales! Keynote will be by Shane Gibson, ranked #5 by the Forbes.com list of top 30 Social Sales People in the World. He will be talking about how Artificial Intelligence is already changing the game in the sales process and what's coming in the future. You just gotta know this stuff! Shane will also talk about the latest social selling playbook that businesses must know to stay ahead of competitors. Shane is also a leading sales process developer, coach, trainer and author. His unique sales process is currently being used in sales training courses of Professional Sales Associations. You want to pick his brains to be ready for AI and social selling as it will affect you!
2.    Artificial Intelligence in Security: IT Security is what everyone is talking about these days. It is what businesses and end-users need in order to protect themselves from being hacked to steal business intelligence and held up with ransomware. For a different perspective, we have brought in a top "white-hat" hacker to deliver the keynote on what "black-hat" hackers are doing and how you may better protect your clients. This is a forever changing landscape so you need to know the inside story from the hackers' perspective. Marc W. does ethical hacking and vulnerability testing for large companies, financial institutions and government.
[Latest in IT Security: We are also going to introduce for the first time in Canada, a Security Platform that uses Artificial Intelligence to stay one step ahead of hackers, in real-time. You may want to bake this solution into your current security stack, regardless of what you currently use! Something you will only find at CN18! Ask about Vulnerability Testing-as-a-Service!]
3.    Building More Recurring Revenue: These days, just about everything that channel partners do revolves around building recurring revenue streams. The related cost savings and productivity gains to businesses are simply off the charts. The appetite for cloud, SaaS and all sorts of managed services continues to grow. CN18 will showcase several must-have RR vendors for VARs and MSPs.
4.    Generating end-user awareness and sales demand: It's what all channel partners want and need to grow their business. Come explore a game-changing marketing automation platform with Artificial Intelligence baked in to help you generate sales demand and build thought-leadership in your social networks. The secret sauce of this tool? It comes with an original content feed that allows you to instantly drag and drop great content! If you are in the know, then you know that creating good and affordable original content is 90% of the work. Now, you can have it all for about $50 per month! Experience it with a free trial at CN18.
5. Digital Marketing. This is a big focus of CN18 to help channel partners improve their playbook in the digital World. Saher Ghattas (top expert in digital marketing) will be hosting a MasterClass and several Mastermind Sessions to give real-world ideas and actions that you can take immediately when you get back to the office! Digital marketing is not just one thing. It is a mix of many things that when done well, the synergy will generate results that you never thought possible. Ask about our Digital-Marketing-as-a-Service!
6.    The Lions' Den: A fun and fast way to learn about products. Each vendor gets 3 minutes to make their best pitch to the channel partners in this exciting activity. The vendor with the best presentation wins an award and a cash prize that is shared with one person in the audience.
7.  Business Continuity: No event is complete without Business Continuity (Backup, Disaster and Recovery). Without a BDR plan, you are living a risky business. It is fundamental to all businesses and an integral part of any IT Security practice. But not all BDR solutions are created equally and the sector is now very crowded. You need to know which solution is right for your clients (and you)! Come explore some of the best in class BDR solutions like DATTO.
8.   Everything Microsoft! Meet two of the best Microsoft Distributors in the country! They help you to take your Microsoft business and profits up a few notches! If you do anything with Microsoft, then you want to get to know Sherweb and IT Cloud Canada. When you see their back-office tools and teams to help you market, buy, sell and manage everything Microsoft, you will understand why! Get ready for this next generation of Cloud distributors that you want and need.
9.    Hardware is alive and well! You will meet several vendors with leading hardware products and dare I say, solid margins! It does not matter how much Cloud is used, we still need hardware to access. The best monitors, computers, networking and storage devices will be on display from leading vendors that are 100% channel-friendly!
10.  Networks. Wireless networks and its security are at the foundation of any modern business. Building the right networks and its protection is vital to any business. With companies like Aerohive, Datto, TP-Link, Webroot and Barrier1, we have many bases covered!
Of course, the "Pièce de résistance" of CN18 is to experience our new Mastermind peer-group sessions! It is going to rock your business and change your life. See www.300elitemastermind.com . Come experience 3 sessions first-hand at CN18, then decide if it's right for you.
There you have it! TEN solid reasons why you should invest in attending the upcoming CN18 on Oct 30-31 in Whistler.
Book your spot now! Take just two days to work ON your business. What you learn will continue to pay dividends forever!
WiT (Women In Tech) will also be at CN18 featuring women-only Mastermind peer groups. If you are a female in the channel, then this can be a great starting point to connect and accelerate your success with like-minded women!