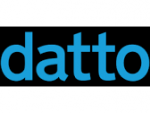 Datto, Inc. a provider of backup and DRaaS appliances, SaaS data protection, and managed networking products, today announced that the company has been included in Gartner's annual Magic Quadrant for Disaster Recovery as a Service. Datto was recognized for the second consecutive year in the "Visionaries" quadrant. The Magic Quadrant is recognized as one of the leading resources used by companies evaluating DRaaS providers in the market.1
Providing data protection and business continuity solutions for more than 50,000 companies around the world, Datto ensures business data and infrastructure is continuously secure and accessible no matter where that data is stored, whether it's on-site or in the cloud.
Datto's flagship product line is the market leading SIRIS 3, the only complete DRaaS solution available as a physical, software or virtual appliance protecting Windows, Mac, and Linux workloads. Business data can be backed up to a local device and synchronized to the secure 320+ petabyte Datto Cloud to provide robust recovery options from any type of disaster. This provides failover to a virtual machine and restoration in as little as 6 seconds to return to normal business operations.
Additionally, Datto offers the SaaS Protection product suite securing G Suite and Microsoft Office 365 data to protect against data loss in these popular SaaS applications. Datto Networking, Datto's latest solution built for Managed Service Providers, complements DRaaS with network continuity for small and medium businesses through access points, switches and the networking appliance with integrated 4G LTE failover.
"Disaster recovery is becoming increasingly important as businesses continue to face evolving threats, especially cyberattacks, that threaten to shut down their operations," said Austin McChord, CEO of Datto, Inc. "We believe being named a visionary in this space could only be achieved by our focus on keeping businesses running, no matter the circumstance. We are continuously building on our market leading business continuity offerings and released compelling new services at our recent DattoCon 2017 conference."
Releases at DattoCon 2017 included new features such as robust Hyper-V support and Fast Failback enabling rapid restoration, an expansion of the SIRIS 3X all-flash line to include rack mounted units and a refresh of Datto's most popular BDR device, the ALTO 3, which is designed to support smaller environments.
Additional announcements highlighted a next generation architecture for Datto SaaS Protection to enable lightning fast performance, upgrades to the Datto Networking line, and enhancements to the Partner Portal featuring new dashboards for real-time, mobile visibility into the status of Datto products and services. All in, the DattoCon product announcements further Datto's MSP led strategy of protecting business data on site, in transit, and in the cloud.