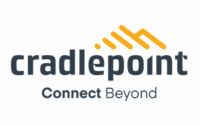 Cradlepoint announced a partnership with Extreme Networks.  The combination of Extreme's fabric networking solutions and 5G/LTE routers and adapters from Cradlepoint enables enterprises to deliver 5G to campus networks and securely extend the network to remote locations over a Wireless Wide Area Network. 
As highly distributed environments become more commonplace, 5G WWAN connectivity is critical for keeping remote locations always secure and connected, leading to increased integration of 5G solutions with existing Wi-Fi networks. Cradlepoint and Extreme make it easy to deploy these wireless networks at scale. Traditional wired remote locations can be costly to deploy, manage and adapt, and difficult to provide segmented IoT device connectivity. The integrated solution from Cradlepoint and Extreme enables customers to simply deploy secure, fully-connected remote locations, and fabric solutions that enable flexible IoT device deployments. 
"Businesses are looking to Wireless WAN using 5G and cellular technologies to both increase operational efficiency and improve the customer experience," said Donna Johnson, SVP of Marketing at Cradlepoint. "At the same time, they are looking to expand the reliability and agility of their remote location leveraging their Wi-Fi networks. Working with Extreme, we're able to bring these two wireless worlds together in a secure and automated way – improving site uptime and agility while reducing the strain on IT resources."
As part of Cradlepoint's Technology Alliance Program, Cradlepoint and Extreme customers can now take advantage of the joint solution that includes: 
* Diverse path high-availability with both failover and Day-1 connectivity; and
* Ability to simply extend the Extreme fabric to remote locations over the Wireless WAN for improved automation and security
"The future of networking lies in the convergence and complementary nature of Wi-Fi networks and 5G WANs," said Daren Dulac, Senior Director of Business Development at Extreme Networks. "Customers want simple, secure solutions that are easy to manage across an infinite number of remote locations while maintaining the same quality of user experience everywhere. Through this partnership, we're able to offer a connectivity solution that will help enterprises thrive in an increasingly distributed world."
"Extreme Networks and Cradlepoint helped make CruzControl, our turnkey, automated car wash, vision a reality, through their turnkey, cloud-driven network infrastructure, extending from the wireless LAN to the WAN," said Ian Beason, Product Development Manager at Motor City Wash Works. "The joint solution is quick-to-deploy, resilient, secure and delivers the agility needed to adapt to emerging demands." 
For enterprise edge applications:
"The combination of Cradlepoint LTE/5G Wireless WAN and Extreme Universal Wired and Wi-Fi solutions delivers greater resiliency, agility and reach for our customers – allowing them to quickly adapt to distributed environments and extend Extreme's Fabric automation and security to remote locations over the Wireless WAN," said Chris Emery, CEO of Ottawa-based Netagen. "As an experienced seller of both Cradlepoint and Extreme Networks solutions, we are excited about the partnership and the new opportunities to deliver a complete portfolio of wireless LAN and WAN solutions to our customers."   
To learn more how businesses are leveraging Cradlepoint and Extreme Networks to extend reach and optimize operations, register for the upcoming webinar https://cradlepoint.com/resources/event/automation-network-edge-with-56-lte-and-fabric/on April 6th from 1-2 p.m. ET. Motor City Wash Works, one of the largest global manufacturers of automated car washes, will discuss how it implemented its turnkey, as-a-service car wash technology system, using Extreme and Cradlepoint solutions.  
For more information about Cradlepoint and Extreme integrated solutions, visit https://cradlepoint.com/partners/for-customers/partner-technology-solutions/.
Source: Cradlepoint