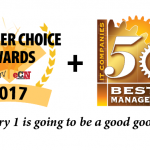 February 1st will mark the eleventh anniversary of the Reseller Choice Awards and the second anniversary of Canada's Best Managed IT Companies Awards. It just keeps on growing every year!
Last call…the deadline for voting for your favourite vendor and distributor ends on January 20th. It only takes a few minutes, so if you have not already done so, please vote now! Your vote matters! Sometimes the difference between rankings is only a few votes!
If you wish to send a "thank-you" to your favourite vendor or distributor for supporting you, then vote for them! About 90 awards are up for grabs!
For vendors who win one of these awards, it's the true customer affirmation of the hard work they put into developing their channel in 2017. It is a good pat on the back for a job well done! It also sends a message to your team and management that you are on top of your channel game. The channel is saying to you "thank you and keep up the great work!".
For MSPs and VARs, you have until January 20th to complete the best business practice assessment, if you want to be considered for a 2017 award. Otherwise, take all the time you want. Winning one of these Best 50 Managed IT Awards can do great things for your business and team! A great tool to leverage in your marketing activities!
It's going to be a formal gala with a scrumptious 4-course dinner. Toronto's band Park Side Drive will be rocking the evening. Truly a fantastic evening for some fun social networking with the best of the best in the Canadian IT industry. Learn more!
If you are part of the IT Channel and you wish to experience this special industry event, then you may purchase a ticket! Meet and network with your peers and learn what makes them so successful.
For ALL Channel Managers and Reps, you are invited to come earlier at noon to attend our 6th annual Channel Manager Summit. We have an awesome line up of channel experts that will be sharing best business practices and insights about the future of the channel. You may learn a thing or two that can help you to improve your channel success. If you are a vendor, then it's free to attend and lunch is on me! This year, we will also host a "mastermind" session for vendors to brainstorm and solve some of their pain points – live. If you already know what a "mastermind" session is, then you know of its value, if not, you are in for a treat!
"I got a feeling…Feb 1 is going to be a good good night!"