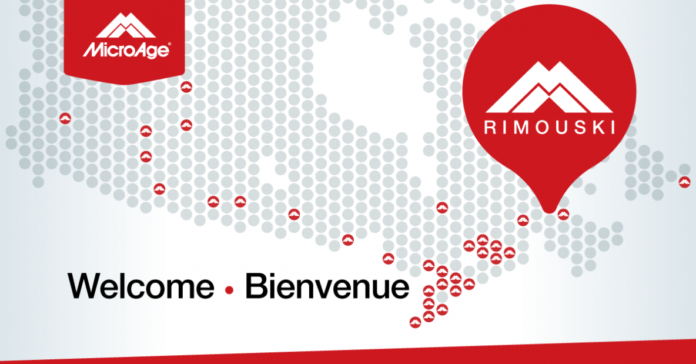 MicroAge has been successfully operating within the Canadian Information Technology landscape since 1981. The brand is synonymous with delivering unparalleled IT services and solutions within local communities to organizations of all sizes. Thirty-four strong, this national network gains their momentum by leveraging the capabilities, tool-sets and field support offered by MicroAge Canada, the national franchise organization. The MicroAge Value Proposition is founded on 4 pillars: the notoriety of the brand, access to continued education, availability of tools and proven methodologies and the benefits associated with community and membership.
They announced the addition of the Rimouski location to the MicroAge network. MicroAge Rimouski will serve the Rimouski area and parts of the upper Bas-du-Fleuve and Gaspésie region in Quebec, a market that will benefit from the presence of a national IT Service Provider.
Pascal Pelletier is the owner and President of Micro-Data Informatique, which has been in operation since 1984. Pascal has worked in the business for over 20 years and made the decision to acquire the business a few years ago. The MicroAge business model will allow Pascal and his team to further serve a strong local SMB community by expanding their solutions portfolio and adding managed IT services to their offering. MicroAge Rimouski will immediately gain access to national marketing initiatives, vendor relationships and certifications, and national service delivery capability through experienced owner-operated MicroAge franchise partners. "Joining the MicroAge Canada family will allow my team and myself to grow as a business, and at the same time enable our customers to benefit from all the IT resources that comes with this partnership. This opportunity is only the beginning of a strong relationship that will allow all our employees, customers and partners to grow with us" said Pascal Pelletier, President of MicroAge Rimouski.
Phil Palmieri, Presient of Microage Canada said that they are very confident in MicroAge Canada's ability to help IT Solution Providers succeed and grow within or outside their local markets. They are looking for service organizations who want to take their businesses to the next level. Their Franchise program accelerates their transformation journey by enabling added service-delivery capabilities, and efficiencies in their processes and overall business operations.