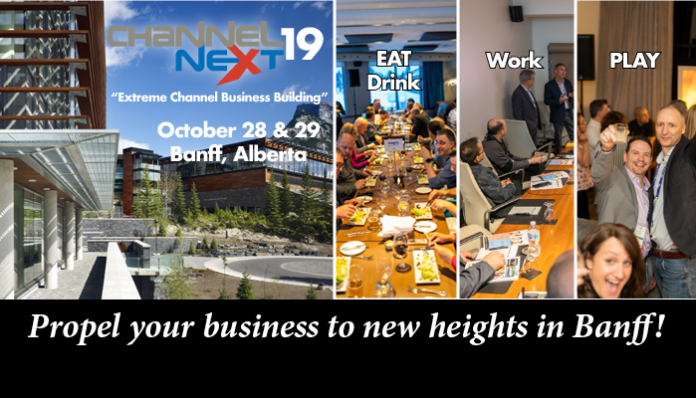 Banff, Alberta is truly amazing on so many levels. It's a special place where you can get away from the busy life, experience breathtaking views and have fun. The Banff Center is also a unique venue that can nurture your thinking outside of the box. It's why we choose this environment in Banff to host our ChannelNEXT19 on October 28 & 29.
We are bringing everything needed to help channel partners improve their best business practices and build sustainable recurring revenue!
Most successful MSPs already know that these two things are mission critical for future-proofing their businesses. If you are not yet convinced, then come learn from your peers why it matters.
Come experience this amazing ChannelNEXT workplace for a couple days and go home with big ideas, skills and tools to propel your business to the next level.
Exactly how will this get done?
The new ChannelNEXT format has been redesigned to deliver on this mission with two days of extreme business building in a powerful collaborative "Mastermind" peer-group format, developed exclusively for channel partners. Check out a play by play overview.
Speakers:
While we don't spend crazy money to get big celebrity speakers to talk about their success and do photo ops, we do have an awesome lineup of real experts who truly understand the pain points of channel partners.
Shane Gibson is from Vancouver and is a great speaker on the social selling playbook and how artificial intelligence is changing the rules. He helps companies build customized sales playbooks with AI for accelerated success. His insights will help you re-energize your sales team. Ask about his virtual and live certified professional sales coaching that will generate champions.
Saher Ghattas is a local Albertan from Edmonton who runs a full-service digital marketing agency. He currently does amazing work for several MSPs and will share his secrets for digital success. You want to pick his brain to accelerate your digital marketing efforts. If you don't want to do this in-house, then consider having them do it for you. Just follow his digital success roadmap and you will get to where you want to be.
From the East coast, we are bringing Glynis Devine. She will help you to identify the 4 types of personas to understand how to best communicate. Mastering this one skill will help you to get more of what you want. You may even learn a bit more about your own personality. It's still a people-to-people world and being able to communicate effectively to all types of personalities is crucial to success in business and life.
Paolo Del Nibletto, contributing Editor of eChannelNEWS and Channel Chief of Jolera (a Cyber Security Company) will be our emcee. His journalistic curiosity will bring some very deep and wide insights.
Of course, I will also be there to give some deep insights into what the most successful MSPs and VARs in the World are doing to stay ahead of the curve. I will also discuss the next generation of the channel and how you can flourish within this new marketplace.
Several experts from vendors who work every day on the front lines with channel partners will also share great insights on a variety of hot topics. There will be no shortage of amazing content during the ChannelNEXT19 event!
With just this group of experts, you will take home more than just a few tips that you can use to immediately improve your game!
Mastermind Sessions:
This is the foundation of the brand new format of ChannelNEXT19. It is about peer-group collaboration, learning and brainstorming to solve big pain points. Each session is chaired by a professional coach to help guide the group through this special process. You will be amazed at what you get out from participating in these mastermind sessions. Watch a video on what your peers had to say.
There are five of the most popular Mastermind sessions to choose from on Leadership, Sales, Marketing, Employee Recruitment/Retention and Best MSP Business Practices. You will attend at least 2 sessions and if you want more, you can sign up for a third after the event.
What you will take away from just one Mastermind session can impact your business and life in ways that may surprise you!
Vendors:
We only showcase vendors that we believe can add significant value to your business. In specific, we focus on recurring revenue opportunities. We are always adding vendors so check the web site for the latest line up.
Here are a few highlights:
SHERWEB will meet all of your Microsoft needs and then some. As one of Microsoft's largest CSP distributors, they know Microsoft inside out. On top of this, they offer lots of complementary solutions including a full VoIP solution suite. Their support is top drawer and they are announcing a brand new offering to all Channel Partner Alliance members! If you sell Microsoft, then you want to talk with Sherweb!
DATTO is all about the channel and helping MSPs to build out their BDR practice. They also offer a full PSA solution (formerly Autotask) with integrated RMM. As if that was not enough, they are growing rapidly in the networking market with some outstanding solutions.
ASIGRA was one of the first companies with a BDR solution. Based in Canada, they are offering a different value proposition for MSPs. Have them show you just out how easy it is to spin-up your own BDR platform to make bigger margins while increasing your business valuation.
APPRIVER is going to help you build out a Cyber Security practice and help you and your clients to be regulatory compliant. If you do not have both of these issues locked down then you are operating with high risk. Sometimes, solutions can be so complex that you need a trusted partner who knows how to get the job done properly.
QNAP is the market leader in network storage. When it comes to RAID systems, they are the Reseller Choice Award winners. What you may not know is that they are also big in surveillance security solutions that come with huge margins.
VIEWSONIC is known as the leader in displays and projectors in every possible format, including the next generation of desktop monitors. They do digital signage, digital workplaces with Viewboard and digital classrooms with Cromebox.
TP-LINK is known for their comprehensive lineup of solid consumer WIFI networking and smart home products including security cameras. Did you know that they also offer a full suite of SMB networking solutions with extended WIFI and smart switches? Check out their next generation routers with load balancing. You may be surprised when you experience their cloud managed solutions. Great quality and performance that is also affordable!
OKI is a first-time exhibitor. They have a lot to offer channel partners. If you are not up to speed with today's OKI, then you may be in for a nice surprise. They offer managed print solutions with a full suite of printers to fit just about every need. Find out how OKI compares to the competition.
PURPLESOFT/HANSAWorld offers an affordable full-featured ERP solution for MSPs. If you want to digitally transform your own business, then this is a great building block. Learn why having a proper ERP solution can help you improve productivity, efficiency, profitability and valuation. Experience what leveraging real-time business intelligence can do for your business success. Find out how you can easily offer powerful ERP solutions to your end-customers and generate a huge recurring revenue, with zero heavy lifting!
EMAILPLATFORM is a Danish marketing automation platform that leading companies like Lego use to communicate with their customers. Its ability to instantly share content with social networks and track all activities is second to none. We added a huge resource of content so you can simply click-to-add solving one of your biggest pain points – creating good content. Generating content-rich e-newsletters has never been so easy! It has never been more affordable and easier to energize your digital marketing.
THE CHANNEL PARTNER ALLIANCE is going to accelerate your business success and make you happier. It uses a unique Mastermind Peer-Group Collaboration process to help members improve best business practices, streamline their operations and build a sustainable recurring revenue business model! With its growing list of "supply partners", members will also get access to better support and pricing as well as other perks. For example, Sherweb is offering CPA members huge support package to help jump start their marketing. That is on top of special pricing on Microsoft products and all the vendors that they carry. Probably the most incredible value is that The Channel Partner Alliance Membership is FREE. Becoming a Sherweb partner is also free. Join this group and you start receiving benefits starting on the first day!
(Remember you can also find hundreds of other vendors that we showcase throughout the year on eChannelNEWS – Attend our virtual events. Subscribe for free!)
Networking Activities:
We did not remove the fun networking activities that ChannelNEXT has been doing for over 15 years. We still have the speed introductions, breakfasts, lunches, dinner and several hospitality suites with entertainment and the new Lions' Den. These activities are designed to help delegates bond and do more business while enjoying the experience.
Awesome Location:
The amazing Banff Centre is in the middle of the beautiful Banff National Park. A truly unique facility and wonderful experience with amazing food as well as newly renovated accommodations to meet the highest of standards. A truly uniquely Canadian venue that does very important work in the arts and leadership. We are very proud to support this venue and share with our delegates.
Summary:
2 Days + 6 Keynotes + 5 Mastermind Sessions + 15 Vendors With Amazing Solutions – Boring Sales Pitches + 12 Workshops + 5 Fun Networking Activities + 1 Awesome Location = Extreme Business Building at ChannelNEXT19 WEST
Three ways to join us on October 28 & 29:
Attend for FREE by simply becoming a Channel Partner Alliance Member (membership is also free)!
Early ticket is 50% off $995, before September 30th!
Ask your favorite vendor to sponsor your ticket or ask us who has free tickets!
PLEASE NOTE – Register early to reserve your room: The Banff Centre has limited hotel room accommodations and demand is very high. We have a block of rooms reserved for our group, but once this goes, you may not be able to get a room onsite. There are other hotel accommodations nearby, but it will not be onsite and may cost more as demand is high in Banff this time of year.