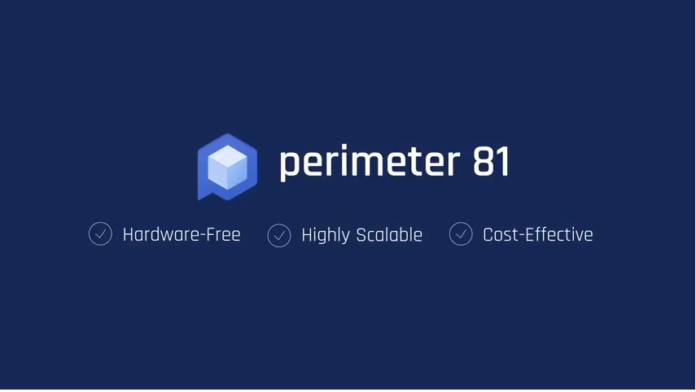 Israel-based security vendor Perimeter 81 is entering the North American market with a cloud enabled virtual private network (VPN) protection solution that is as easy to deploy as DropBox.
The Perimeter 81 platform can work anywhere and is always-on providing users with access to corporate Intranets and data while working remotely or at home.
One of the main benefits of Perimeter 81 is the around-the-clock VPN protection especially when users connect to an unsecured public WIFI network. The company also has a patent pendent new feature that provides automatic WIFI security that's on the go.
For example, the second someone's device connects to an unsecured WIFI it automatically activates an encrypted connection to safeguard the user's activities.
Perimeter 81 was established by Amit Bareket and Sagi Gidali who were graduates from the cyber and visual units of the Israel Defense Intelligence Force. While working at this elite group, both Bareket and Gidali sharpened their skills in high tech during critical times in the region.
Karen Mesoznik, head of marketing for Perimeter 81, told EChannelNews that this sort of special training helped the two founders in their chosen field. From the Israel Defense Intelligence Force, Bareket and Gidali met in university in Tel Aviv. The two developed an app that won them the prestigious Microsoft Inspire award.
After that recognition, Bareket and Gidali believed they could create a commercially viable product in the cyber security market. The two targeted VPNs because of the lack of security around the products.
Their first creation was called SaferVPN and it was released for the consumer market. Mesoznik said the two Perimeter 81 founders saw how inefficient and un-user friendly corporate VPNs were at the time even though the product was in high demand.
After the success of SaferVPN, the next step was to create a product for the business world.
SaferVPN became an overnight success in Canada and the U.S. especially after high profile cyber security breaches at Equifax. Mesoznik said that North American companies saw the product as a benefit because it was easy to use and it came in a Software-as-a-Service (SaaS) model.
"People saw a product that was simple and its single-click. Cyber security is now more essential than ever, but the market lacked a solution that was simple and easy to use. Both Bareket and Gidali knew there was great potential in North America as customers were already benefiting from our service," she said.
The VPN marketplace is expected to reach the US$70 billion market by next year.
Ori Ainy, Perimeter 81's channel development manager, said the market place currently does not have the level of awareness to the problems of security associated with VPNs. "The American and Canadian markets are both big and they each have a high level of cloud adoption. This makes the cloud common and therefore companies need a solution to safely connect to the Web no matter where they are," Ainy said.
From a channel perspective, Perimeter 81 believes there is a very good ecosystem of partners and managed services providers (MSP) in North America that would be interested in this type of solution.
James Alvarez, the director of new business development for Perimeter 81, said he has received many inquiries from North American companies asking for when the organization would be making its way to Canada and the U.S. because they were looking for a product that could provide secure remote access on a corporate scale.
"This gave us great validation," Alvarez said. "Perimeter 81 is the core product. The product is adaptable to businesses of any size from 10-person shops to 100 or higher. The big thing to remember is connecting users to corporate resources should be secure. And, in most cases there could be several devices from several locations. This tool solves all those problems. Its cross platform, can work with any cloud provider and is a Web-based app."
The main challenge for Alvarez and the team at Perimeter 81 is educating the market especially around the security risks of the software-defined perimeter. Another issue is that Perimeter 81 is not the only player in the market, except that those other vendors are taking legacy technology and trying to revamp their existing tool.
Perimeter 81 is investing in the Canadian and American markets by hiring a channel development team that includes former Ingram Micro and C2G senior executive Dave Walsh. Behind the channel development efforts is marketing team lead by Mesoznik.
Walsh said that tactically when you bring any new product into an established market the best way to grow is by working with channel partners and MSPs to identify the right segments and position the product as an enhancement to their business.
Currently, Perimeter 81 is in test and trial mode that will help them bring about more awareness in the market for the solution and position themselves with channel partners and MSPs to incorporate it into a security solution stack.
Another key strategic move by Perimeter 81 is to offer the solution as-a-service. Mesoznik said SaaS is a differentiator and the company believes it's the right model for this product. "The mission here is to deliver something that is accessible and easy to use. SaaS is that. With a subscription-based service you don't need a long on-boarding sales model. Just try it and see if it works for you," she said.
Ainy added that the company is looking to have tight alignment from the SaaS model to SMB customers. These types of customers want to avoid big investments in hardware with this strategy it aligns well with the traits of the products.
Perimeter 81 is also going to bring out more digital marketing campaigns to help drive more awareness for the channel and MSPs.