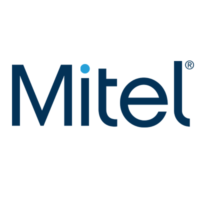 Mitel and ShoreTel announced that they have entered into a definitive merger agreement pursuant to which Mitel will acquire 100% of the outstanding shares of ShoreTel common stock in an all-cash transaction at a price of $7.50 per share, or a total equity value of approximately $530 million and a total enterprise value of approximately $430 million.
Consolidation should accelerate Mitel's move to high-growth UCaaS market. Continuing to deliver its move-to-the-cloud strategy, with this transaction Mitel is accelerating on a growth path by investing further and faster into the UCaaS (Unified Communications as a Service) market as digital transformation accelerates customer demand for cloud-based solutions globally. The combined company will be the #2 player in the UCaaS market, creating a supplier with the scale and technical capabilities to enable customers with new cloud-based solutions and applications.
The combined company will be headquartered in Ottawa, Canada, and will operate as Mitel. Rich McBee, Mitel's Chief Executive Officer, will lead the combined organization. Steve Spooner, Mitel's Chief Financial Officer, will also continue in that role.
"This is a very natural combination that enables us to continue to consolidate the industry and take advantage of cost synergy opportunities while adding new technologies and significant cloud growth to our business," said Mitel CEO, Rich McBee. "Together, Mitel and ShoreTel will be able to take customers to the cloud faster with full-featured, cloud-based communications and applications."
Together, the combined company will have approximately 3,200 channel partners and an industry-leading portfolio of communications and collaboration solutions. Mitel and ShoreTel are committed to providing continued support and an attractive path forward for all customers and partners – cloud and premise. On closing of the proposed transaction, the combined company will have a global workforce of approximately 4,200 employees.
"With the announcement today, this concludes our comprehensive review of strategic alternatives by delivering a significant cash premium for our shareholders," said Don Joos, CEO of ShoreTel. "Customers are clearly moving to the cloud at a rapid pace. The combination of Mitel and ShoreTel creates a new UCaaS market leader with a differentiated strategy and solution, and a clear migration path so that no customer is left behind or will have to abandon what they already have to cloud-enable their organization."
Once the transaction is complete, Mitel will be uniquely positioned to offer all customers the advantages of cloud-based communications. For enterprise customers, ShoreTel's solutions will strengthen Mitel's ability to cloud-enable customers with existing premise or mixed estate deployments, creating the technical foundation needed for delivery of next-generation cloud applications.
A few highlights"
1- Combined sales of $1.3 billion
2- Increases Mitel's total recurring revenue to 39% of total revenue*
3- More than doubles Mitel's UCaaS revenue to $263 million*
4- Significant synergy opportunity targeted at $60M in annual run rate spend expected to be achieved over two years
5- Expected to be accretive to non-GAAP EPS in the first year
The transaction is expected to be completed in the third quarter of 2017, subject to ShoreTel stockholders having tendered shares representing more than 50% of the outstanding shares of ShoreTel common stock, certain regulatory approvals having been obtained and other customary conditions to the tender offer having been satisfied.