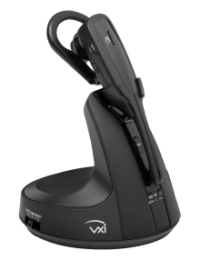 Audio and communications technology specialist, Jabra, announced the expansion of its popular VXi V-Series line of wireless office headsets to include the V175 and V300. The V175 offers single connectivity enabling office workers wireless freedom while on calls from their desk phone, while the V300 (pictured) offers tri-connectivity for professionals that need wireless freedom for calls from their desk phone, PC or smartphone.
As calls have become increasingly complex, the ability to move around the office to retrieve files, for instance, and the capability to take calls on the go has become more important than ever before. In fact, a recent study by the company found that employees empowered with wireless headsets are more than 20 percent more productive than their peers with corded solutions. With a range of connectivity options, each of the three V-Series headsets support 350-feet of wireless range with digitally-encrypted DECT™ technology, allowing employees the freedom to move, maximize productivity while on calls, and drive business forward.
Beyond their connectivity differences, the entire V-Series offers the same set of practical headset features including:
Industry-best noise-canceling microphone for clear conversations
Up to 10+ hours of talk time on a single charge
One-touch controls
Choice of three wearing styles—headband, ear hook and neckband
Optional VEHS Electronic Hook Switch that allows users to answer and end calls from anywhere in that 350-foot radius.
"It doesn't matter what industry you work in, organizations are constantly seeking new ways to boost productivity, which is becoming increasingly hard in our complex and mobile society," said David Jaques, Director of Product Management. "With the addition of the V175 and V300, Jabra now offers organizations a wide variety of headsets to meet their employees' connectivity and productivity needs no matter where or how they work."