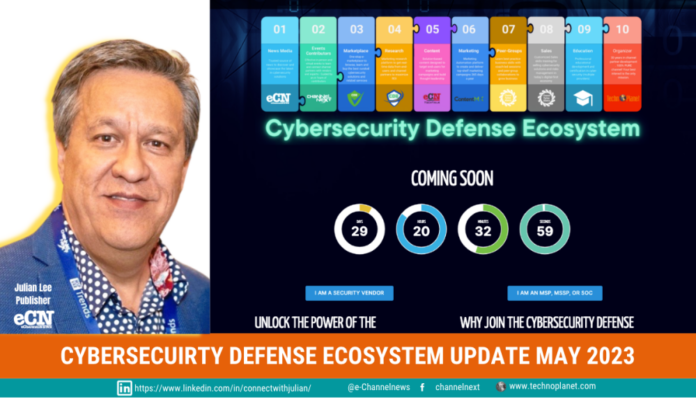 The journey continues… As promised, I will provide periodic updates on our progress in developing the Cybersecurity Defense Ecosystem (CDE) to those involved in the cyber game.
The CDE website is up!
Cybercriminals continue to threaten our economy, businesses, schools, hospitals, governments, and individuals. And, with the most recent version of Artificial Intelligence, we will have a lot more bad actors playing a much better game. I am already seeing much better phishing attacks. You can find many articles I did with experts on the topic at eChannelNEWS.
If you want to learn more about the latest attacks: Miles Walker from Kaseya will be doing a live presentation on the Good, Bad and Ugly of cyber attacks at our upcoming ChannelNEXT23 event on June 5-6 plus we have an all-star panel discussion hosted by Nim Nadarajah, PMP, MBA, SSGB, CSM
After meeting and talking with many in the channel community, we are more convinced than ever that we are on the right track with building the Cybersecurity Defence Ecosystem to help solve cybercrime (I will publish some videos on feedback we got). Also, a big thank-you to our amazing board of advisors as they have been very helpful in guiding us!
As members of the news media www.e-channelnews.com, we have the opportunity to speak with many of the over 4,000 companies who are developing cybersecurity solutions. It's difficult to process everything and even more difficult for most channel partners to figure out what to choose!
So far, we have "boiled" down the big list to under 60 companies with about 20 almost through the vetting process. We will start to showcase the vendors on the short-list and then identifying those that have been approved with the CDE icon below. Members can explore these vendors and become partners as they wish – never any obligation and always 100% independent and unbiased! All partners will soon be showcased on the "marketplace" of the CDE website.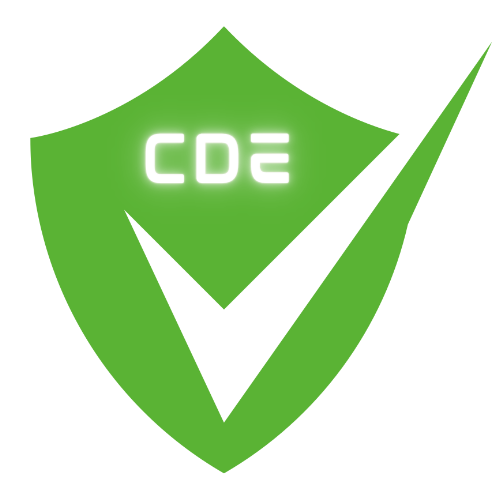 The World simply needs a much larger network of channel partners who can deliver more effective cybersecurity services. With the ongoing advancements in cybersecurity, automation and A.I. we can probably achieve this goal much sooner than first thought.
So, where to begin?
If you are an MSP, MSSP or SOC, start by joining the Cybersecurity Defence Ecosystem for FREE and begin watching and learning. There is no obligation and you can cancel at anytime. Sign up now.
Download and review the membership prospectus. Watch for the information and updates that you will start to receive. Explore the available tools and maybe plan to come meet everyone in-person at one of the upcoming summits (next up is June 5-6). Go at your own pace to discover CDE and why it matters to you.
Here are just 12 of the benefits CDE members can get:
Curated vendors and solutions, vetted by CISOs and other cybersecurity experts.
Channel-focused vendors so you can make money and get the support you need.
A marketing automation platform that will help you generate more sales.
Vetted outsource cybersecurity providers (SOCs/MSSPs) in case you just do not want to build it.
A peer-group that you can join to collaborate and build business.
Sales training for your team to better sell more cybersecurity services.
Business coaches to help you fix just about every problem you may have.
Find the best insurance coverage and rates.
Compliance and regulation support.
Pen-testing-as-a-Service.
Partnership relationship management with vendors.
Mergers and acquisitions matchmaking platform to sell or buy your business.
It's still early days so much more is in the works.
If you are a cyber vendor, then consider being a vendor partner to the CDE. Download the prospectus at CDE website to learn more and explore if you are a fit.
We invite all MSPs, MSSPs and SOCs who are focused on Cybersecurity to Join us and your peers on this journey as we create the best community of cybersecurity partners on the planet.
Remember: Cybercrime affects everyone! When corporations pay to prevent or remediate a cyber assault, the cost is eventually passed on to their customers. Compliance and regulations add to cost. Rising insurance premiums add to cost. Everyone has to pay more at the end!
It's what I call the new "CyberTax," and it's just going to become worse unless something is done about it.
Joining the CDE is one easy thing we can do to push back!