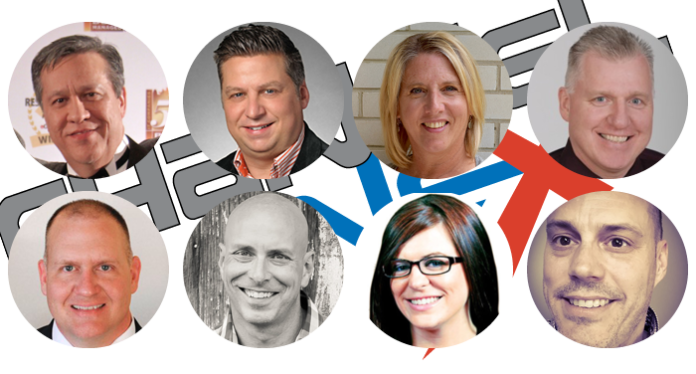 Yahoo! On October 16-17, We will be bringing over a dozen channel experts and coaches to Alberta, home of the real Canadian cowboys and cowgirls, and of course oil!
Building business is the focus at the upcoming ChannelNEXT conference in beautiful Kananaskis, Alberta. Check out the three podcasts below to give you a little taste of what you will experience from the Coaches at the event.
We will talk digital marketing and help you to uncover what you are doing right and what you need to improve to get more customers!
We will talk Social Selling with Sales Process and how that can rock your sales growth!
We will be talking how you can grow your business and profits by 30% within the first year!
It's a good time and place to work ON your business instead of IN your business.
No doubt every VAR, MSP and ITSP is bombarded with invitations to attend all sorts of channel conferences. In many cases the pitch to attract them, all sounds alike. With the daily workload constantly piling up, it's very difficult to stop and think, let alone pick out the right one to attend.
Well, we will make this decision a little easier as we are reinventing what a channel conference will be in the future and we are unveiling it in Western Canada! We see our next generation of conferences as an important extension of your workplace. A place where you can step back with your colleagues and peers to digest some valuable insights that will improve your business on so many levels, while enjoying the experience. If you are not familiar with a "Mastermind Experience", read this!
ChannelNEXT is now 100% about building business on best practices and recurring revenue. All participating vendors are stepping up to give deeper insights and secrets as to how their current partners are building success, customers and profits (instead of the standard sales pitches). The agenda and content will be 100% driven by business coaches and channel experts who are there to help partners succeed.
We will also be launching a brand new ambitious initiative for 2018 at the conference… Canada's Next Top 300 Channel Partners. A maximum of 300 partners will be able to signup for an exclusive membership in the Elite 300 Mastermind group. These 300 companies will get the ongoing support needed for sustainable and predicable success by 6 assigned coaches with the sole mission of growing their businesses by 30% within the first year! Learn more at Canada Elite 300.
Of course, you will also meet and develop partnerships with some of the very best vendors on the planet, including:
Amazon Web Services (Spinning up Cloud instances just got easier and global with the help of a cool tool that Westcon has baked into the process, at no additional costs!) See recent interview on www.e-channelnews.com. On November 15th you can attend a webinar to learn more!
Datto has world-class BDR and networking-as-a-service solutions and they are 100% channel-only! Amazing channel team!
Solarwinds has a comprehensive offering for MSPs including RMM, BDR, Help Desk and more!
Sherweb is showcasing everything Microsoft that you will ever need. They are the one-stop distributor for Microsoft! On October 25th, you can also attend an upcoming webinar from Sherweb!
IBM is bringing its power suite of Cloud and business applications to the channel. You are going to want to see this for yourself!
Barracuda is bringing their world-class solutions it in the data security space. Your clients will want this and you will make money protecting them!
Webroot is growing very fast in the security market with an easy on ramp for channel partners.
Westcon (recently bought by Synnex), is going to make Amazon Web Services a big win for the channel with their dashboard tool as well as a full catalog of other cloud services to plug-in! Attend a webinar on November 15th to learn more.
Epson is always generating solid profits for their partners with the most comprehensive line of projectors, big tank printers and interactive board technology. Every channel partner should be selling some Epson.
Viewsonic is showing their amazing line of displays that are ideal for virtual desktops as well as other fantastic peripherals.
Canon is showcasing their line of high-quality printers exclusively for channel partners. They are looking to expand their relationships and partnerships within the channel.
Lantelligence is showcasing a Cloud VoIP solution for business and call centers with some hefty margins and recurring revenue potential for partners. You just have to be offering VoIP to your clients and with their support and margins, it will be easier! You can also check out their webinarr about building recurring revenue from Cloud Communications.
and more… View the current participating vendors. You want to partner with these leading vendors with recurring revenue opportunities! Meet them to explore and decide for yourself!
We are also very excited to introduce a brand new marketing automation platform specifically for VARs/MSPs/ITSPs! It's a game changer! You are going to want this! Attendees will get a very special incentive!
The fun social networking activities are always a highlight of the event so that will never change. We may however kick it up a notch or two. Lots of fun times planned in the hospitality suites! We are keeping all of the good things that made our events #1 for the past 15 years and reinventing the rest to meet the needs of the next generation of channel partners.
I will stop here because I can keep going on and on about what you will get at the event! View Complete information kit about the event.
Book your seat now! Time is really running out Oct 16-17! We are already at capacity but always room for a few more to join the party!