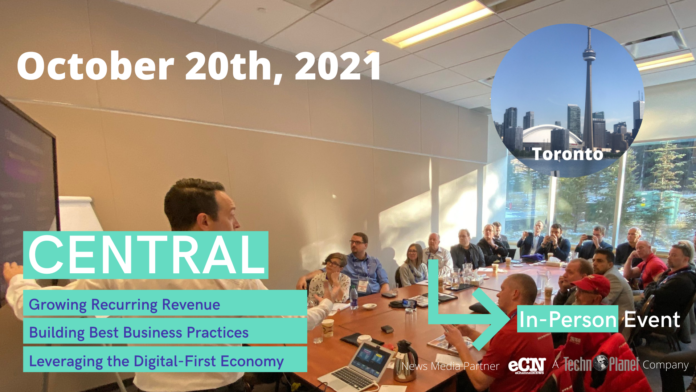 If you were to ONLY leverage the technology stack, advice and support from the companies exhibiting at this event, you will be able to level up MSP business. 
We have literally brought together top-shelf vendors, solutions and speakers under one roof to help ANY MSP pivot and scale up success.
Rest assured that we have done everything possible to make the event as safe as possible for everyone. Everyone must be fully vaccinated with proof before entering. The format of the event has also been adjusted for physical distancing. Our first event in September has demonstrated that we can meet in-person in a safe way.
Meeting in-person is important on so many levels so we felt that it was high time to ease back slowly but surly into it (before we all get too "rusty"). Living in this new digital reality require some level of in-person activities. The question is how to do it smartly and enjoyably.
We may have an answer with the latest ChannelNEXT event.
10 reasons WHY:
Meet your peers. Reconnect with humans :o). Exchange your ideas. Share your concerns and experiences. See what others are doing and leverage whatever you can.
Meet select vendors that are 100% channel-centric with a strong mission to help their channel partners to build success.
We have the CEOs from 3 different leading MSPs to share their secrets to success as we all help each other to maintain a vibrant channel.
We have 2 top SOCs that are on the frontlines 24/7 protecting businesses and governments from being hacked. They are also helping MSPs with their cyber security needs. Today, being a SOC is top-drawer stuff and smart MSPs are leveraging their unique expertise to scale up their cyber security offerings.
We are highlighting Digital Transformation through Robotic Process Automation (RPA). We have one amazing vendor that can help you gear up to speed to becoming a trusted DX advisor to your customers and drive ROI NOW!
We have a solid selection of Cyber Security solutions/vendors to help you build out an effective practice and get ahead of this massive growth trend.
We have everything you will need to expand your book of Microsoft business and an extensive mix of add-on services to bundle. This is the right time to be building a deeper and wider business practice around Microsoft. We even have a vendor who can help you improve the performance of M365 beyond what you thought possible.
We have a vendor that is the World leader in work from anywhere hardware technology with a wide selection of smart screens with built-in software for anywhere access. Every company and school needs this. You need it! We all need it!
We have an online business school with literally everything MSPs need to build best practices, maximize profitability, future-proof business or even sell their company! This is how we help you to improve your game every day beyond ChannelNEXT.
We also have all of the usual managed services solutions and platforms from PSAs, to BDR to networking etc. PLUS, a few surprises for you!
If those are not a good enough reasons to join us in-person, then at least watch the live-stream from wherever you are. We rebuilt this event to help you in today's environment. It's up to you to take the next step to experience it and reap the benefits.
Register at https://www.eventbrite.ca/e/channelnext-central-in-person-live-streaming-tickets-180379328427
Check out some of the speakers: