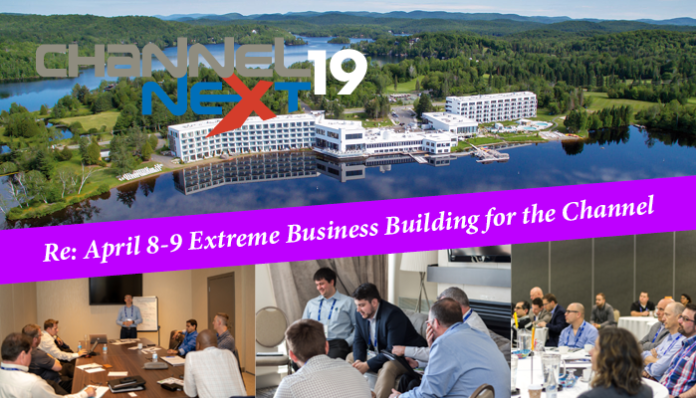 Version française incluse au bas de la page
If you are a VAR, MSP, MSSP, ITSP or ISV located in Eastern Canada or any neighboring state in the upper east coast of the US, then save April 8-9 in your calendar as you may want to attend ChannelNEXT19 EAST (hosted in Esterel, a beautiful Quebec resort and spa located just 90 minutes from Montreal or Ottawa)!
It's where the IT channel in the eastern region will be gathering for some extreme business building!
The event is always in English (mainly because just we cannot speak French) however, this year we added a French language track with lots of common activities where everyone can come together to network. This year, we are also opening up the invitation to our American channel partners from neighboring states as many have been asking to attend (This event is actually much closer in distance and may be more relevant to your business today than many of the other usual conferences hosted in the US – also a peaceful get-away from all of the political noise :o)).
The Upper Eastern Canadian and American regions represents about 5,000 channel partners and billions in IT Spend. All can get value from this extreme business building conference to grow!
As usual, attendees will meet some of the best channel-friendly vendors to explore partnerships as well as peers and several business building experts to exchange ideas and learn at ChannelNEXT19. However, you will also be experiencing two powerful "mastermind" sessions to actually solve some of your biggest business pain points.
At a minimum, you will be going home with several great ideas and solid opportunities to grow your business. You may even make a few new friends. You will definitely have an enjoyable experience!
So what are mastermind sessions and why it matters to you? Do not take our word for it, listen to what your peers had to say…
Here are 22 things that you will take home, if you come to ChannelNEXT19 on April 8-9 in Esterel, Quebec:
1.     You will experience TWO "Mastermind Peer Group" Sessions. These 90-minute coach-led peer-group brainstorming experiences will help you to uncover practical ways to solve your biggest pain points, improve your game and future-proof your business. This alone is reason enough to attend as you just cannot get it anywhere else! The struggle is real and you are not alone!
2.     Network and socialize with your peers, vendors and distributors. It is amazing what happens when you put 100 companies under one roof in an amazing resort with great food, drinks and entertainment. It's normal when everyone takes away some huge business opportunities and fun memories. If you have never experienced our social networking activities, then you are in for a sweet surprise. This year we are back with Karaoke and more surprises (No problem if you do not like to sing as there will be something for everyone). Four hospitality suites to meet and play!
3.     Improve your Social Selling Game. Get brilliant insights from the experts as well as your peers on how you can win bigger. Get ready to compare your current social media playbook and take home a proper roadmap to becoming a community IT thought-leader and attract new customers every day.
4.     Energize your digital marketing game. Learn the latest ways in which you can refresh your digital marketing strategy, programs and tactics that will generate more qualified sales leads every day. One of the best digital marketing experts will give you the inside scoop on best practices in the digital world.
"mmmmm…Maybe just these first 4 reasons alone is worth the trip to ChannelNEXT19, but please read on…"
5.     Become a better leader. It's no secret that employees are motivated by strong leaders. A top reason why employees leave a company is poor management or weak leadership. Learn how to get the most from your team by being the best leader you can be. Learn some new leadership skills from the expert coaches.
6.     Finding, hiring and keeping the right staff can be the difference between failure and success for any business. Especially today when good IT talent is scarce. Get the inside scoop on how your peers have solved this problem and pick the brains of a HR expert who understands how to solve this daunting challenge. Explore how smart private-label-outsourcing can mediate your staff shortages and possibly save you costs.
7.     How will Artificial Intelligence change the way you sell? AI is already impacting sales with chat bots and automated marketing communications. How you can you start to leverage AI in your sales process to leave your competition behind? We will expand on this topic from last year. Learn how AI can save time and costs while selling more – today!
8.    It's clear that building out your IT security practice with the proper solution stack is fundamental to your business and your end-customers. Security experts know that layering multiple solutions to block cyber attacks will deliver the best protection and reduce risks. As hackers get smarter, preventing attacks has become a moving target. Best security practices today will not be best tomorrow! Come get very deep insights into the security challenges and how you can win this battle for your customers. We will feature an exclusive AI Security solution that claims to block all types of cyber attacks that are already penetrating your current stack. The company says that if you are skeptical, check out their Cyber-Attack Monitoring-as-a-Service that will identify all of the breaches that are already getting through your solution stack. Partners can also resell this monitoring and reporting service on a monthly recurring revenue!
9.     Back Up Disaster and Recovery (BDR) is now a common component of any IT infrastructure. But clever hackers have already found a way to plant dormant viruses that will activate as soon as you recover from a back-up, thereby rending your back-up useless. Come learn how vendors are helping you solve this huge game-changing problem. We will also explore how you can build a more profitable practice around BDR while adding share value and Intellectual Property protection to your business. We will also explore the privacy and breach attack reporting compliance issues that can literally bankrupt your business, if you are not protected.
"After digesting these first 9 reasons, you are probably beginning to feel that it's a lot of value to get for just a couple days of your time, but there is more…"
10. Are you ready for MSP 3.0? Professional Service Automation (PSA) and Remote Monitoring and Management (RMM) has been the bedrock of the managed services business model from the very beginning. Why are the vast majority of MSPs stuck below 20% margins and under 10 staff? How is the commodification of managed services reeking havoc in the channel and how to overcome the challenges. What's next in the MSP game?
11.  Offering country-wide service and support just got easy. Sometimes you get a client that has office all across the country, but you are not able to physically service all of their locations. Referring your client to third parties to offer service in different regions can open your business to customer poaching. You will explore a well-structured program with proper customer protection that can deliver the remote location services that you need at a fixed price and private-labeled so your client feels that you are a national service provider!
12.  Almost every channel partner does networking. We are excited about the mix of solutions that will be showcased at ChannelNEXT. These vendors will cover the full spectrum of networking solutions for every situation. We will also introduce some new technologies that you can plug into the networks to add a solid layer of security and all sorts of digital transformation solutions!
13.  Is your "accounting" solution really working for you? If you never had a chance to understand or experience what a real Enterprise Resource Planning (ERP) solution can do for your business, then you are in for an awakening. True Digital Transformation is built on a proper ERP foundation. Learn how you can finally leverage the power of a real ERP solution that is 100% customized for the VAR/MSP business (that is also AFFORDABLE). This will change the way your run your business and you may be left wondering why you did not do it sooner. See how you can manage and control every aspect of your business from anywhere and anytime! And, increase your business valuation!
14.  Everything Microsoft – literally. Two of the best Microsoft authorized distributors will be showcasing the full lineup of Microsoft products (Dynamics, Office, Azure, VoIP) and helping partners to better leverage and make more money. If you are selling anything Microsoft, then these are your best supplier choices.
15.  VoIP. Every business is either already using VoiP or is soon going to be using VoIP as all traditional PBX systems are becoming extinct. You should have a VoIP Play in your solution portfolio because if you don't, your competitors will have an open door to your customers. Once a competitor gets in with VoIP, they can start to poach more of the managed services that you are currently selling to the client! We will explore a few comprehensive solutions that you can choose to add to your portfolio or outsource. Learn how you can use VoIP to open any door of any prospect!
"By now you are thinking, these are 15 crazy big reasons! I just may have to check this conference out, but could there really be more? Well yes…"
16.  Don't sell much hardware because of low margins? Well, selling hardware, even as a loss-leader, is something that most channel partners have to do as they make their money from the services that they wrap around the devices. However, you can still make good margins on hardware if you know how to play the game or offer Hardware-as-a-Service. Learn about life-cycle management of hardware and how it can add incredible margins to your profits. Add an e-procurement tool to automatically shop for the best prices from all major distributors in North America.
17.  Don't sell recycled ink and toner products? Do you know how big the printer supplies business is? You will meet one North American manufacturer that could change your mind on selling printer supplies with bigger margins, environmental concerns and value proposition. Reuse is the first step in recycling and protecting the environment. When done right, recycled products can be a significant game changer for the end-user, the reseller and the environment. Even better, explore the vendor's offering in Managed Print Services to collect monthly revenues for every page printed instead of just selling printers.
18. Still don't recycle hardware or sell refurbished systems? You will meet one North American vendor that could change your mind with decent margins, positive environmental impact and strong value proposition. Reuse is the first best practice step in recycling and protecting the environment. When done right, recycled computer systems (and other hardware like UPS, printers, servers etc.) can save huge costs and become a big game changer for the end-user, the reseller and the environment. You also want to offer a full life cycle plan to deal with all hardware as it expires to ensure data is wiped securely, reused where possible and recycled to the highest government regulations and environmentally preferred standards! You have the power stop the mindless dumping into landfills in your local community!
19.  Ready to automate your digital marketing game to drive sales every day? You will get to experience a platform that will get you as close as possible to full automation of the marketing process. This will take a big bite out of your workload and drive sales demand 365 days a year! Push content to your end-customers through e-newsletters and social media sharing – seamlessly! Click-to-add original content from the end-user news feed. And, so much more! Just this alone could be well worth the trip!
20.  While Cloud data storage is everywhere, on-premises or hybrid solutions still make up the largest portion of the market. You will explore some of the very best storage solutions and some applications that can instantly and securely put them on the Cloud! This may be the alternative to going 100% Public Cloud and being locked in to an always increasing cost structure!
21.  Checking price and availability and ordering over one million products supplied by Ingram Micro, Tech Data, Synnex and D&H across North America is a simple "click" task. Many smart channel partners already leverage this tool to save 90% of their time from sourcing and buying IT products at best prices. Ask how you can get this tool for FREE (and more) by simply becoming a member of the Channel Partner Alliance group!
"At this point, you are realizing that there is nothing better that you have planned to do do on April 8-9 that will help your business more than attending ChannelNEXT19, but there is one more big reason…"
22. Gain the super powers of a peer-group all year long! Explore the Channel Partner Alliance and see how joining gets you into a private Elite 300 peer-group to build business as well as get many other amazing benefits every day, including the e-procurement tool as outlined in reason #21! The CPA group can claim MDF from suppliers to pay for your membership fees so it could be 100% free for you! Come meet the CPA team at ChannelNEXT19 to explore how this peer-group community can be a game-changer for you.
Of course, there is more, but hopefully, these 22 reasons are more than enough for you to decide to get out of your office and come spend a couple days with us.
We believe that it is, but put us against the wall… If you attend our ChannelNEXT19 event and paid your full entrance fee and if for any reason you feel that you did not get enough value, then we will give 100% your money back, no questions asked! If we cannot help you, then we don't want your money!
Keep in mind that the biggest highlight of the event is always the ELITE 300 MASTERMIND Peer-Group sessions that you will experience with a group of 8 peers. So get ready to be blown away! Learn more about the Elite 300 Mastermind Extreme Business Building Academy.
We are so excited to be back at the beautiful Esterel Resort for the 4th consecutive year! It's truly one of our favorite resorts! Why? The food is amazing! The rooms are outstanding! The views are spectacular! The facilities and spa are fantastic! Off the hook wine cellar! The people are awesome and super friendly. Parking is FREE! It checks off all of the boxes! We just love this place and it's a full hotel takeover for ChannelNEXT19! We encourage you to bring your family or friends to extend your stay with our special rates! Make it a mini spring vacation! Check out the Esterel Resort!
This event will definitely improve your business but it may also change your life in ways your never expected. 
Still have questions?
View Complete Reseller Prospectus
Get an early registration ticket for 50% discount if you register before February 28th, 2019.
If you wish to find out about sponsorship opportunities, please send an email at channelnext@technoplanet.com
22 bonnes raisons de participer à ChannelNext le 8 et 9 avril prochains
Si vous êtes fournisseur d'équipements ou de services informatiques et êtes basé au Québec, dans les Maritimes ou dans l'est de l'Ontario, réservez les dates du 8 et 9 avril pour assister à ChannelNext19 (qui aura lieu au fabuleux hôtel et spa Estérel Resort situé à 90 minutes de Montréal et Ottawa)!
C'est l'événement à ne pas manquer pour la croissance de votre entreprise!
L'événement est essentiellement en anglais mais nous avons ajouté cette année une séquence d'activités communes en français afin de favoriser les échanges.  Cette année, suite à la demande, nous avons aussi lancé l'invitation à des partenaires du Nord-Est américain (notre événement se trouvant plus près que bien d'autres conférences ayant lieu aux Etats-Unis).
Les régions de l'est du Canada et des Etats-Unis représentent environ 5 000 partenaires et des millards de dollars en dépenses en TI.  Il y a donc un énorme potential d'affaires en assistant à notre conférence.
Comme par la passé, vous rencontrerez quelques-uns des manufacturiers les plus en demande de même que vos pairs et plusieurs experts qui vont aideront dans la croissance de vos affaires.  Mais surtout, grâce à nos deux sessions mastermind, vous pourrez améliorer certains de vos plus grands défis.
Il est certain que vous repartirez avec plusieurs nouvelles idées pour améliorer votre entreprise.  De même, vous élargirez votre réseaux de contacts tout en profitant d'une expérience enrichissante!
Qu'est-ce qu'une session mastermind et pourquoi devriez-vous y participer?  Voyez plutôt ce qu'en disent ceux qui l'ont vécue…
Voici 22 raisons de venir à ChannelNext19 le 8-9 avril à Estérel, Québec:
1. Vous ferez l'expérience de deux sessions Mastermind.  Ces sessions de remue-méninges de 90 minutes sont encadrées par un coach et permettent aux participants de découvrir de nouvelles façons pratiques de résoudre leurs plus grands défis.  Cette raison à elle seule devrait réussir à vous convaincre car nulle autre conférence n'offre ce type de service.
2. Vous aurez l'occasion d'échanger avec des manufacturiers, des distributeurs et d'autres participants.  C'est étonnant de voir ce qu'il en ressort lorsque vous réunissez 100 personnes sous un même toit dans un hôtel quatre étoiles.  Chacun repart avec d'incroyables occasions d'affaires et des anecdotes amusantes.  Si vous n'avez jamais fait l'expérience de nos activités sociales, vous allez être agréablement surpris.  4 suites de réceptions dont l'une de karaoke (n'ayez crainte si vous préférez de pas chanter car il y en aura pour tous les goûts)
3. Améliorez votre présence sur les réseaux sociaux.  Recevez des conseils d'experts et des autres participants.  Vous pourriez devenir un leader d'opinion dans votre communauté et ainsi recruter de nouveaux clients chaque jour.
4. Améliorez également votre marketing numérique.  Vous apprendrez les nouvelles tactiques de marketing en ligne qui vous permettront de générer des pistes de ventes. L'un de nos meilleurs experts en marketing numérique vous fera partir des meilleures pratiques dans le domaine.
Peut-être que les 4 raisons mentionnées ci-dessus valent à elles seules le déplacement? Mais encore….
5. Devenez un meilleur chef d'entreprise.  Il va s'en dire que la motivation des employés dépend souvent du patron qui les dirige.  En fait, l'une des raisons pour laquelle un employé quitte une entreprise est la piètre qualité de ses gestionnaires.  Apprenez à miser sur les forces de vos employés tout en acquérant due nouvelles compétences grâce à nos conseils d'experts.
6. Trouvez et gardez de bons employés peut faire toute la différence dans le succès d'une entreprise.  Rien n'est plus vrai spécialement en cette période où la main d'oeuvre en TI se fait rare.  Découvrez comment vos pairs ont réglé le problème et faites appel aux connaissances de notre expert en RH pour vous aider à trouver des solutions.  La sous-traitance peut vous aider à combler la pénurie de personnel tout en économisant.
7. Quel sera l'impact de l'intelligence artificielle?  Cela commence déjà à se faire sentir avec les robots de clavardage et les communications marketing automatisées.  Comment en tirer partie et devancer la concurrence?  Nous approfondirons le sujet déjà abordé l'an dernier sur "Comment l'IA peut vous faire épargner temps et argent tout en accroissant vos ventes".
8. De toute évidence, l'introduction d'une solution de pratiques de sécurité est primordiale pour votre entreprise et vos clients.  Les experts en sécurité s'entendent pour dire que la superposition de multiples solutions pour bloquer les cyberattaques est la meilleure façon de se protéger et minimiser les risques.  La situation évolue constamment car les pirates cherchent toujours de nouvelles façons de pirater.  Les meilleures pratiques de sécurité d'aujourd'hui ne suffiront plus demain! En assistant à nos sessions, vous aurez une meilleure idée des obstacles de sécurité et la façon de les surmonter.  Nous vous présenterons en exclusivité une solution de sécurité par IA qui prétend bloquer tous les types de cyber attaques.  Si vous êtes sceptique, la compagnie vous offre d'essayer leur service de surveillance de cyberattaques qui vous permettra d'identifier les brèches de votre système actuel. Les partenaires peuvent aussi revendre ce service de surveillance sur une base de revenus récurrents mensuels.
9. La sauvegarde et la restauration font maintenant partie intégrante de toute infrastructure informatique.  Mais les pirates informatiques ont maintenant trouvé une façon astucieuse de cacher des virus en latence qui s'activent après une restauration de données sauvegardées, rendant ainsi votre sauvegarde inutile.  Venez en apprendre davantage auprès des fabricants qui offrent des produits prévenant ces problèmes plus efficacement.  Vous découvrirez aussi comment bâtir une pratique de sauvegarde et restauration efficace et profitable.  Nous aborderons également les problèmes de conformité et atteinte à la vie privée qui peuvent mettre votre entreprise en faillite si vous n'êtes pas protégé.
Après ces 9 raisons, vous vous demandez sûrement comment tout cela peut être inséré à l'intérieur de deux jours, mais il y a plus encore…..
10. Etes-vous prêt pour le MSP 3.0? La gestion intégrée des prestations de service (PSA) et la surveillance et la gestion à distance (RMM) ont été le fondement des modèles de services gérés depuis le tout début.  Qu'et-ce qui vient après? Pourquoi la vaste majorité des fournisseurs de services gérés ne réussissent pas à franchir le cap des marges de 20% et 10 employés?  Comment la marchandisation des services gérés transforme l'industrie et comment éviter les obstacles?
11. Élargir ses services à la grandeur du pays devient de plus en plus facile. Certain des vos clients ont des bureaux à l'échelle du pays et référer ceux-ci à des tierces parties vous ouvre à de possibles détournements de clientèle.  Nous explorerons une solution qui vous permettra de protéger vos clients tout en continuant à offrir des services à distance personnalisés à un prix fixe!
12. Le réseautage fait aussi partie intégrante des services offerts par les partenaires et ChannelNext n'en fait pas exception.  En plus de nouveaux outils de transformation numérique, les manufacturiers vous présenterons une panoplie de solutions de réseautage, et de nouvelles technologies à insérer dans les réseaux pour un niveau plus élevé de sécurité.
13. Etes-vous satisfait de votre solution de comptabilité? Si vous n'avez jamais fait l'expérience d'une planification des ressources de l'entreprise (ERP), vous serez ébahi.  La transformation numérique passe forcément par une planification des ressources de l'entreprise adéquate. Vous apprendrez comment en tirer parti et la personnaliser à 100% pour votre entreprise à un coût très abordable.  Cette solution facilitera la gestion de tous les aspects de votre enterprise et accroitra sa valeur. Vous vous demanderez pourquoi vous ne l'avez pas fait avant.
14. Tout ce qui touche Microsoft de près et de loin. Deux des meilleurs distributeurs autorisés Microsoft vous présenteront la ligne complète des produits Microsoft (Dynamics, Office, Azure, VoIP) et la façon de mieux les exploiter. Si vous vendez la marque Microsoft, il vous faut absolument considérer ces fournisseurs.
15. Technique de transmission de la voix par le réseau (VoIP).  Les entreprises d'aujourd'hui utilisent déjà ou songent à utiliser le VoIP pour remplacer les systèmes PBX traditionnels, désormais désuets. Vous devriez envisager d'ajouter ce service à votre portfolio car si vous ne le faites pas, vous ouvrez la porte à la compétition qui s'empressera de détourner le reste des services gérés offerts à vos clients.  Plusieurs solutions complètes peuvent serte ajoutées à votre portfolio ou en sous-traitance.
15 bonnes raisons d'assister à cette conférence, y en a t'il d'autres? Bien sûr….
16. Vous préférez ne pas vendre de matériel car ce n'est pas rentable?  Détrompez-vous, ajoutez une offre de services à la vente de ces équipements ou encore le Hardware-as-a-Service.  Découvrez comment la gestion du cycle de vie du matériel peut générer des profits fort intéressants.  Sans oublier l'implantation d'un outil d'approvisionnement électronique pour bénéficier automatiquement des meilleurs prix des distributeurs nord-américains.
17. Vous ne vendez pas d'encre ni de cartouches d'encre recyclées?  Vous vous privez assurément d'une source intéressante de profits.  Vous rencontrerez un fabricant nord-américain qui pourrait c=vous faire changer d'idée.  En effet, lorsque bien utilisés, les produits recyclés peuvent avoir un impact positif sur le client le revendeur et surtout l'environnement.  Il faut également mentionner la gestion des services d'impression qui vous permettent de générer des revenus mensuels bien au-delà de la vente des imprimantes.
18. Vous ne recyclez pas le matériel  et n'offrez pas de systèmes remis à neuf?  Un autre fabricant nord-américain vous montrera comment économiser tout en préservant l'environnement.  Un plan de recyclage devrait porter sur la durée de vie complète du matériel et comprendre une purge sécuritaire des données, une réutilisation et un recyclage conformes aux normes gouvernementales et environnementales. Vous contribuez ainsi à diminuer la quantité de déchets déversés dans les décharges.
19. Vous êtes prêts à automatiser votre marketing numérique?  Vous ferez l'expérience d'une plateforme automatisée qui réduira votre charge de travail tout en stimulant la demande 365 jours par année!  Informez régulièrement vos clients par le biais d'infolettres et des médias sociaux.  D'un clic, vous aurez accès du contenu original et bien plus encore!  Cette solution vaut à elle seule le déplacement!
20. Bien que l'infonuagique soit de plus en plus populaire, les solutions locales ou hybrides représentent encore une grande partie du marché.  Nous vous présenterons les meilleures solutions de stockage et les applications pour les transférer sur le nuage en toute sécurité! Cela pourrait être la solution de rechange à un modèle 100% nuage public qui vous bloque dans une structure de coûts en hausse.
21. Connaître le prix et la disponibilité de plus d'un million de produits de Ingram Micro, Tech-Data, Synnex et D&H à travers l'Amérique du Nord peut se faire d'un simple clic!  Déjà, de nombreux partenaires utilisent cet outil pour gagner 90% de leur temps lors de l'approvisionnement des produits TI. Découvrez comment obtenir cet outil gratuitement en devenant membre du groupe Channel Partner Alliance!
À cette étape, vous réalisez que vous ne pouvez faire autre chose pour aider votre entreprise que d'assister le 8 et 9 avril à ChannelNext19.  Poursuivez votre lecture….
22. Profitez des avantages d'un groupe de pairs tout au long de l'année!  En joignant le Channel Partner Alliance, vous découvrirez comment un groupe de pairs Elite 300 peut vous aider à développer vos affaires.  Entre autres avantages, le groupe peut réclamer les fonds de développement ,marketing (MDF) auprès des fournisseurs pour vous aider à payer vos frais de membre!  L'inscription est gratuite mais certaines restrictions peuvent d'appliquer. Communiquez avec l'équipe du Channel Partner Alliance à ChannelNext19 pour en savoir plus.
Voici donc les 22 éléments de base qui composent ChannelNext19.  Nous n'avons pas mentionné les manufacturiers?  La raison en est fort simple, l'événement est axé à 100% sur l'éducation et le développement des affaires!
Nous espérons que ces 22 raisons suffiront à elles seules de vous convaincre de sortir du bureau et passer deux jours avec nous.
Nous croyons que si.  Faites-nous confiance.  Si vous avez payé le prix d'entrée régulier à une conférence ChannelNext et n'êtes pas entièrement satisfait de votre expérience, nous vous rembourserons en totalité!  Notre but est de vous aider au-delà de l'aspect monétaire!
Le point fort de notre conférence est sans aucun doute nos sessions Mastermind formées de 8 participants.  Pour plus de détails, consultez www.300elitemastermind.com
Nous sommes heureux d'être de retour à Estérel pour une quatrième année consécutive!  C'est d'ailleurs l'un de nos hôtels préférés!  La nourriture y est excellente, les chambres sont superbes, la vue est à couper le souffle, et le personnel y est des plus agréables.  Nous vous invitons donc à amener votre famille et vos amis et prolonger votre séjour en profitant de nos tarifs réduits.  Pour de plus amples informations sur l'hôtel, cliquez ici
Cet événement renforcera votre succès commercial et changera sans aucun doute certains aspects de votre vie.
Vous avez d'autres questions?
Kit d'information complet pour revendeurs(en anglais)
Obtenez un rabais de 50% en vous inscrivant avant le 28 février, 2019.