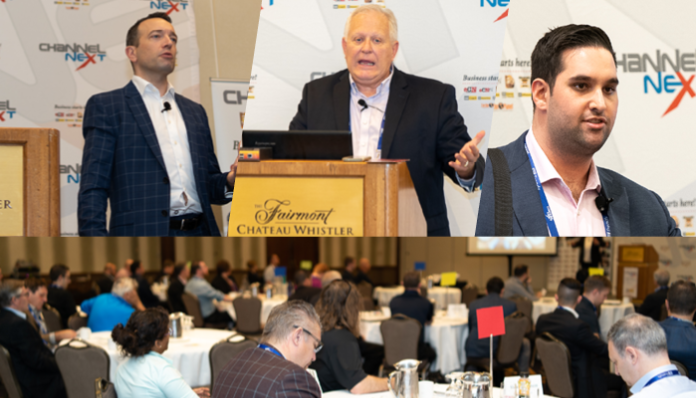 The comment "the struggle is real" resonated with a lot of the MSPs, VARs and ITSPs who gathered at the recent ChannelNEXT18 in Whistler, B.C.. Regardless of where they came from or their size, they realized that they were all experiencing roughly the same types of challenges – sales, digital marketing, hiring/keeping the right employees, financial management or leadership. These are core skills and an integral part of the most successful partners!
"The vast majority of channel partners are struggling to grow their business in a profitable, sustainable and predictable way. It is clear that future-proofing your IT business is more critical than ever if you want to remain relevant in the next 3 years".
As with all conferences, attendees came to learn something new to improve their business. They were also looking to build relationships and grow their network. They certainly wanted to find solid solutions to solve problems for clients and make more money. Most liked to meet peers, exchange ideas and compare business practices (the Mastermind peer-group sessions took this to the ultimate level). At the new ChannelNEXT18, they got all this and more!
Channel partners are skeptical to attend any conference. There is an abundance of Channel events to choose from and many are disappointed in what most channel events have become. Doing the same thing with blatant sales pitches and walking trade shows is not enough for progressive Channel Partners.
I was very happy to hear that we got it right. Most told me they are glad they came to ChannelNext and got a lot more than expected. Still, we need to do more to explain the real value of the new ChannelNEXT. Everyone needs to understand why it matters, how we are doing it and how the results will impact their company.
I would encourage all to look beyond the ticket price and understand the true high value. It's easily a 10X on investment!
Obviously most vendors are interested in the transaction aspects of any partnership. They simply want to recruit new partners to drive more sales growth. In the Vendor MasterMind session, we discussed the challenges that vendors are facing. It seems that engaging, training, motivating and collaborating with partners are at the top of the list of pain points. Loyalty is the end-game, but that typically comes only after these critical milestones are successfully completed. We focused on brainstorming ways in which vendors can educate their partners and everyone took home a few solid tips to improve their game. Even the new ChannelNEXT format is designed to help partners improve their business skills and processes, it can also help channel managers to do the same.
There is a clear process to move people from just awareness to being a loyal customer. Shane Gibson (Sales Coach) and Saher Ghattas (Marketing Coach) outlined all the required steps and gave tips how to implement those in your business operations– skipping any step will significantly decrease your closing rates.
We delivered an avalanche of extreme business building content, but you simply had to be there to get it all. Here are 5 of 35 big things that attendees took home to help in their individual struggle in becoming a bigger, better, stronger and smarter business.
1.     How is Artificial Intelligence influencing the sales process today? How will it impact your business moving forward? How will this impact the buying journey of your customers? What do you need to do to in order to compete in the new AI selling game? Several "bots" and apps were showcased that demonstrated a significant impact. AI is the game-changer! It will replace a significant amount of the traditional sales tasks. We also explored thirty sales tasks that will be difficult for AI to replace. These are the characteristics that you want to look for and cultivate in your sales team to stay ahead of your competition. Together with Shane Gibson, we launched a brand new Enterprise Sales Training with the #1 recognized professional sales certification to help every sales rep leverage some AI tools and get on the right path. This is what every sales rep need to remain relevant in the next generation of social selling.
2.     How will hackers use Artificial Intelligence to penetrate security stacks? What will you need to do to mediate this new type of attacks for your clients? What is the latest in data security protection? How AI must be injected in order to stay ahead of the cyber attacks? How can you know if your system has already been breached? Huge questions that our security vendors like Barrier1, WEBROOT and FileFlex answered with new tools and services. We explored Barrier1's data security application with 21 AI algorithms that seems to block even the most clever hacker intrusions. The company also introduced a new and affordable managed service that monitors attacks that get through your current security stack and generate a report for you to share with your clients. This is a brand new must-have recurring revenue service that every MSP can easily add to their offerings. For the sceptics, this is one simple and convincing way to get proof to 100% know if your current security stack has been hacked. Something that you and your customers may definitely want to know before it is too late. See the Barrier Group to learn more.
3.     Digital marketing is something everyone talks about, but only a few do well. Our digital marketing expert Saher Ghattas showcased real-world case studies with their actual MSP clients to present the fails and successes. He just released his new book (Marketing Manager's Journey To The Summit) on the topic. Becoming a digital marketing expert is not easy. It is critical that all digital marketing activities are measurable and aligned with sales activities. We also explored a marketing automation platform exclusively designed for channel partners to generate awareness and demand 24/7. It uses AI to automate the process to constantly drive prospects through the marketing journey. It also includes a content feed to help you find the right stories to educate your customers. See eMailPlatform. Take a good hard look at your marketing playbook and measure the results. If you are not where you think you should be, then it may be the time to rethink what you are doing. Ask us about the marketing support and services that our partners offer channel partners to get this done right.
4.     Peer group collaboration is now at the heart of ChannelNEXT conferences. This is where delegates work in groups of 8 like-minded peers. Each group chooses 2 different "MasterMind" sessions on Sales, Marketing, Leadership or Best Practices. Together, and with the support of a professional coach, the group members confront their pain points and explore real-world ways how to overcome the challenges. The outcome was exactly as expected. All the attendees got valuable information that they can immediately apply into their business. This went even deeper as they each took away an action plan. They will be followed up to ensure its execution. It was also interesting to see delegates writing a letter to themselves, outlining what they want to have accomplished in 6 months. We will be mailing these confidential letters to them in 6 months! To truly achieve the maximum success, no one event will cut it! As such, every delegate is encouraged to join a permanent peer group at Elite 300 MasterMind to get the professional support that they need 365 days a year!
5.     The Channel Partner Alliance was launched at ChannelNEXT18 to help its members to improve business practices and subsidize their membership fees. It's just one more thing that we are doing to help the channel succeed. Out of the gate, every partner who signs up gets an e-procurement platform from WHS to check prices and availability in real time from all major IT distributors including Ingram Micro, Synnex, Tech Data and D&H. They can place and track orders in real time across North America. All members also get the Standard Elite 300 Membership business education without paying anything or obligation! Channel partners now have zero risk to leverage the benefits immediately. The CPA does all the negotiations with vendors and distributors to get the funding to subsidize its members' costs! Sign up today.
This is only a small taste of what happened at the event. Plan to be at ChannelNEXT 2019. It's the only way you can experience everything! If you want to learn more about what you just missed, ask to receive a free e-copy of the 52-page conference guide by completing the contact form on ChannelNEXT. Or, watch the videos that we are posting on e-channelnews. Keep on the lookout or for the post event update showcasing the top vendor highlights of the event.
Here are some pic highlights of ChannelNEXT18 WEST…It was a blast! Thank you all for coming and making this a success for everyone.