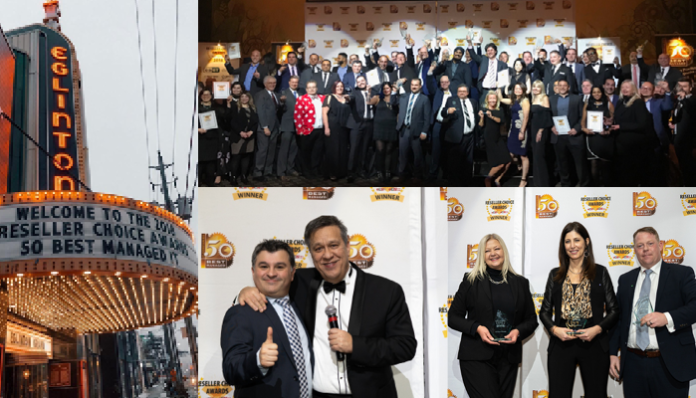 What a fantastic evening! The industry's best of the best in the Canadian Channel gathered at the fabulous Eglinton Grand in Toronto to celebrate their award wins at the 12th Annual Reseller Choice Awards and Canada's 50 Best Managed IT Companies awards! 
This year was exceptional as we literally went over the venue's capacity. We apologize to those who could not get a ticket to attend or just showed up. My event team is already planning next year's event to be at least 50% larger! Please mark your calendar for February 6th, 2020. Book your tickets as soon as registration opens to reserve your seat. Subscribe or visit to www.channelnext.ca to ensure you receive announcements.
For 12 years, the Canadian channel partners have been voting for their favorite vendors and distributors in over 70 categories. To reflect the changing needs of the channel, every year we remove some categories and add a few like the Top 10 Cloud Vendors and Women-in-Tech awards. We also handed out three 10-Time Consecutive Award Winners that went to Microsoft, HP and Lenovo this year. Tech Data was the first to win 2 years ago. A few more are up for this year if they hold on to their #1 spot.
This is the largest such channel survey in Canada. VARs, MSPs, ITSPs, and MSSPs want their voices to be heard loud and clear. We had over 600 nominees this year! To win a Reseller Choice Award, the nominee simply had to get the most votes. There were no subjective or third party influences on the results. Resellers could nominate their favorite company in any of the categories. Once nominated, the channel could immediately vote for them. Resellers could vote in every one of the 71 categories, but were not obligated to do all. They could vote in just one category, if they choose.
We thank everyone for voting! Without your votes, the channel's voice would not be heard!
Here are the winners of the special thank-you for voting gifts (randomly selected from those who voted).
Michel Couture of CSCIO Inc.   $100 Petro-Canada gas card
Chris Dillon of Triware Technologies Inc.  Epson Workforce ET-4750 EcoTank All-in-One
Evan Oberman of BusinessCloud.ca   $100 Petro-Canada gas card
In 2018, we saw a dramatic increase in nominations and voting in the Cloud categories as well as for recurring revenue solution vendors. IT Security was also off the charts. Next year, we will be adding a few more categories to reflect this. The popular brands were able to hold on to most of their traditional strongholds but others are catching up. This year could be interesting to see what happens.
There is a lot to unpack in the data that would take way too much time to outline in this article, so we let's jump ahead to recognize the winners and runner-ups for 2018.
The winners of the 2018 Reseller Choice Awards are:
Best Of Category Name
First Place
Second Place
Third Place
Best 3D Printer
HP

MakerBot
3D Systems
Best Anti-Spam
ESET
Bitdefender
Barracuda
Best Anti-Virus
ESET
Webroot
Bitdefender
Best Availability/Delivery (Distributor)
Tech-Data
Synnex
Ingram Micro
Best Broad-Based Distributor
Tech-Data
Synnex
Ingram Micro
Best Business Desktop
Lenovo

Dell
HP
Best Business Intelligence/Analytics
Microsoft
SAP
IBM
Best Business Notebook
Lenovo
HP
Dell
Best Business Printer
HP
Lexmark
Brother
Best Business Projector
Epson
InFocus
BenQ
Best Business Router
Cisco
Fortinet
Datto
Best Distributor Channel Event
Tech-Data
Synnex
Ingram Micro
Best (Cloud) Backup and Disaster Recovery
Datto
Veeam
ITCloud.ca
Best Cloud Distributor
ITCloud.ca
Sherweb
Synnex
Best Cloud Platform as a Service
Microsoft
AWS
Red Hat
Best Cloud Storage/Solution
Datto
Microsoft
AWS
Best Consumer Notebook
Lenovo

Dell
Asus
Best CRM
Microsoft
ConnectWise
Salesforce
Best Customer Service (Distributor)
ITCloud.ca
Sherweb
Tech-Data
Best Data Centre
Microsoft
Cogeco Peer 1
Q9 – Bell
Best Database
Microsoft

MySQL
Oracle
Best Digital Signage
LG Electronics
Samsung
Viewsonic
Best Document Management
Adobe
IT Glue
Digitech Systems
Best Endpoint Security
ESET
Sophos
Bitdefender
Best Enterprise Telephony
Cisco
Microsoft
Avaya
Best Financial Software/ERP
Sage
Intuit
ACOMBA
Best Firewall
Fortinet
Cisco
ESET
Best Gaming Desktop
Asus
Dell
Lenovo
Best Home Theater Projector
Epson
Sony
InFocus
Best Home/Consumer Router
TP-LINK
Asus
D-Link
Best Infrastructure as a Service
Microsoft
Sherweb
AWS
Best IoT Solution
Cisco
Microsoft
Google
Best IT Assessment Tool
RapidFire Tools

Automate
Kaseya
Best Label Printer
Zebra
Dymo
Brother
Best Messaging/Collaboration
Microsoft
Skype
Google
Best Moblie App
Microsoft

Waze
Wifi Analyzer
Best Mobile Device Management
Microsoft
Cisco
Apple – Sophos
Best Mobile Scanner
Fujitsu
Epson
Brother
Best Multi-Function Printer
HP
Lexmark
Brother
Best Multi-Purpose Display
HP
Viewsonic
Lenovo
Best NAS
QNAP
Lenovo
Datto
Best Network Switch
Cisco
HPE
Datto – Juniper Networks
Best Networking Vendor
Cisco

Datto
Ubiquiti Networks – Extreme Networks
Best New Vendor
ID Agent

Martello Technologies
Accedian
Best Online Channel News Media
E-Channelnews
CDN
IT in Canada
Best Overall Vendor
Datto
Lenovo
Fujitsu
Best Password Management
Passportal
IT Glue
LogMeIn
Best Personal Printer
HP

Brother
Lexmark
Best Portable Printer
HP

Canon
Epson
Best Portable Projector
Epson
BenQ
InFocus
Best Portable Storage
Western Digital
Seagate
LaCie
Best POS Vendor
ELO

Lenovo
Epson
Best Print Managed Services
HP

Xerox
Lexmark
Best Product Support (Distributor)
Sherweb
Tech-Data
ITCloud.ca
Best Professional Display
Viewsonic
Dell
HP
Best Remote Monitoring and Management (RMM)
Datto
Solarwinds MSP
Automate
Best SAN
HPE
Lenovo
QNAP
Best Scanner
Fujitsu
Canon
Epson
Best Security Vendor
ESET
Fortinet
Bitdefender
Best Server
Lenovo
HPE
Dell
Best Service Automation (PSA)
ConnectWise
Datto
Solarwinds MSP
Best SMB Telephony
Cisco
Yealink
3cx
Best Software as a Service
Datto
Microsoft
Google
Best Specialty Distributor (Non-Cloud)
Arrow
Bluestar
Lifeboat Distribution
Best SSD
Samsung
Kingston
Intel
Best Storage Vendor
QNAP
Dell
Lenovo
Best Tablet
Microsoft
Lenovo
Apple
Best Terms/Conditions (Distributor)
Tech-Data
ITCloud.ca
Sherweb
Best UPS Battery Backup
Eaton

Schneider
Tripp Lite
Best Vendor Channel Program
Datto
Lenovo
Fujitsu
Best Virtualization Software
VMWare
Microsoft
Veeam
Best Wide Format Printer
HP

Canon
Epson
Best Workstation
Lenovo  
HP
Dell
Congratulations to all the winners of the 2018 Reseller Choice Awards!
This win reflects their outstanding performance in 2018. Hopefully it motivates others who did not win to do better in 2019! When the channel gets served better, everyone wins!
Top 10 Cloud Vendors are:
This was a new category for us as we start to rank the top 100 vendors. As more ISVs enter the market, we will be looking for the best of the best Cloud/SaaS vendors that sell through the channel.
Women In Tech awards:
This award went to three amazing women leaders who have done incredible things in 2018 to support more women to enter and stay in the Tech Industry. Most people understand that while women make up about half of the population, they only represent about 20% of the workforce in the tech industry.
TechnoPlanet is committed to supporting more women to enter and stay in the tech sector. Please check out and subscribe to our dedicated news column on the subject on eChannelNEWS.com. We also announced a free online assessment tool for any company to test their level of women-friendliness in their workplace. We are also offering female-led workshops to help companies to better understand and implement best practices to improve a female-friendly business environment.
Next year, we will be awarding the top 10 companies on Best Places For Women to Work in Tech. I would encourage all women currently working in the industry or thinking about entering, to consider joining an all-female peer group for mentoring, supporting and building the business skills needed to accelerate their success. See Elite300Mastermind.com to explore further.
Please keep an eye on what we are doing here and join this important mission.  Connect with Gerlinda Ringe, our Global events Manager and Marie Wiese, President of Marketing Co-Pilot who are heading the "WiT" mission.
Click here to check out the 50 Best Award Winners
Again, congratulations to all of the 2018 Winners! It was an honour and absolute pleasure to meet and host everyone at the awards gala. It was truly a fun experience and we look forward to next year!
Last, but not least, we also thank all of our sponsors for supporting this important annual event! Sponsoring does not guarantee you an award, but your unconditional support regardless if you win or not is most welcomed and it demonstrates your deep commitment and passion for the channel!
Remember to subscribe to www.e-channelnews.com to keep updated!
See you next year!
Check out the photo gallery: