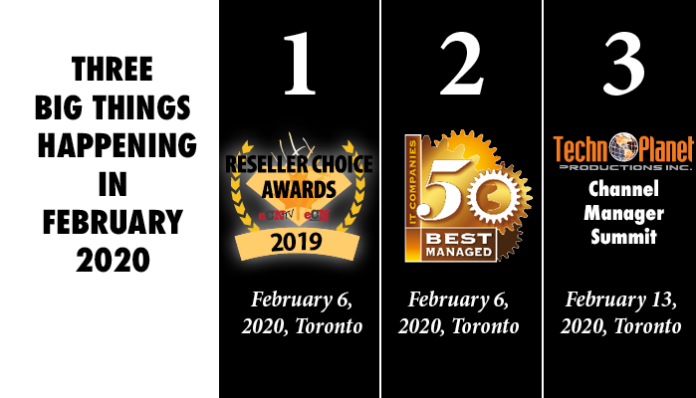 The Canadian Reseller Choice Awards. All Channel Partners are invited to vote for their favorite vendor and distributor in about 80 categories. Companies with the most votes win the award. If you win or get ranked, then it means that your channel partners voted you in! It is a powerful recognition that you will want to celebrate for a job well done as well as leverage in many other ways. The Awards Gala will be held on February 6 in Toronto. Plan to attend (Book your ticket) and in the mean time, vendors should continue to get out their partners to vote until it closes on January 17, 2020 at 5PM. This will be a great networking event for all channel leaders. Ask about sponsorship opportunities.
Canada's 50 Best Managed IT Companies Awards. All VARs, MSPs and ITSPs are invited to take the free best business practices assessment. The companies with the top 50 scores will win this special award. Winning this award says that your company is running on best business practices and that your team is doing a fantastic job. A great reason to celebrate with your colleagues! Every channel partner is welcome to attend on February 6, in Toronto Book your ticket. To qualify for the 2019 award, you must complete your assessment before January 17th at 5PM. Ask about sponsorship opportunities.
The Channel Manager Summit is only for vendors and distributors looking for insights into building a better channel game in 2020. The full one-day event is going to deliver deep and wide insights from some of the best channel experts. Vendors also get to engage with a panel of channel partners to get live feedback. Vendors will be experiencing mastermind peer group sessions to solve their biggest pain points. If the channel matters to your business, then you do not want to miss this day. The summit will be held on February 13 in Toronto. Learn more or book your ticket now!
Last year's Award Winners!
See you there!