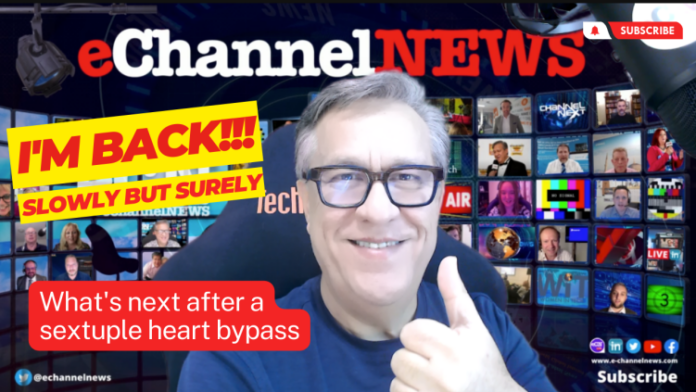 Thank you all for checking in. You've been asking how I'm doing and what will change, so here's a little update…
As you may know, it's been four weeks since I was admitted to the hospital and ended up with a sextuple heart bypass. I am actually feeling fairly well three weeks following the six-hour operation and well into my recovery. So far, so good. I'm a little sore, and it hurts when I cough or laugh.
I'm taking a bunch of meds that I can't even pronounce, eating incredibly healthy, walking, regaining strength, reading books, and watching movies (but not funny movies because laughing hurts my chest).
Your encouragement, prayers, and well wishes helped me a lot. The medical personnel and my doctor(s) performed an excellent job, so kudos to those super humans! I gave them five stars so if you ever have a cardiac condition, this is the A-Team. I am also really fortunate to have such a wonderful family and friends. The help has been invaluable. I know I'm recovering a lot faster as a result of your help, so thank you very much!
My healing path is ongoing, but it appears that I am out of the storm and into calmer waters. As I get back up to speed, I'm taking it easy and only doing a few interviews. My staff is keeping my workload to a minimum.
Will anything change in the future?
Nothing will change except for me taking it a little easier.
This is not the time to call it quits and ride off into the sunset, since the work we do is much bigger than just little me. With AI, the channel is entering a new and exciting period, and we aim to help them ride that wave (Check out our most recent material at our ChannelNEXT events to see where we're going with A.I., Cybersecurity, and Digital Transformation).
I will undoubtedly continue doing eChannelNEWS interviews and events, but there is one more major task ahead of us…
Solve the cybersecurity problem!
Many smart people are working hard to tackle this problem, and I will continue to share their stories with you, but the basic reality is that it will take a village. We have built that village. It's called the Cybersecurity Defense Ecosystem (CDE), and it is available to everyone who is interested in putting a dent into cybercrime.
The CDE framework has been built. We have previously verified over 50 companies with the right solutions for the cyber challenge. We presently work with about ten business service partners to assist MSPs/MSSPs in scaling, streamlining operations, and increasing efficiency. We are expanding our tools and services to become the channel's one-stop independent superstore.
So, if you wish to contribute, please join the CDE, as this is our next big mission.
NOTE: The CDE is NOT a transactional platform for specific distributors and vendors of cybersecurity products. Each channel partner member can buy the products from wherever they want. The CDE supports everything except the procurement process since we believe that each member should be able to pick where they want to purchase their goods. We are currently exploring a tool that will allow any member to procure the products from multiple suppliers.
Onward and upward!
But, remember to always enjoy the journey and life, and to always listen to your body! Health is never a problem until you don't have it! Let's build a bigger, better, stronger, smarter, healthier and happier channel, together.
Take care, and I hope to see you soon! I'll post the events I'll be attending this fall, and of course, I'll be in Alberta for our ChannelNEXT23 West on October 26-27! You are welcome to come! It's our 21st anniversary!