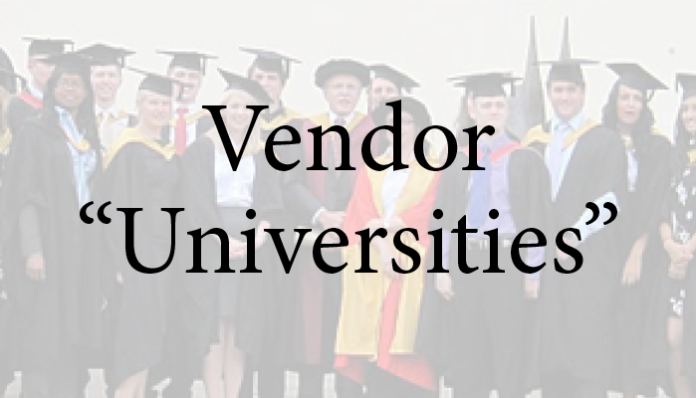 Vendors always talk a good game when it comes to supporting their partners, but mostly when you look closer, it feels more like an infomercial with limited actual education. Vendors are mainly focused on selling their products, not helping partners to improve their businesses. Then there is the "why should a vendor help any partner to beef-up their business skills when it may also help their competition?"
About a year ago, HP launched its HP 'University" to empower and equip the company's 18,000 worldwide "Partner First" partners to optimize revenue and future-proof their business.
The program was said to combine sales skills education, product training, and certifications to enable HP's partner ecosystem to migrate to evolving business models such as contractual and subscription sales. The shift from transactional to contractual, subscription-based sales is on the rise especially in the technology sector. It requires a consultative approach to selling.
Offerings include instructor-led, face-to-face training in addition to sales skills development, highlight HP core competencies, including Security, Device-as-a-Service (DaaS), Mobility, and Managed Print Services. Courses such as Strategic Solution Selling will immerse partners in realistic business problems, and provide strategies to uncover key customer challenges, craft proposals and deliver the right messages to the right customers. The coursework is geared to evolve towards a solution-oriented sale, build deeper relationships, minimize wasted selling effort and maximize recurring revenue streams.
So how well did the HP University do for partners? Well, we are not sure as the focus seems to have morphed towards "HP Sales Central" – a partner portal to find all sorts of stuff on HP.
First, let me say that any support that will help any partner to improve their game, grow and make more money is a good thing. We applaud HP and all vendors for doing this.
Can channel partners really digest and benefit from these sort of vendor-centric "universities"? The short answer is yes. The real answer is yes, but to limited degree. It's ultimately up to each partner to judge, but we are seeing many struggle with not just solution selling, but also fundamental best business practices. There is also a shift from solution selling to creating value for customers. Then there is the entire social and digital playground to navigate. In short, there are a lot of moving parts for channel partners to future-proof their businesses.
We know because we have been offering them a best business practice assessment test for several years and we get to see the results. We also work with channel partners to build a bigger, better, stronger and smarter business through a variety of activities including peer-groups.
The problem is not the lack of good training content or coaches to deliver such content. The problem is accountability and building a new set of best business practice habits. Changing bad old habits is very hard to do.
It is clear that there is still much to be done on the business skills educational front for channel partners. I would recommend that channel partners first figure out their strengths and weaknesses before that make plans to improve. Start by taking the Best Business Practice Assessment test online at www.bestmanageditcompanies.com, for free. Vendors may also want to point their partners to this test.