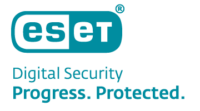 ESET, an industry-leading and globally recognized IT and cybersecurity company, and D&H Distributing, a leading provider of SMB and mid-market technologies to the North American channel, announced a new partnership expanding ESET's service to the VAR and reseller community segments.
D&H Canada has been selected to provide Canadian channel partners with quick and efficient access to ESET's full suite of award-winning business solutions to meet growing demand across various industry sectors. "Taking on new distribution partnerships is something that we've been conservative with, but we are extremely excited to be adding D&H Canada.  We expect this new partnership to contribute nicely to our growth expectations while adding support to ESET's growth in the Canadian landscape," says Bob Bonneau, ESET Canada's country manager. "A priority for ESET is increasing flexibility for our partners with the overall goal of making these partnerships broader and deeper."
ESET has more than 400,000 business customers, which includes enterprise customers and SMBs, in more than 195 countries worldwide. This past year, ESET Canada won Best Endpoint Security at the eChannelNews Annual Reseller Choice Awards for the third year in a row, solidifying ESET's footing in the cybersecurity market.
"D&H is excited to add ESET's offering to our Modern Solutions practice, enhancing our security portfolio for the VAR channel with multi-layered, high-quality data and endpoint security solutions," says D&H Canada General Manager Michelle Biase. "We are honoured to be one of only two Canadian distributors selected to deliver ESET's portfolio across a range of verticals, such as the SMB, consumer, education, and government markets. D&H Canada looks forward to supporting our mutual partners, helping them to grow their managed security services and become more profitable, successful providers in this competitive marketplace."
For more than 30 years, ESET has been developing industry-leading IT security software and services for businesses and consumers worldwide. From a small dynamic company, ESET has grown into a global brand with more than 110 million users and 13 global research and development centres — including one in Montreal.
Source: ESET