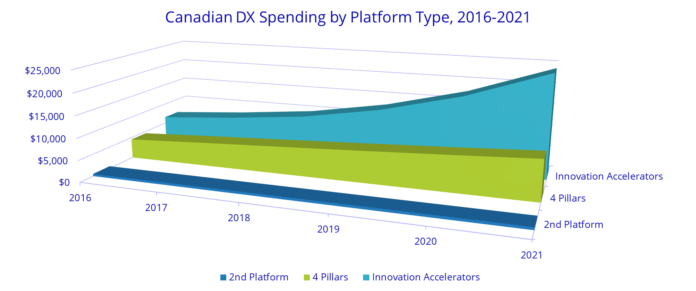 Canadian digital transformation (DX) technologies and services spending is set to surpass $16 billion in 2018, approximately 20% higher than the ~$14 billion spent in 2017. DX spending will be led by the manufacturing industries (discrete and process) and the business services sector (personal/consumer services and professional services). In the expanded Worldwide Semiannual Digital Transformation Spending Guide, International Data Corporation (IDC) examines current and future spending levels for close to 100 DX use cases across 19 industries in 8 geographic regions. The results provide new insights into where DX funding is being routed as well as what DX priorities are being pursued.
The engines of growth for DX spending in Canada are the innovation accelerators, the products and services associated with IoT, Cognitive/AI Systems, Next Gen Security, 3D Printing, AR/VR, and Robotics. The DX spend on innovation accelerators is projected to grow from $6.5 billion in 2016 to $24 billion in 2021 – a whopping 29.8% compound annual growth rate! The 4 pillars of DX (Big Data and Analytics, Cloud, Mobile, and Social) are also experiencing strong spending growth, rising an average of 15.3% per year between 2016 and 2021 reaching $9.3 billion at the end of 2021.
"Canadian organizations are clearly moving quickly to adopt DX solutions and technologies in order to respond to marketplace challenges from competitors, customers, and employees. The proliferation of use cases across all industries is leading to significant shift in preferences for DX solutions as the best option for long-term success" said Jim Westcott, Research Manager, IDC Canada.
This spending guide quantifies enterprise spending data for 27 DX strategic priorities, programs comprised of use cases, discretely funded efforts that support a program objective and the overall strategic goals of an organization. In Canada, the top 3 identified DX strategic priorities are 'smart manufacturing', 'digital supply chain optimization', and 'omni-experience engagement'. IDC has forecasted that 'smart manufacturing' will have close to $1.5 billion in forecasted spend this year. A major use case under this strategic priority is 'robotic manufacturing' where manufacturers use robots to prepare and inspect various discrete and process manufacturing materials and goods.
"Manufacturing companies are now harnessing technology to achieve cost, speed, and quality efficiencies in their processes at scale. Over the next few years, the companies that cannot adapt to this new paradigm will find it hard to compete in the marketplace" says Yash Ahuja, Senior Analyst, Measurement and Forecasting, IDC Canada.
All spending figures are in US dollars.