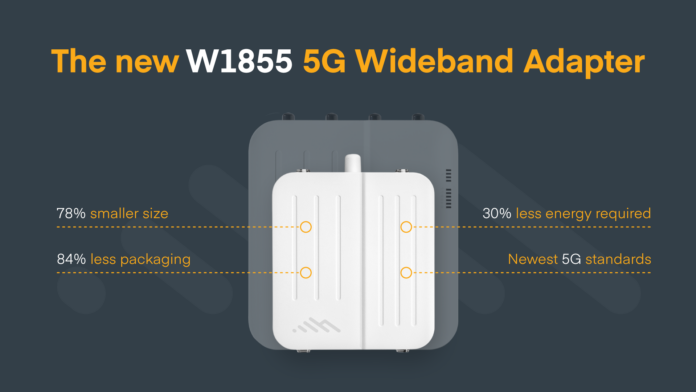 Cradlepoint, the global leader in cloud-delivered LTE and 5G wireless network edge solutions, today announced the re-designed outdoor Cradlepoint W1855-5GC Wideband Adapter. Adding to Cradlepoint's innovative 5G portfolio, the W1855 enables enterprises to future-proof connectivity investments as they adopt Standalone (SA) 5G networks and commit to stronger sustainability goals. Purpose-built to require less design materials and operational energy than its predecessor while adhering to the latest 5G standards, the outdoor Cradlepoint W1855-5GC Wideband Adapter ushers in the latest generation of Wireless WAN networking with a goal of supporting global sustainability objectives. 
As the enterprise adopts innovative 5G connectivity solutions to transform business operations and prevent disruption, the increasing volatility stemming from climate change has highlighted the need to implement technology that mitigates further negative environmental and business impact. According to Gartner, 86 per cent of business leaders see sustainability as an investment that protects their organization from disruption. Designed for distributed sites that require secure cellular connectivity or failover in the event of a primary link disruption, the W1855-5GC Wideband Adapter enables the enterprise to guarantee connectivity while furthering sustainability goals. Key benefits include: 
Connectivity offerings for the expansion of 5G: The refreshed modem features the latest 5G standards with 3GPP Release 16 specifications, providing customers with expanded carrier aggregation and band combinations as service providers grow their 5G services. The W1855-5GC adapter is certified on most first responder networks in the United States.*
More sustainable design: Compared to its predecessor, the W1855-5GC Wideband Adapter is 78 per cent smaller and 74 per cent lighter, requiring 30 per cent less energy when under load. In addition, the device is securely packaged with 84 per cent less packaging, which is 100 per cent plastic free. The aluminum housing reinforces Cradlepoint's commitment to sustainably sourced and recycled materials.
Centralized device management and visibility: With Cradlepoint NetCloud Manager, lean IT teams can successfully manage the deployment, configuration, and troubleshooting of each device from centralized locations, reducing unnecessary complexity and costly on-site visits.
Streamlined installation: At half the size and weight of previous outdoor adapters, the stylized W1855-5GC eases installation for field personnel.
"In addition to continuing to adhere to the latest 5G technology standards, Cradlepoint is also committed to exploring new avenues to help customers further additional business goals," said Donna Johnson, CMO of Cradlepoint and Ericsson's Head of Enterprise Wireless Solutions Marketing. "Sustainability is top of mind for enterprise globally, including at Cradlepoint and Ericsson, and we're thrilled to partner with companies to create a more collective effort toward reducing energy consumption and wasteful packaging and design."

Cradlepoint's Commitment to a Sustainable Future
Cradlepoint and its parent company Ericsson have set an ambition to be Net Zero across its value chain by 2040 and their most important contribution to climate change mitigation is delivering an energy efficient portfolio that will help break the energy curve of mobile networks, reducing customers' energy use, energy cost and carbon emissions.
All Cradlepoint routers and adapters are packed using plastic-free and recyclable shipping material. Reducing the impact of used hardware is also important to the company. The Cradlepoint Recycling Program collects, repurposes, and recycles products around the globe.
For more information on the Cradlepoint W1855-5GC Wideband Adapter, please visit https://cradlepoint.com/product/endpoints/w1855-series-5g-wideband-adapter/. 
Source: Cradlepoint