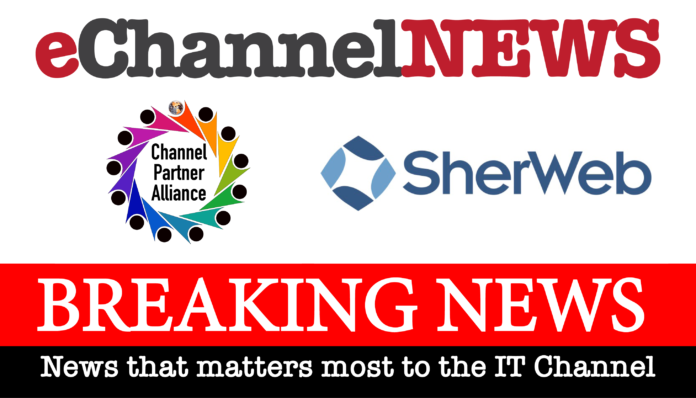 Channel Partner Alliance, an organization that helps channel partners to improve their best business practices, is pleased to welcome SherWeb, a leading Microsoft distributor, to its growing community of supporting partners. SherWeb will be bringing much more than their award winning support of Microsoft applications to help members grow sales and profitability.
"We are seeking special supply partners who can bring incremental and substantial value to the CPA members and SherWeb checks all of the boxes. Besides some special pricing on Microsoft products and other complementary applications, SherWeb will be offering members some great marketing support." Commented Julian Lee, President of TechnoPlanet, one of the founders of the Channel Partner Alliance program.
"SherWeb prides itself on supporting its partners to grow their business and maximize their profitability. Our mission is to equip partners with the strategic business skills that will ensure their success, something that the Channel Partner Alliance is also focused on achieving. Members can expect great value-added benefits from us, especially around the Microsoft products as well as complementary solutions to help them achieve more. We will start by offering every CPA member access to our unique Growth Accelerator Program (GAP) to kick-start their marketing. The GAP program teaches partners the best strategies to create, promote and host a successful lunch and learn event focused on cyber security. We designed it specifically for MSPs, with one main goal in mind: to win new managed service contracts." Comments Mathieu Leblanc, SherWeb' Director of Partner Success.
Channel Partner Alliance was exclusively formed to solve one of the biggest problems that channel partners face – How to improve their best business practices to future-proof their companies. Building the right skills and business model is the only way forward. As the evolution of the channel continues, VARs, MSPs and ITSPs will have to up their game to remain relevant. Everything that CPA does revolves around this one purpose.
The Standard level of CPA membership is always free to allow any channel partner to experience the value. They can choose to remain at the standard level or upgrade to the higher membership levels at anytime. The higher levels reflect the amount of time that the member can commit to building their business.
At the core of the CPA program is the mastermind peer-to-peer collaboration with the guidance of expert coaches to maximize results. If you do not know what this is, then learn more at www.300elitemastermind.com. Peer-to-peer support is simply one of the most effective ways for any channel partner to improve their game. The only way to truly understand the value is to experience a live Mastermind session. Channel partners can attend any ChannelNEXT conference to experience this live or sign up for the virtual sessions. Inquire about attending a live session nearest you at http://300elitemastermind.com/contact-us/
While CPA is laser-focused on building the best business practices of every member, they also wanted to find a way to help members pay for their memberships fees as well as pack in more benefits where possible. If members want to subsidize their CPA membership fees, then they can simply opt-in to allow CPA to negotiate with suppliers to collect MDF funds. Members can also pay for their membership fees out of their pocket, if they prefer.
Tony Kara of WHS adds "For over a decade, we have been offering resellers a web platform to check price and availability from all major tech distributors in real time as well as place and track orders. Today, there are over a million SKUs flowing through the system and thousands of users. As one of the founders of CPA, we are providing this tool that cost over $2,000 per year to license, for free to every Channel Partner Alliance member. We are currently busy improving and building out more functionality on the platform to add even more value."
To learn more about the Channel Partner Alliance visit www.channelpartneralliance.com to learn more about Sherweb visit https://info.sherweb.com/partner-channel-partner-alliance.html or www.sherweb.com