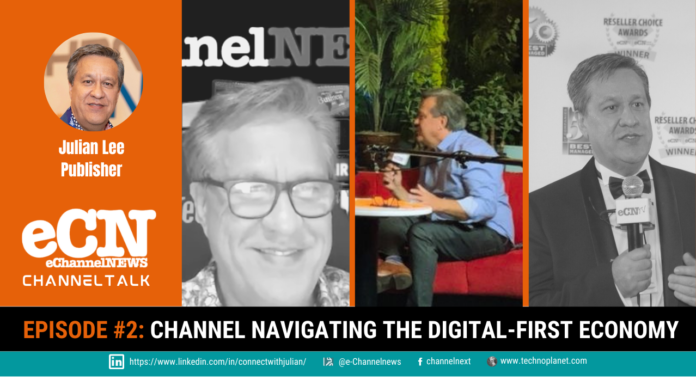 There are lots of opinions on what's influencing the channel's behaviours and where it's headed. We have compiled a list of seven factors we see driving the community into this digital-first economy.
A brain numbing amount change has resulted from the pandemic. The latest "transformer" omicron variant is going to fuel even more uncertainty on when we can actually return to a semblance of normalcy. Figuring out how these dynamic changes affect you and your business will determine whether you will just survive or thrive in this new reality.
Speaking with channel leaders reveals that about one-third of partners have reopened their offices to meet vendors and customers. A third is ok with going to meet people one-on-one at a restaurant/pub or at some small local event while the rest indicate they will be keeping it remote.
Our data shows that about 25% of channel partners are comfortable enough for in-person events (if they are safe and local with very short in-country travel). 30% want the option to watch a live stream and 45% prefer to consume the content on-demand. A small percentage just want to get back to where it was before. We know that after a 30-day period of generating in-person content, 92% of its consumption comes from watching its video on demand.
Remarkably, business has remained strong and continues to grow for most channel partners. Their biggest challenge seems to be recruiting and retaining employees. Nimble channel partners, vendors and distributors have navigated the pandemic with ease (many actually grew much faster than expected because they had the right product at the right time). In fact, these channel partners were the "essential workers" that kept businesses and governments functioning efficiently as the pandemic hit!
To me, technology and those who manage it was the sauce that prevented everything and everyone from falling off the cliff. If there was ever any doubt about the value of technology and the folks who keep it running, that argument is now mute!
With all this as a backdrop, what will be the new gold standard for MSPs in the digital first-economy?
We have identified seven things that seem to be gaining momentum for all MSPs moving forward (vendors and distributors may also want to take note so they can better understand the journey of their customers).
1. Meetings and Events (In-Person):
We went from in-person to 100% virtual. Today in some regions/countries, in-person events have already started to come back albeit quite different. Attendance is down. Concern is up. Uncertainty and hesitation is everywhere.
It feels like some events may have started back up too quickly. Though we have no real data to know if or how that may have impacted infections, we have heard of some attendees getting infected and hospitalized. I believe it's logical to assume that any large gathering comes with a higher risk even with the usual safety precautions. It's probably wise to reconsider attending any large events until COVID gets under predictable and sustainable control.
We need to get back to in-person at some point, and NOT only for business. Beyond the educational value, we need to reconnect socially with people to share stories and exchange ideas. This is in our DNA.
People are rethinking everything. Why and how do I worK? Do I really need to travel 1,000 KM to that meeting? Do I really want to walk that trade show? The great resignation by many is the MOST amazing indication that humans are waking up. The fact that many are rethinking their lives and livelihoods may be the only silver lining coming from the pandemic.
Based on experience, in-person events can be done safely. Moving forward, our events in particular will be smart localized "experiences" that feed the mind and soul. We have now done three in-person events in 2021 and have confirmed five more regional ChannelNEXT events in 2022 (with more in the works).
Future interactions (meetings, gatherings, events) will probably be a hybrid of in-person, livestream and on demand. Events will be smaller, shorter and localized to reduce travel time. Social interactions will be roughly the same as you meet people you know. Of course, all events will have to adhere to the usual health regulations for mass gatherings like masks, vaccination status and spacing (or distancing).
2. Leadership:
Employee retention has become a major issue in the wake of this pandemic. MSP owners and management have to get this right. Leaders must have passion for what they do and need to ooze empathy towards employees, ensure a work-life balance and accommodate their diverse needs.
If you want your staff to fight for your business, you will need to get them what they need. Skills, tools, vision, support and time (to work and play).
If you can't do this, hire someone who can as it will be one of the best investments you will ever make.
I would also suggest that all leaders get out in front of the social "metaverse" and become thought-leaders in their domain. Today, this may be the single biggest asset that any company leader could build.
A good leader will also be able to retain and motivate staff. Many problems can be solved when you become a better leader. If you need help connect with experts like Corry Robertson, Glynis Devine or Tara Landes.
3. Operations:
Are you really efficient in everything you do? Are you delivering the best service? Are you getting the most you can and billing for everything you do?
Every successful MSP knows that there are many moving parts to running the business. Most have a suite of tools to automate tasks. Most had to figure out how to deal with shortfalls through workarounds. This is a constant battle for most every business but on the bright side, more tools keep coming to the rescue. The challenge is to know what are the best tools (for you).
There is one way to know and it can be free!
It's called a peer-group. Find 6 to 10 other MSPs and form a peer-group. The ideal number is 8. Within a group of 8 people, you can solve just about any business problem you could imagine. Sounds like fantasy? Well, it is until you actually do it.
You literally have nothing to lose and you can even test this before you commit to a permanent peer-group. You can do this on your own or you can have a qualified facilitator help you to do it right. Learn more or ask for the Mastermind Peer-Group playbook at www.channelpartneralliance.com.
4. Marketing:
Those who jumped on the digital marketing wagon years ago are laughing today. For those who are still behind, it's time to giddy-up. You have no choice in a digital-first economy than to become a digital marketing expert. If you can't, then you need to outsource.
There are many amazing tools and people to help you (connect with people like Marie Wiese, Starr Wilson, Vanessa Baker and Sally Jo Lamont).
First, take a good hard look at your website and ask yourself "Would I do business with this company just on the face value of the website?" Then, when you think you got the answer, ask your colleagues and clients. Don't ask friends or family as they may not want to hurt your feelings.
Many channel partners have decent web sites, but when you take a closer look, most look and sound the same. What will you do to stand out?
You have to get this right because the vast majority of buyers will be millennials and they do not call or visit and they will judge you by what your website and social clout looks like.
5. Sales:
As we moved from an in-person world to a virtual world, digital-first selling techniques are becoming more prominent. If you haven't done so already, you should transition your current sales people into digital warriors. The biggest winners will be the ones who get this right and fast. Much of the traditional selling skills remain the same so it's easier to skill-up a good sales person in social media.
If you would like help, check out experts like Neil Jeffery, Shane Gibson and Dr. Denis Clauvier. Get them to steer your sales team and management for a bit. Shane has a 6-part online course in social selling to help you get up on your own. I believe if you mention me, you get 50% off and a copy of his book (Real Results in a Digital Economy) for free.
6. Portfolio:
What you sell is what you are. We are seeing that companies who are focusing on baking out a solid technology stack are becoming more successful.
You already know what's making you the most bucks today so you definitely want to keep on doing that. It's smart to continually build out a deeper and wider portfolio around your core business solutions. If you cannot build in-house, then consider an outsource partner. Just doing this will get you an uptick on revenue..
Then what? You need to think outside of your box and that may mean getting out of your comfort zone.
First, you should explore how you can expand to markets beyond your current area. It's amazing how easy, fun and rewarding this can be. MSPs are not only expanding to other cities, they are expanding to other countries! It's not as crazy as it sounds!
Second, you need to follow the buyer's journey closely and know what they want before they do. It's not rocket science to figure out. Businesses are moving faster towards digital transformation so if you can deliver more of that, you win. I just interviewed the folks at UiPath and how they integrated with PWC to offer DX faster. This is a huge growth market so you want to be getting into the game now.
Digital transformation is basically about streamlining the connectivity between customers, employees and suppliers. There are amazing tools like (Tr3Dent from Ireland) to help you generate the roadmap for any business. That's half of the work! Then, you need to build your partner ecosystem to execute on the plan to make the big bucks.
Third, always be looking for new technologies that can bring more value to your clients. Being the first to bring the latest tech can get you ahead of the sales curve, competition and customer mindshare. You can find the latest tech by digesting more channel news media content, checking out events, exploring social networks and asking your peers.
Finding amazing solutions is not difficult if you know where to look. e-channelnews.com is a top-shelf FREE independent resource for finding awesome solutions.
7. Customers:
Everyone has difficult clients. This is not necessarily a bad thing as they may be telling you how you can improve your game. If you can move to please even the most difficult customers, the rest will be putty in your hands.
If you have bad-apple clients, it's either because they do not see the value that you bring to them or they are very short-sighted or you are not bringing the value they want. Try to make them understand but if they just don't care then you know what to do.
I am not saying that clients should shut up or overpay. I am saying that clients should pay a fair price for the service that they receive. That fair price must be enough to support your business to stay in business.
8. Attitude:
This is a bonus one. Attitude affects everything you do. People who bring a positive attitude to situations tend to have better outcomes. Never stop learning. Always help first. Never stop having empathy. Never give up. If you adopt these 4 characteristics, your chances of success will definitely increase and you will probably be happier.
Learn from the "great resignation" that's currently happening in all industries.
Life is more than work. Your life is worth more than a pay-check. You are the most important person on the planet to you. You only have one life to live so everyone should live it to the fullest.
Time is the only thing that we can never get back. It's our most precious commodity and everyone is born with a finite amount. I find that people who live with this way of thinking are the happiest.
Want more? Join me and my special guest Jay McBain from Forrester on December 20th on a LinkedIn livestream to listen in or chime in on a conversation about what happened in 2021 and what's most likely to happen next year 2022! Link to the livestream.