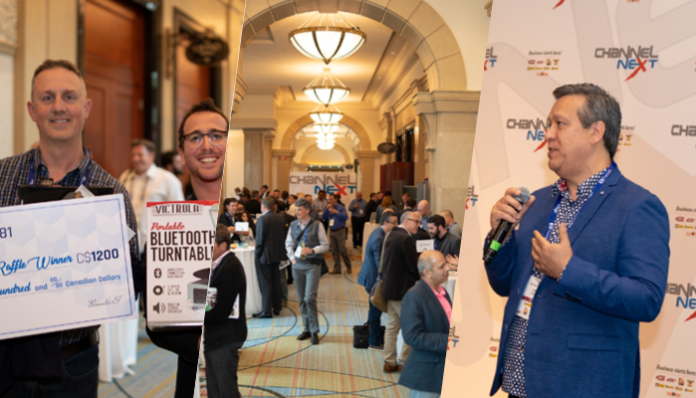 Niagara Falls, June 6-7, 2018 – ChannelNEXT wrapped up the second event of the year touting the new "300 Elite Mastermind format". Building on the resounding success of the first event, the formula has definitely hit another major milestone.
"After a few years of transforming ChannelNEXT, I believe we finally got it right. We have transformed into a best business practice building conference with peer-to-peer collaboration at its core. It's going to help build more channel champions!" Commented Julian Lee, President of TechnoPlanet, organizer of the ChannelNEXT events.
Believe it! Watch the videos from the channel partners and vendors that attended the conference on e-channelnews.com.
Every delegate participated to two full "Mastermind" peer-group sessions. They shared their pain points and goals while their peers brainstormed and offered advice. A professional facilitator coach was on hand to ensure everything ran smoothly and stayed on track. They also attended several Masterclasses and Workshops.
Just about every participating channel partner got practical support to make significant and immediate improvements to their business. Even smaller companies got to see how the larger players overcome challenges.
Peers helping peers is now at the heart of ChannelNEXT!
Vendors also transformed their participation. It's difficult to hold back some of the sales pitches, but if you first start by helping partners, then sales will soon follow. No one wants to be forced to listen to long sales pitches. Everyone prefers to learn how to solve problems, save time and make more money. It's time to transcend from the old channel playbook to the new!
Vendors are realizing how this may help their current partners to accelerate sustainable growth.
As each peer group continued to network, it became much easier for them to build stronger bonds and collaborate better throughout the event. One group actually stayed back after the event for a casual meet-up at a local bar to carry on the group discussions and build stronger relationships.
In the future, we will also be adding "all-female" groups (contact me if you would like to join) and extend the Mastermind sessions from 2 to 3 at the event.
The 300 Elite Mastermind groups can easily springboard from this 2-day collaboration with their 8 peers to continue over an entire year. Based on the membership level, each peer group will meet face-to-face as well as virtually, multiple times over twelve months.
There is an incredible amount of value packed into the full program to help its members become bigger, better, stronger and smarter. Most importantly, members will be part of a close-knit group of 8 like-minded peers to get honest support and explore new opportunities 365 days a year. Visit 300elitemastermind.com for complete details or book your interview to become a member.
Keep watching for big announcements coming soon about more membership benefits!
If you would like to connect with any of the vendors or experts who were at the recent event, you may request a FREE e-copy of the 60-page conference guide to get all the information. Simply complete the contact us form and enter "FREEGUIDE618" in the comment field. We featured twenty amazing vendors that can solve big problems for you and your customers while making you more recurring revenue. It benefits you to know them!
Don't miss the next ChannelNEXT in Whistler, on October 30-31. Visit www.channelnext.ca to reserve your spot today.
Here are a few pics…Find a lot more on the ChannelNEXT gallery.
See you next time!