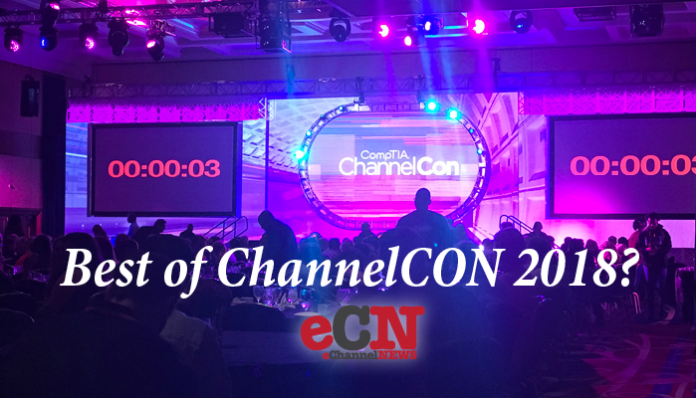 We browsed, asked other attendees for their opinions and did loads of interviews… Here are 10 of the most interesting things we discovered at CompTIA's ChannelCON held in Washington D.C.: Watch all video interviews at eChannelNEWs.com as they are posted live over the upcoming week.
1.    CompTIA is now reaching out to a wider range of companies from different sectors to integrate them into the emerging channel. For example: Drone Vendors, App Developers and Telecom. These companies do not think or act like a traditional IT channel player, but they do need to deliver similar services. The opportunities for business cross-pollination in these technology sectors are real. The challenge is finding the sweet-spot to attract and engage these companies. Could the traditional IT channel become the hub of all technology related companies? CompTIA is also doing their best to attract new people to the tech sector to help fill the growing employment GAP in the IT industry. They asked attendees to tell their tech story as a way to open the minds of others to consider the industry. It's a good soft initiative, but the final solution will have to be amplified 100X to solve the problem. As a news media organization, we will continue to support all missions to accelerate these outcomes to make the channel bigger, better, stronger and smarter. We recently launched our Women in Tech column and women peer-groups to help fuel the growth.
2.    Xerox is changing their channel game with a new power team of channel-friendly executives. In some ways, it feels like a rebirth of Xerox as they try to reinvent themselves as a leading channel player. Given that Xerox's products are already of high quality, if there is a company that has the right stuff to get the job done, I think it's them. Watch my interview with Pete Peterson, President Xerox Channels
3.    CrushBank continues to expand the use of IBM's Watson Artificial Intelligence to improve the help desk support of channel partners. It allows technicians to quickly find the right support answers in real-time. It seems like this tool could expand into other areas that will change the way channel partners solve problems. Watch my interview with Evan Leonard and David Tan.
4.    HornetSecurity. There were several data security vendors and all are worthy of a shout-out, including Barracuda MSP and its new service called Phishline. ESET also continues to grow by leaps and bounds (watch both interviews on e-ChannelNEWS.com). In reality, protecting data takes a layered approach with stacks of various solutions all contributing to mediate the risk. Hornet approached it from the e-mail perspective, as this is the number one way that systems are being breached. The careful and mythological approach to solving this problem by this German company may be worth investigating further. Watch my interview with Oliver Dehning
5.    Linksys back in the channel? After being sold by Cisco to Belkin several years ago, it seems like there is a new focus on the SMB space for the company. I actually used and liked Linksys products before replacing them with other brands. We will keep an eye on their movements in the channel and report on their progress. I think they have a solid foundation from which to reclaim lost grounds in the category. Watch my interview with Wayne Newton.
6.    Passportal. Managing passwords and related credentials is a daunting task for all users and channel partners. My initial reaction is why would anyone want to store their passwords in one location, as it could become a huge risk if breached by hackers. Then, the Passportal team explained how many MSPs are actually storing their customers' passwords! It seems that Passportal can be a much better way to secure and manage passwords. Watch my interview with Colin Knox and Dan Wensley
7.    GMS Live Expert is an outsourced North American based NOC provider that has been doing support for big telecom companies for decades. They also offer NOC services for MSPs. With the ever-increasing problem of hiring and keeping good tech staff, outsourcing may eventually become the only option available to many MSPs. I also like the way that the company charges for their NOC services. Check out my interview with Robin Miller
8.    Live Person is definitely something that is going to change the way we engage with e-commerce. This AI enabled tool allows seamless communications and interactions between seller and buyer to guide them through the decision journey. In short, it allows a chat conversation to roll into an actual e-commerce transaction. There are loads of applications for the channel and their end-users to leverage AI chat-bots. Watch my interview with Tim Stanton
9.    BVOIP. There are several outstanding VoIP and Unified Communications Vendors with amazing features and ease of use. I think BVoIP is worth a closer look because they were "born in the channel". Its founders were MSPs that have since developed a solution that is fine-tuned for channel partners. I could not give an opinion as to which solution is actually the best, but one of the decision criteria should be how well the vendor works with channel partners instead of just looking at the channel as a customer acquisition cost (where partners eventually get cut out of the revenue stream). Watch my interview with Alec Stanners
10. Agiloft helps companies to streamline and automate business processes including custom contracts, help and service desks. They get the job done fast without complex coding and development to save time and money. Every company has custom requirements for a variety of business needs. This tool can actually make a monumental task seem very manageable and affordable. No doubt that channel partners could see this to develop powerful solutions to help their clients while building some Intellectual Property value. Watch my interview with Brandon Wright coming soon on e-ChannelNEWS.
Ten is never enough, so I will squeeze in a few more interesting products we found… Some of the usual channel favorites (and ours) were DATTO and SolarwindsMSP. Team Datto continues to define the next generation of channel-only vendors. Sherweb, Auvik and Pax8 also received a lot of votes from the attendees who completed our survey. I also found FileCloud. It's like Drop Box but less expensive and allows MSPs to build a private-labeled solution to offer file sharing and sync with private or public cloud environments. SAP is also expanding its channel program to drive more ERP business by investing heavily into the partner on-boarding process. Finally, Brother may be one to watch as they have switched to 100% channel (we will monitor their progress). Watch these interviews and more on e-ChannelNEWS.
We also promoted two of our big initiatives to help accelerate the success of all channel partners. I believe that there are both very important tools for the channel. A free best business practices test for all VARs, MSPs and Solution Providers to know what they may not know about their strengths and weaknesses. And, a Mastermind Peer-Group to help channel partners to collaborate to improve and future-proof their businesses.