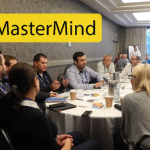 It took us many years to build a solid network of qualified independent business coaches who specializes in the IT industry (and the building never stops). We discovered the hard way that it takes a lot of energy and effort to evaluate a business coach to ensure they can deliver results to the MSPs and VARs.
"I can tell you that not every expert is an expert and not every coach is a good coach."
I think that our internal stats show that we approve about 1 in 5 coaches that we evaluate. While most coaches work from some sort of standard playbook, most lack the in-depth knowledge of the technology sector and what it means to be in the shoes of a channel partner. We think it's important for the coaches to be up to speed in today's digital business World.
We also look for passion and a deep desire to help these companies succeed. This is the army of elite Coaches that we need to help drive our mission of building the Next Top 300 Channel Partners in USA, Canada and UK in 2018. It's ambitious and maybe crazy, but we are all-in…To learn more about this mission or join a group of your peers, check out VARMasterMind. Please ask for a The Elite 300 Membership prospectus, if you are ready to dig deeper.
Click their pictures to watch my recent video interviews with three business coaches that do an awesome job!
Rick McCutcheon – Expert in CRM and Social Selling Sales Process. Rick can help you dissect and rebuild your entire sales process, CRM and social selling game.
Marie Wiese – Expert in Digital Marketing. Marie can help you go beyond the digital marketing hype to implement measurable actions that will move the needle up on your lead generation results.
Randal Wark – Expert in connecting the moving parts of a channel partner's business. He is like a general doctor keeping your business healthy and referring you to a specialist when you need deeper help. Don't forget to get your annual check up!
We have other amazing coaches in Leadership, Financial Management, NOC Management, HR, General Management, Customer Loyalty, Brand and Business Culture Development, Sales Training (including Sales-as-a-Service for outsourcing). We even have experts to help in vendor management, operation streamlining and more. In some way, we have built a business skills learning "university" for channel partners.
We know that Coaches alone without the right tools and support is not the complete solution for success so we built other resources to support the mission.
Any MSP, VAR and ITSP can leverage these resources (see links below) as they need or they can join a group of their peers to reach their goals faster and less costly.
Vendors and Distributors can immediately and easily support their channel partners to improve their business by simply inviting them to evaluate their best business practices for free, explore our resources, coaches or Mastermind group.