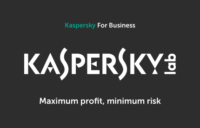 Kaspersky Lab is introducing its next generation of Kaspersky Private Security Network, a private version of Kaspersky Security Network (KSN). Kaspersky Private Security Network allows enterprises to boost their detection speed with access to real-time global threat intelligence from 80 million sensors, without sharing any data outside their corporate network.
The renewed Kaspersky Private Security Network offers additional customization options to meet the demands of enterprise customers. The solution enables businesses to enhance their security intelligence by adding to Kaspersky Private Security Network customized lists of URLs and file reputations – with in-house sources and independent providers.
With 57 percent of businesses acknowledging that their IT security will be compromised at some point1, the need for real-time security intelligence is growing rapidly. Cloud-based threat intelligence helps to quickly and more accurately analyze suspicious files (by hashsum or certificate) or URLs, safeguarding businesses from losing a wealth of sensitive data, or having their entire IT infrastructure compromised.
Specifically, Kaspersky Security Network (KSN), Kaspersky Lab's distributed cloud infrastructure, provides businesses with verdicts on new malware specimens in a matter of minutes, based on the data from 80 million sensors all over the world. However, for some businesses, the use of cloud solutions can be limited by regulations and specific network security requirements. Kaspersky Private Security Network solves this problem through a private cloud which contains an internal copy of KSN, incorporating all of its advantages within the corporate IT infrastructure. Up-to-date threat information arrives from KSN by one-way synchronization, meaning that no data is sent from the corporate network to the cloud.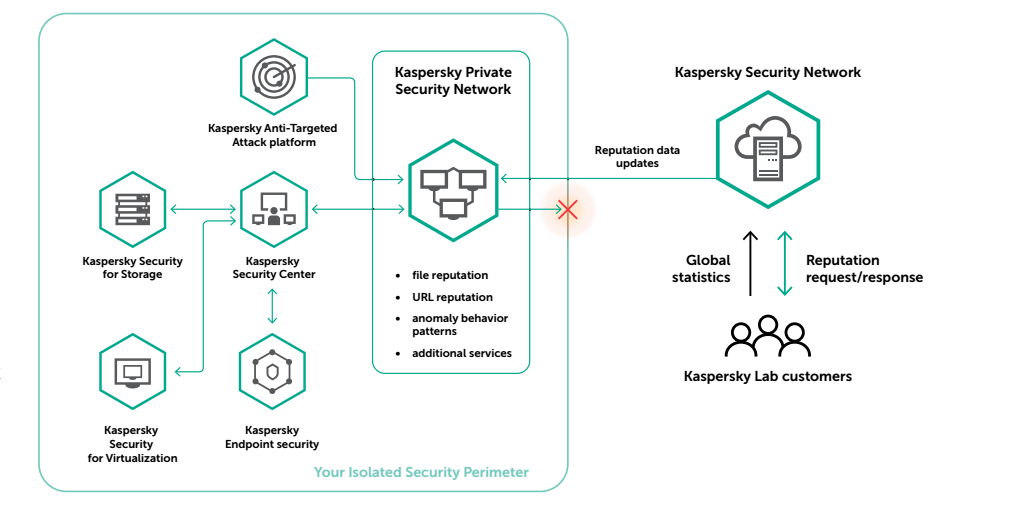 Develop next generation customized security intelligence
Scalability and flexibility are critical requirements for modern enterprise IT security strategies. The new generation of Kaspersky Private Security Network, which is scalable for networks of up to 500,000 nodes, prioritizes the customization of threat intelligence. New functionality allows companies to add customer-defined data to their Kaspersky Private Security Network, including file reputation by hashsum (SHA256 or MD5); and URL reputation. It also makes it possible to whitelist customers' files to eliminate false positive detections. In addition, special interfaces for external threat intelligence feeds allow cybersecurity teams to upload information about file and URL reputation directly to Kaspersky Private Security Network without any intermediate steps.
These features equip IT security departments and SOC teams with powerful automation tools and allow them to accelerate threat analysis and incident response times.
Bolster your defenses with enhanced management capabilities
The latest generation of Kaspersky Private Security Network has also been specifically enhanced from a management and usability standpoint. The data diode (unidirectional gateway) protocol for newly supported operating system CentOs allows companies operating with no internet access to collect real-time threat intelligence through the KPSN gateway without a single byte of data leaving the corporate network perimeter. Additionally, the solution features a new web interface which makes threat intelligence management better structured and more intuitive.
"The ability to stop the kill chain of advanced threats as early as possible is crucial for government organizations and enterprises in specific business areas," said Alessio Aceti, head of enterprise business, Kaspersky Lab. "However, these organizations often can't fully leverage cloud-based threat intelligence due to security policies and restrictions – something that gets even tougher with the growing pressures of government regulations. To ensure cybersecurity policies are aligned with business priorities, we have introduced a patented solution that makes threat intelligence available to all companies, even those with strict compliance requirements. This next generation of Kaspersky Private Security Network keeps sensitive corporate data within the network, while providing the power of industry-renowned cloud security intelligence to help businesses stay ahead of today's threats."