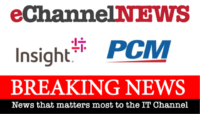 One way to accelerate growth is simply to acquire a competitor. The price tag for the Insight/PCM deal claims to be $581 Million or $35 per share, representing a 36% premium to its 1-month average closing share price as of Friday, June 21, 2019. I am assuming that they are expecting a lot of growth!
This is yet another example of the continued consolidation of the channel as huge partners merge to become super giants. It seems to be a good move for the two companies as it will instantly increase their footprint on many levels. That said, there are always winners and losers in most mergers.
Some vendors and suppliers may soon feel the pinch as the merged camps start to flush out what vendors they want to sell and from where they want to buy. Some vendors may be in for a surprise as they get stepped over for competitive brands. Vendors will most likely be persuaded to sharpen their pencils to stay in the new and bigger game. Most of these large resellers understand the game very well as they put the squeeze to vendors and suppliers. Ultimately the new bigger and stronger reseller will win as they claw back as much margins, incentives and support as they can from all suppliers.
Some vendors and suppliers will win from the increased volume, but they may have to sacrifice a lot more margins and offer all sorts of incentives to maintain this piece of business. The impact will affect these suppliers in different ways but the pain may be felt by all.
Within the merger itself, some employees may also feel the pinch as some jobs may become redundant and possibly terminated. As the two sides collide, career managers will rally for positioning so some some casualties can be expected here as well.
Of course, as with all mergers, will 1 + 1 = 3? Well, we will have to wait and see. While some argue that the net effect of the merger will be better, the questions that are always overlooked is what would have been the actual outcome had the two entities remained independent as competitors? Would the employees of each benefit more? Would the vendors benefit more? Would the end-users benefit more? Would the channel benefit more? Unfortunately, the point is now mute and we will never really know.
Moving forward, with such another new super giant reseller on the move, what will this mean for the rest of the channel partners? Price pressures? Competitive pressures? If you are a reseller previously doing fairly well against either one of these pre-merger competitors, how will you now do against the new combined giant competitor? Could that be enough tip the balance in their favor?
Now, I am not saying that mergers and acquisitions are not a good thing. In some cases it can be amazing as the two companies exploit their synergies. In the case of Insight and PCM it might very well be an awesome thing. As a channel industry advocate, I am only looking to widen to discussion for all stakeholders in this industry to at least consider the bigger picture and adapt for the impact.
PCM, based in El Segundo, California, is a provider of multi-vendor technology offerings, including hardware, software and services to small, mid-sized and corporate/enterprise commercial clients, state, local and federal governments and educational institutions across the United States, Canada and the United Kingdom. PCM has offices in 40 locations across these geographies and has more than 4,000 employees, including more than 2,700 client-facing people in sales, technical and service delivery roles.
Ken Lamneck, CEO of Insight said, "Over the past five years, Insight has made significant progress, transforming our business from a value-added reseller to a well-respected global solutions provider with deep expertise across technology areas that provide our clients with significant value. Together with PCM, we will be even better positioned to capitalize on our solution area investments through the addition of more technical and sales resources and access to thousands of new clients, especially in the mid-market and corporate client segments"
The company stated that the combination of the two organizations extends Insight's reach into areas where clients need help most: positioning their businesses for future growth, transforming and securing their data platforms, creating modern and mobile experiences for their workforce and optimizing the procurement of technology. Together, the combined organization will be able to offer partners an even stronger sales force globally, with increased footprints in North America and the United Kingdom.
"The acquisition of PCM accelerates our opportunity to grow share within our four solution areas: Supply Chain Optimization, Connected Workforce, Cloud + Data Center Transformation and Digital Innovation. The addition of PCM complements our Supply Chain Optimization business, adding scale and clients in the mid-market and corporate space in North America. PCM's services offerings add scale and capabilities to our Connected Workforce and Cloud + Data Center Transformation solution areas and support our strategy to grow our solutions business," said Steve Dodenhoff, president of Insight's North America business.[
"This combination offers the ability to provide clients with greater value through the expansive solution offerings of the combined company at a time when customers increasingly need a full-service technology solutions provider to help them transform for the future. Together, we will be able to offer an impressive level of breadth, scale, partnerships and services to meet our clients' needs and exceed their expectations. On behalf of our Board of Directors, we are very pleased to announce this combination which we believe maximizes our shareholders' value, and we look forward to the resulting opportunities that lie ahead for our employees, customers and vendor partners," said Frank Khulusi, chairman and CEO of PCM.