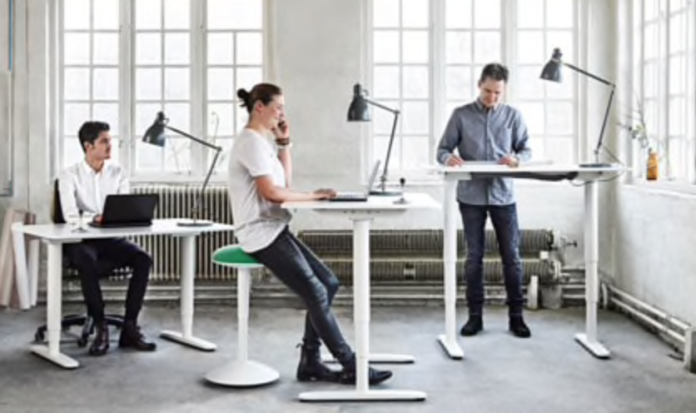 We will start rolling out more content on the "health issues in tech" on eChannelNEWS. We have no idea where this will go or what it will do to inspire others to think about their health while working with technology, but we think it is important.
Is sitting is the new smoking?
I see many who work in the IT sector struggle with health on many levels. I do not know if it is any worst than other industries, but it seems that those who work in the tech industry sit a lot! Sitting too much is probably not good for anyone? Check out an article that we did called "sitting is the new smoking".
One way to reduce sitting is to get an adjustable desk. There are several on the market including one from IKEA as in the picture above for about $500. If you Google, you will find many with different features and prices. Fellowes have several (both the full desk models as well as units that you can simply place on top of your regular desk). Fellowes will be at our upcoming ChannelNEXT19 event and I also want to thank them for joining our Channel Partner Alliance program to support their channel partners in getting some help on building best business practices, through MDF.
I am using a stand-alone electronic adjustable desk and it is awesome!
First, I played with the automatic up and down buttons a lot, as most guys probably do when they get any gadget. I even raised the table to have my coffee reach my nose to smell :o). You can definitely have some stupid fun playing with the controls.
I have been using this desk for many months now and I can simply tell you that I love it! Besides the silly stuff that you can do, it just feels beneficial.
I now spend 50% of my time standing when I talk on the phone or use my computer. I even move my legs more to get in some steps and random exercises. I tried every position and basically keep adjusting the height ever so often. I also read and watch videos on my computer so I raise the screen to the height of my eyes and look straight ahead to view. It actually feels better!I also raise the height of my desk when I speak to anyone in a standing position, like a cocktail table.
Maybe I will get bored of doing this and I do not know if it has any significant impact on health, but I think it pushes me to move into a different positions more often, which is I think a good thing.