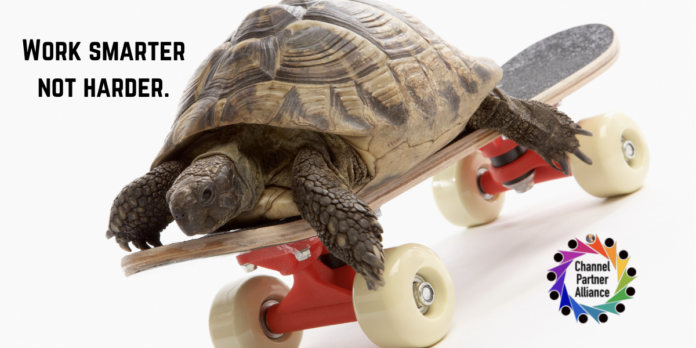 "Work smarter, not harder."
It is a loaded question that we have been tackling in the channel community for years and we have been perfecting the recipe.
Our ChannelNEXT events first matched MSPs with the right vendors and business tools.
We built a best-practice assessment tool to help MSPs benchmark all areas of their business practices.
We then revolutionized IT events by reducing the vendor pitches and investing considerably on educational content by top industry coaches on the topics relevant to the emerging needs of MSPs.
We then went all-in, adding in-person MasterMind Peer Groups so MSPs can collaborate with peers to improve their business practices.
Eureka! We found the WINNING FORMULA!
Then, the Pandemic hit, and all in-person activities were suspended 😢
14 months of furious work was dedicated to finding the right online platform to migrate our curated content to carry on the mission of helping our members build a better business practice. We definitely did NOT want just an e-learning platform – no one has time for that! We wanted a virtual business-building environment to generate the desired outcomes.
Today, Channel Partner Alliance Online is going live on the >Kaizen platform!
Kaizen is a Japanese term meaning "continuous Improvement" and is the philosophy behind this initiative. It is an all-encompassing business-building online community of MSPs with curated content, tools, masterclasses, and mastermind peer-groups.
The joys of membership:
1.      A powerful suite of tools and support framework to help you set, manage and measure your goals (individual and/or team)
2.      Live MasterClass sessions weekly on various business topics also available for on-demand viewing
3.      MasterMind Peer-Group.  A taster session will help you experience its power and value before wanting to join a permanent group.
4.      Group Coaching calls every month.  A time to ask our highly experienced business coaches anything. If they do not know, they will find someone who does!
5.      Marketplace where you can find select vendors, tools, and resources that are vetted and curated for MSPs, with some special deals.
6.      E-Procurement tool to allow you to check cost, availability, and purchase from major distributors like Ingram Micro, Synnex and TechData. Get this for FREE if you sigh up to our MDF retrieval program so we can get vendors to subsidize your cost.
7.      Special Live Events for our members only with on-demand viewing.
8.      Best Managed Practices Assessment One tool where you can measure your strengths and weakness every year to build strength by improving your weaknesses.
"You can't manage what you don't measure." – Peter Drucker
You get all this on day one. Membership fee is only $99USD per month.
Why are we doing this?
If you know TechnoPlanet, then you know about our commitment to building the best vendor Channel Partner Ecosystems for over 30 years.
Its Channel Partner Alliance initiative is about building a bigger, better, stronger and smarter MSPs community.
Combined, we help the whole channel grow.
We are so confident that you will benefit from this, that we are offering it 100% risk-free.
Sign up for a free 14-day trial today!
What you will get in return for your membership fee will be the best value in the channel for those ready to take their business to the next level.
"The Best Investment You Will Ever Make is in Yourself." – Warren Buffett