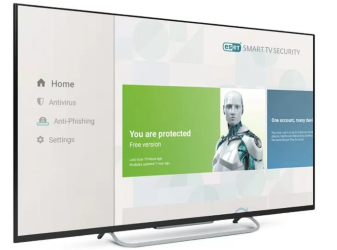 Malware on your Smart TV? Ransomware during your favorite Netflix show?
Sounds impossible? But it's actually a reality.
Security vendor ESET recently proved it at the Mobile World Congress in Barcelona.
ESET demonstrated a bitcoin mining piece of malware that ran on a Smart TV. The malware even populated when the TV was turned off.
Tony Anscombe, a Global Security Evangelist, for ESET, told EChannelNews threats have changed throughout the years from being disruptive to what we see today. "It's about data theft today and its true crime because there are payment methods such as crypto-currencies."
Check out the EChannelNews Podcast featuring Tony Anscombe
"Smart TV can become a bigger ransomware target down the road along with other IoT-type devices. Today, we think of the phone and the PC but do not think of other things connected to the Internet in the house. And, the TV is one of those devices. It can become more of a target because no one thinks to protect it. If you don't protect it then the hacker can take control and start mining for bitcoins," Anscombe said.
There could be as many as 30 million connected devices to the Internet by 2020 and not all of them will be a PC or smartphone.
This is one of the reasons why ESET released the ESET Smart TV Security solution at the annual Mobile World Congress. The new product provides advanced technology protection against targeted malware attacks on connected TVs and other devices with the Android TV operating system.
There were more than 244 million units of smart TVs shipped in 2017, according to research from Statista. Most smart TVs come equipped with microphones, cameras and USB ports which can open up many avenues for hackers to gain control over these devices in people's homes.
Anscombe added that there are plenty of security and data privacy risks for consumers. "Most of us do not think about protecting these devices the same way we do with a PC or a smartphone. ESET has been around for more than 30 years and we still have our founders close to the business and they believe it is fundamental to protect people," he said.
According to Anscombe, one of the key elements to the home is the TV and people today are not watching what he calls traditional TV from sources such as cable and satellite. They are doing more streaming, which makes the TV more of an entertainment console than just a screen.
"Suddenly, with Android TV you are connected to the Google Play store and you can download apps and now this device – connected to the Internet – is just like any other device that needs to be protected."
This will lead to the spread of Android-based ransomware and there is the potential to see a smart TV lock-up and a ransom demand pop-up.
The new ESET Smart TV Security solution works to prevent this with an anti-virus protection specific to Android malware, new anti-ransomware technology that works to prevent screen-locks. The way this works is the user turns the TV off and in the background, ESET's virus database is updated and the scanning process begins. When the ransomware is detected, ESET prompts the user to uninstall the malware; clearing the ransomware from the TV.
The ESET Smart TV Security solution also comes with multi-device scanning for malware on devices and USBs connected to the TV.  Anti-phishing technology is available on the premium version of the product.
The ESET Smart TV Security solution can be download from the Google Play store right on your Smart TV.