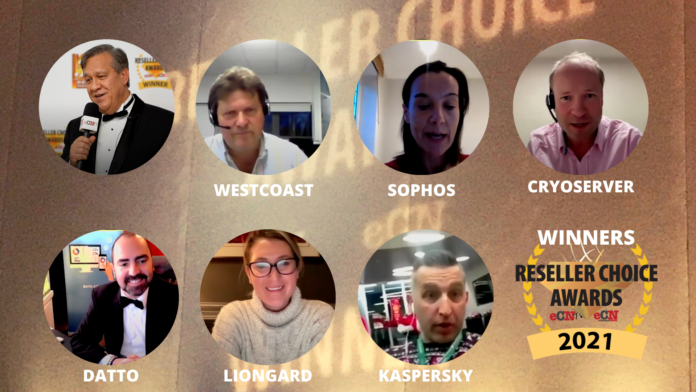 Here are Britain's 2021 Reseller Choice Awards Winners:
TOP 10 Cloud Vendors:
Microsoft
AWS
Datto
Acronis
Google
Connectwise
Cryoserver
Kaspersky
Sophos

VMWare
Best Distributor: Westcoast

Best Security Vendor: Bitdefender
Best Emerging Vendor: Liongard
Best Overall Vendor: Microsoft
It is very clear that Microsoft is outperforming on all expectations in the channel and has become even more mission-critical to most MSPs in 2021. The pandemic has helped to solidify its position as so many now depend on its technology. It is easy to see why they won the #1 Cloud Vendor and #1 Overall Vendor (by a very large margin).
We know that Microsoft doesn't need another award, but one that was voted on by their channel partners may be different. No one can win this award by sponsoring or advertising spend. There are no subjective criteria or judges to persuade. Only the majority of votes earns you this award.
Best vendor (Microsoft) and Best Distributor (Westcoast) are the ultimate awards that can be won. The strength of the channel team is probably what generates the most votes.
AWS and GOOGLE Cloud continue to gain traction every year in the channel and are ranked high. Interestingly, a small cloud vendor called "DATTO" ranked #3 and is able to punch with the heavyweights. It shows that regardless of size, when you go all-in with the channel and keep on innovating, you can go very far
It is an understatement to say that the security category is constantly changing. There are over 4,000 vendors in this category and counting. The race to prevent cyber attacks is #1 on the minds of most CEOs. We may have to do a top 10 list next year. Bitdefender took the #1 spot and ESET was #2. If you want to learn about many amazing security vendors then check out www.e-channelnews.com. Not a week goes by when we do not interview amazing vendors (look for "The Daily Breach" category).
Cloud and Security are amongst the most important categories in the industry. The speed in which they are accelerating is unprecedented and there seems to be no slowing down in the foreseeable future. Remember, what was best practice yesterday may not be the best tomorrow so always be on the lookout for the next best vendor.
The #1 emerging vendor for 2021 was Liongard. It is quite interesting to see how vendors rank in this category then follow them year over year to see if they are able to sustain growth. Today's emerging vendor can be tomorrow's market leader.
What's also interesting about the Reseller Choice Awards is the ranking of all vendors and distributors in each category. We currently rank over 50 vendors in the UK.
We are already tracking over 70 categories in North America with over 600 leading companies and will eventually be doing the same in the UK (and other countries).
Every vendor that was nominated should pay attention. Why? If you are nominated it means that one of your channel partners added your name to this list and voted for you. Win or lose, your partners have voted for you. Acknowledging their votes is a good thing for you and if you win, then you know you earned it. It is a great recognition to celebrate with your channel team.
Vendors and distributors who won, may want to amplify the message to the channel to attract more partners. Partners do notice when other partners vote you #1
See the virtual awards ceremony below:
Check out and compare with last year's (2020) winners!
To those who did not make this year's 2021 winner's circle, there is always next year. Remember that voting will start again in November 2022 and the Awards Gala will be in December. Keep an eye out for the announcements!
See you next year and hopefully in-person!