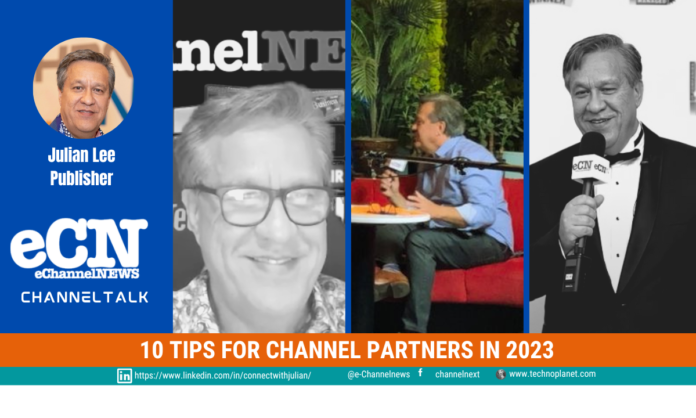 You can't ignore the fact that PC shipments were 16% lower in 2022 (but still higher than pre-pandemic). The majority of channel partners believe that PC shipments will remain flat or decrease in 2023. Many tech companies, as well as other industries, are also experiencing layoffs. Not all economic indicators are positive, but they are also not negative! We'll see…
Sure, the smell of recession is in the air, but you have no control over that. All you can do is try to lessen the impact on your company (and self).
As always, I am only speaking for the IT channel, and from what I see, this year will be another bountiful harvest for channel partners, especially those who get it right.
Here are my top ten recommendations for channel partners this year:
Know what you do not know about your business practices. Visit www.bestmanageditcompanies.com to put your best practices to the test for free. It's amazing how understanding your weaknesses can help you gain strength. Making just one improvement can make a difference.
If you're stuck get help. The struggle is real but you are not alone! We can recommend some MSP business-building experts like Juan Fernandez. Consider joining a peer-group (visit channelpartneralliance.com to find out how this can help you).
Examine your business's operations and streamline, streamline, streamline. Reduce costs wherever possible. Do you really need everything you are buying?
Examine your team to ensure that their health and loyalty remain intact. Ensure that your humans are always well cared for as it also helps in employee retention. Happy employees = happy customers!
Your customer strategy should be reviewed and updated. During these difficult times, it is critical to understand what they want, need, and can afford. A good time to cut some difficult under-profitable clients. Maybe raise some prices. Get your story right before you do anything!
Marketing strategy. Conduct a thorough audit to ensure that your short and long-term goals are being met. You are who your marketing portrays you to be. During difficult times, do not stop smart marketing.
Examine your leadership abilities and yourself. Improve your skills as much as you can, and if you can't, hire someone who can. Leadership is more important than you may realize, especially during difficult times.
Examine your cybersecurity strategy thoroughly. More than 80% of end users would switch MSPs if they could better manage cybersecurity. Keep this in mind because if your cybersecurity is lacking, you risk losing clients. This is not something you want to do in a slowdown. Attend one of the upcoming IoTSSA – Cybersecurity Services Association Inc. Cybersecurity Expos in a city near you (www.iotssa.com) if you want to up your cybersecurity game and meet experts like Matt Lee, CISSP, CCSP, CFR, PNPT, Mark Porter and many more. The next one is February 16-17 in Phoenix, AZ.
Join the Cybersecurity Defense Ecosystem. More information can be found at www.iotssa.com. Request a membership overview. It may be exactly what you need to get ahead of the cybersecurity curve.
Buy Sounil Yu's Cyber Defense Matrix book and read it until you understand it. It's a good framework.
All the best for new year!